In a world where electricity is the lifeblood of our modern adventures, having a reliable and efficient source of power on the go is nothing short of essential. Enter the Champion 100719 Inverter Generator – a true technological marvel that promises to redefine your outdoor experience.
But does it live up to the hype? Join us as we peel back the curtain on this portable powerhouse, exploring its features, unveiling its pros and cons, and even uncovering its top-notch alternatives.
Whether you're a seasoned outdoor enthusiast, an RV road warrior, or just someone who loves being prepared for anything, our comprehensive review is here to spark your curiosity and light the way to an electrifying journey!
Champion 100719 Inverter Generator Reviews
Unveiling the Quick Touch Mastery Panel
The Champion 100719 inverter generator incorporates an innovative Quick Touch Panel, a user-friendly interface designed to streamline access to all operational controls of the generator. An exceptional aspect of this panel is the integration of the Intelligauge, a sophisticated monitoring system engineered to effortlessly oversee voltage, frequency, and operational hours. A notable safety enhancement is the Intelligauge's oversight of Champion's carbon monoxide auto shutoff mechanism, providing an additional layer of protection for users.
Beyond these attributes, the Intelligauge encompasses an EZ Start Dial, a feature that simplifies the generator's startup process, facilitating swift and efficient activation. Moreover, the inclusion of the Economy Mode empowers users to monitor real-time power consumption, leading to diminished engine wear, improved fuel efficiency, and a prolonged generator lifespan.
Nonetheless, the Intelligauge's display screen has elicited criticism from certain users due to its perceived simplicity, a sentiment that I concur with. While the screen dutifully exhibits voltage and frequency, which are undoubtedly pivotal metrics, the absence of data pertaining to amps and watts constitutes a notable drawback. This critique underscores the significance of furnishing users with an all-encompassing overview of their generator's performance metrics.
To sum up, the Intelligauge stands as an invaluable augmentation to Champion's Quick Touch Panel, delivering indispensable insights into the generator's operational status. Notable features include CO monitoring and the Economy Mode. Yet, as highlighted by users, there remains scope for enhancement, particularly through the inclusion of a more comprehensive depiction of amp load. Despite this limitation, the Intelligauge remains a valuable asset that markedly elevates the worth of Champion's array of generators.
The Champion 100719's Outlets Ecosystem for Every Need
The Champion 100719 exemplifies versatility with its array of outlets, catering to an expansive array of devices and equipment. A standout among these outlets is the 120/240V 30A locking outlet (L14-30R), a powerhouse capable of energizing high-voltage devices including robust power tools, air conditioning units, and electric ranges. This outlet proves especially advantageous for interfacing with a transfer switch, a pivotal asset in furnishing power to essential appliances and circuits during power disruptions.
Further enhancing its utility, the generator boasts two 120V 20A GFCI household duplex outlets (5-20R), purpose-built for smaller household appliances and electronics. Think lamps, televisions, and laptops. What sets these outlets apart is their incorporation of ground fault circuit interrupters (GFCIs), designed to thwart electric shocks in the face of faults.
The 12V automotive-style outlet steps up next, primed for recharging car batteries, energizing tire inflators, and analogous devices. This outlet functions as a versatile ally, particularly in emergencies.
An intrinsic feature, the RV adapter plug, extends the generator's prowess by fueling RVs and recreational vehicles. Typically manifested as a 120V 30A outlet (TT-30R), in line with the RV standard, this outlet empowers users to electrify their mobile abodes even while disconnected from the grid. A favorite among camping aficionados, it underscores the generator's outdoor utility.
The finale arrives with the dual port USB adapter, an astute augmentation to the Champion 100719. A streamlined method for charging mobile devices – think smartphones, tablets – sans the need for supplementary adapters or chargers.
For backup power, the Champion 100719 harmoniously pairs with a transfer switch, bridging the generator and the home's electrical framework. In moments of power loss, this connection facilitates the generator's support to pivotal appliances and circuits. However, the installation of this transfer switch necessitates the expertise of a certified electrician, an imperative to ensure safety and precision. When coupled with the transfer switch, the generator's capacity expands to include crucial appliances – refrigerators, freezers, sump pumps – as well as lighting and other critical circuits within the domicile.
A Deep Concept of CO Shield Technology
CO Shield technology is an advanced and indispensable system that operates with the primary objective of safeguarding individuals from the perilous effects of carbon monoxide (CO), an insidious and lethal gas that emanates from engine exhaust during the operational phases of generators. This technology represents a pioneering solution that stands at the forefront of ensuring a secure and healthy environment in settings where generators are deployed.
The significance of CO Shield technology resides in its ability to meticulously monitor the accumulation of carbon monoxide gas. Carbon monoxide, often referred to as the "silent killer," is colorless, odorless, and tasteless, rendering it imperceptible to human senses. It is a byproduct of incomplete combustion of fossil fuels, commonly arising from engine exhaust emissions. The invisible nature of this gas makes it particularly treacherous, as its presence can go unnoticed until it reaches hazardous levels.
CO Shield technology is designed to address this critical issue by vigilantly and continuously scrutinizing CO levels within its operational vicinity. Through a network of sensors and advanced algorithms, it is able to promptly detect the onset of heightened CO concentrations. Once such hazardous levels are identified, CO Shield takes decisive action by initiating an automatic shutdown of the generator's engine. This crucial response effectively curtails the source of carbon monoxide production, thereby preventing the further release of this poisonous gas into the environment.
However, it is imperative to emphasize that while CO Shield technology provides a robust layer of protection, it should not be misconstrued as a comprehensive substitute for other safety measures. In particular, CO Shield does not supplant the need for indoor carbon monoxide alarms, which are essential for monitoring CO levels within enclosed spaces. It is essential to employ these alarms as part of a multi-layered approach to safety, particularly in residential or indoor settings where the potential for carbon monoxide exposure exists.
Furthermore, the operation of generators demands a vigilant adherence to best practices to mitigate risks effectively. It is of paramount importance to observe strict guidelines to prevent engine exhaust fumes from infiltrating confined spaces. Windows, doors, vents, and any other openings must be rigorously safeguarded against the intrusion of these hazardous fumes. This measure is pivotal in averting the dangerous scenario of carbon monoxide seeping into living or working areas, where it can lead to grave health consequences or even fatalities.
Moreover, the placement of generators is a critical consideration for overall safety. To minimize any potential risks associated with carbon monoxide exposure, generators must be operated exclusively outdoors. The distance between generators and occupied buildings should be substantial, ensuring that the engine exhaust is directed far away from people and structures. This preventive measure significantly reduces the likelihood of carbon monoxide dispersion toward areas where individuals reside, work, or congregate.
Noise Level Test
The model "Champion 100719" epitomizes a seamless alignment with anticipated noise level norms, emerging as a compelling rationale for investing in an inverter generator that offers superior acoustics. The discernible tranquility it exhibits is striking, evident by its mere 61 decibel reading from a distance of 23 feet. This auditory measurement parallels the auditory amplitude of customary speech, effectively mitigating concerns of perturbing neighboring environs or infringing upon the constraints of noise bylaws within residential vicinities.
In order to contextualize this soundscape, it's pertinent to acknowledge that the spectrum of typical conversations resonates within the range of 60 to 65 dBA, while the operation of a vacuum cleaner is capable of yielding a range of 70 to 80 dBA. By stark contrast, the dissonance emitted by a chainsaw can escalate to an astounding 115 dBA, and the auditory landscape of a raucous rock concert can surge past the threshold of 120 dBA.
In the light of these juxtaposed benchmarks, the indispensable nature of possessing a subdued generator, exemplified by the Champion model, becomes palpable. This is especially consequential if the aspiration is to sidestep the reputation of being the cacophonous inhabitant amongst peers. It merits highlighting that the stringency of noise regulations exhibits geographical variances contingent upon location and property typology, underscoring the significance of acquainting oneself with local statutes prior to the operation of any mechanical apparatus.
EPA certification and CARB compliance
Embrace the acquisition of the Champion 100719, an inverter generator adorned with the distinguished EPA certification and CARB compliance. This endorsement ensures that your procurement is underpinned by a bedrock of trust, fortified by the robust infrastructure of Champion Support. A sprawling network of service centers, spanned across the nation, stands ready to bolster your investment. The impenetrable shield of a 3-year limited warranty envelops your purchase, encapsulating it with an assurance that transcends mere transactional boundaries.
Yet, this commitment to your satisfaction and peace of mind extends far beyond the temporal confines of a warranty. Embark on a journey where technical conundrums are met with an everlasting sanctuary. The beacon of FREE lifetime technical support illuminates your path, resonating with the ethos of unwavering assistance throughout the lifecycle of your Champion 100719 8500 watt generator.
In a realm where products often stand alone after the point of sale, this offering heralds a paradigm shift. It transforms your acquisition into a relationship – a dynamic interaction that echoes Champion's dedication to fostering enduring customer contentment. With the Champion 7000 watt inverter generator, you not only welcome a pinnacle of generator engineering but also initiate a covenant of trust, fortified by the twin pillars of warranty and perpetual technical companionship.

How much load can Champion 100719 can bear for a long time?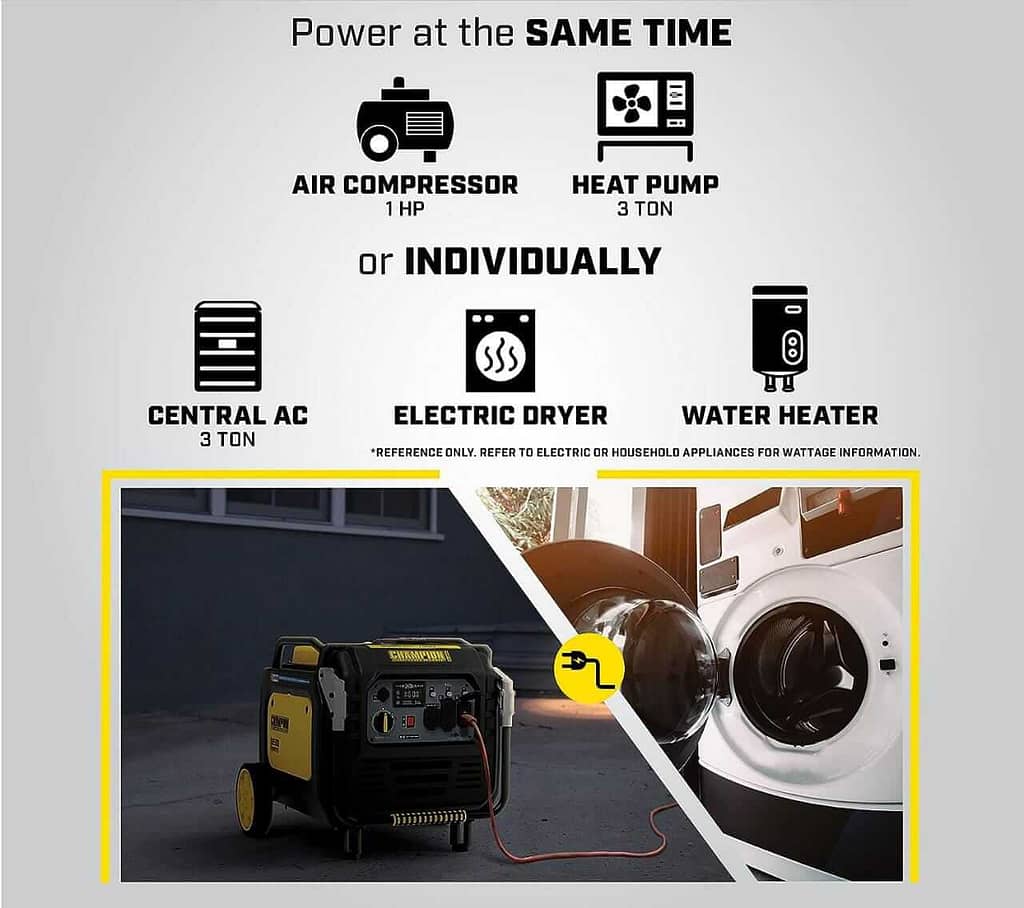 The Champion 100719 inverter generator is a robust and dependable option for individuals seeking a trustworthy source of backup power. As of 2023, while its price point might lean towards the higher end, the investment is justified. Its remarkable attributes, including superior clean power generation, an impressive output of 7000 watts, and an RV-ready outlet, make it an optimal selection for both RV enthusiasts and homeowners.
At its maximum potential, the Champion 100719 can generate an initial burst of 8500 watts and sustain a continuous output of 7000 watts. This substantial power capacity enables the simultaneous operation of numerous household appliances, addressing a diverse range of energy needs.
Nevertheless, it's critical to recognize that consistently operating a generator at its maximum capacity over an extended duration can result in overheating and possible damage to the generator itself. To ensure reliable and safe functionality, adhering to the manufacturer's guidelines is crucial. Limiting the generator's load to approximately 75% of its peak capacity is advised, thereby averting potential overheating that could adversely affect the engine, alternator, and other integral components. Additionally, surpassing the generator's rated capacity could lead to electrical hazards, compromising connected devices and potentially triggering fires.
An example of appropriate usage can be found in scenarios where the generator is loaded to around 75% capacity. In such cases, the Champion generator capably powers an array of devices, including refrigerators, sump pumps, computers, lights, and small appliances concurrently. Notably, it can support either a central air conditioning unit or a well pump, but not both simultaneously.
Two illustrative examples exemplify the devices that can be simultaneously powered by the Champion 100719 generator, operating close to its 75% capacity, or around 5250 watts:
Room Appliances: Total Running Watts: 4830W
1 Refrigerator (700W)
1 Freezer (500W)
1 Portable AC Unit (1200W)
1 Television (200W)
2 Laptops (100W each)
4 LED light bulbs (10W each)
Kitchen with room Appliances: Total Running Watts: 4530W
1 Microwave (1200W)
1 Toaster (800W)
1 Portable AC Unit (1200W)
1 Television (200W)
2 Laptops (100W each)
4 LED light bulbs (10W each)
These configurations exemplify how various appliances can be adequately powered simultaneously by the Champion generator, thereby avoiding the risk of overloading.
Consumers must exercise a clear understanding of their power requirements and diligently calculate the generator's load capacity before usage. Overloading the generator can lead to circuit breaker tripping or even harm the connected appliances. Moreover, regular maintenance practices, including oil changes and filter replacements, are essential to ensure the generator's extended lifespan and optimal performance.
Pros:
Beautiful and smart design
Very easy to move due to large size wheels and a strong handle
Safe for human life
3-year warranty
Easy to start
Cons:
It should come with a wireless remote control
The Quick Touch Panel needs improvement
Leak from dual fuel feature
Best Alternatives
GENMAX GM9000iED Inverter Generator
Introducing the 1st alternative the GENMAX GM9000iED, a cutting-edge 9000 Watt Dual Fuel Inverter Generator designed to redefine power generation standards. Equipped with a robust 458cc 4-stroke OHV engine featuring a state-of-the-art forced lubrication system and enhanced heat dissipation capabilities, this generator stands as a testament to durability, successfully enduring a rigorous 1000-hour durability test.
Unleash Power on the Go – With a remarkable peak wattage of 9000 and a continuous running output of 7600 watts, the GM9000iED emerges as the ultimate solution for a myriad of power needs. From serving as a dependable source of emergency home power to meeting the demanding requirements of job sites or enhancing the camping experience alongside your RV, this generator embraces versatility with unmatched reliability.
Advanced Digital Control Center – The GENMAX GM9000iED proudly boasts a sophisticated Digital Control Center that seamlessly integrates an LCD display. This intuitive interface elegantly presents essential information, including hours of operation, precise voltage output readings, and real-time load level monitoring. This feature empowers users with precise insights into the generator's performance.
Unparalleled Outlet Diversity – This inverter generator showcases a carefully curated array of covered outlets that cater to diverse power demands. Among these, a notable 120/240V 30A locking outlet (L14-30R) stands ready, alongside four 120V 20A GFCI protected household outlets (5-20R), offering both convenience and safety. Further enhancing its utility, the GM9000iED incorporates a 120/240V 50A locking outlet (L14-50R) equipped with a dual USB adapter, catering to contemporary power needs.
Seamless Remote Start Functionality – A noteworthy innovation is the inclusion of a remote control system for hassle-free generator activation. This remote start feature underscores convenience, allowing users to initiate the generator from a distance, streamlining operations.
Empowering Dual Fuel Technology – The GENMAX GM9000iED embraces technological ingenuity by providing the capability to run on either gasoline or propane. This dual fuel flexibility extends unparalleled freedom of choice to users, ensuring that power generation remains unaffected by fuel availability constraints.
Safety Amplified: CO Detection and Low Oil Shutoff – Safety is paramount, and the GM9000iED prioritizes it by seamlessly integrating an intelligent CO Detection mechanism. Should unsafe levels of carbon monoxide be detected, the generator automatically initiates shutdown procedures, safeguarding users from potential harm. Additionally, the generator features a Low Oil Shutoff mechanism, which acts as an investment guardian by promptly halting operation when it detects insufficient oil levels, preventing any potential damage.
Inverter Technology for Pristine Power Delivery – The GM9000iED distinguishes itself by employing advanced inverter technology, ensuring the provision of clean, stable power. This unique capability facilitates the safe operation of sensitive electronics such as televisions and computers, protecting them from power fluctuations and surges.
Innovative Engineering, Uncompromised Reliability – As an embodiment of cutting-edge engineering and meticulous design, the GENMAX GM9000iED Inverter Generator transcends conventional power solutions. It stands as a testament to enduring performance, intelligently addressing a spectrum of power requirements with precision, safety, and unmatched efficiency.
Pros:
Powerful inverter generator
All safety features are included
Easy to operate and start
Cons:
Leak from wireless control
Expensive
DuroMax XP9000iH Inverter Generator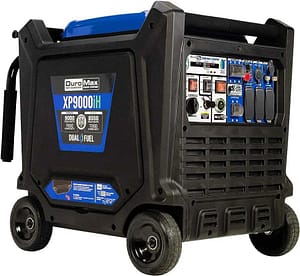 Introducing another 2nd best alternative the DuroMax XP9000iH Dual Fuel Digital Inverter Hybrid Portable Generator, a robust and technologically advanced power solution meticulously crafted to meet a diverse range of energy needs. Boasting a high-performance Cast-Ironed Sleeved, 459cc Engine, this generator stands ready to deliver an impressive peak power of 9000 surge watts, with a steady output of 7600 constant watts. This commanding power capability positions the XP9000iH as an adept performer, capable of effortlessly managing demanding high-wattage appliances and accommodating the simultaneous operation of multiple smaller load devices.
The hallmark of DuroMax Generators lies in their user-friendly design, ensuring quick and hassle-free utilization right out of the box. The assembly process is a breeze – a matter of minutes – involving the straightforward installation of wheels and handles, accompanied by the addition of oil and gas. With these simple steps completed, the generator is primed to initiate its power-generating prowess.
Safety and ease of operation converge seamlessly in the XP9000iH, exemplified by its intuitive push-button start, akin to igniting your car's engine. An added layer of convenience comes in the form of a remote control, providing further accessibility to the generator's activation. A contingency plan is in place with a recoil start mechanism for instances where the battery's charge has been depleted. The inclusion of Solid-Fill tires eliminates the concern of flat tires, while the high leverage handles facilitate effortless transport across all terrains, reaffirming its portability.
Noise mitigation receives significant attention through the incorporation of an oversized noise-reducing muffler. This essential component not only minimizes operational noise but also integrates a Spark Arrestor, rendering the generator compliant and safe for usage within regulated camping sites and job locations.
The Digital Control Center, a technological hub, takes center stage, furnishing critical information through its LCD display. The panel offers real-time insights into the generator's runtime, voltage output, and load level – essential data for effective management. Furthermore, the XP9000iH is primed for seamless integration with an Automatic Transfer Switch (ATS) through its dedicated outlet, streamlining the connection process for those looking to implement a compatible ATS setup.
DuroMax's unwavering commitment to customer satisfaction is epitomized in the comprehensive warranty coverage. The XP9000iH is backed by a 3-year Residential Factory Warranty and a 1-year Commercial Factory Warranty. Any unforeseen issues that might arise are met with dedicated customer support, striving to rectify any concerns promptly. To underscore their confidence in the product, DuroMax extends a 30-day Satisfaction Guarantee, underscoring their commitment to delivering quality.
In summary, the DuroMax XP9000iH Dual Fuel Digital Inverter Hybrid Portable Generator stands as a beacon of power reliability and convenience. It merges cutting-edge technology with user-centric design, offering a dependable energy solution that is both versatile and dependable, ready to answer the call of diverse power needs.
Pros:
Affordable cost
User friendly control panel
Quiet operation
Long run time
Cons:
Like other model it also leak from Remote start
To Sum Up
In the realm of portable power solutions, the Champion 100719 8500-watt inverter generator makes a confident entrance, offering a seamless blend of convenience and performance. Its array of features strikes a perfect balance between efficiency and innovation, resulting in a standout performer. The remarkable fuel efficiency and nearly silent operation work in perfect harmony, creating an impressive duo that commands attention, even during nighttime operation.
Yet, as with any performance, a few missed notes can be detected. The weight of the Champion 100719 might occasionally remind you of its presence, especially on longer journeys. And while its power output sings sweetly for most needs, those with larger demands might feel a touch of longing.
But fear not, for the stage is large and the alternatives aplenty. The GENMAX GM9000iED steps in as a soloist with its compact elegance, and the Honda EU2200i adds a robust layer to the melody. Each alternative, a unique instrument in the generator orchestra, promises a slightly different tune to cater to varying preferences.
As the curtain falls on our review, the Champion 100719 inverter generator bows gracefully, leaving us with a melody of pros and cons. Like any maestro, it commands attention and respect, offering an exquisite performance marred only by minor quibbles. So, whether you choose to revel in its strengths or find solace in the arms of its alternatives, one thing is certain – the world of portable power has a chorus diverse enough to satisfy even the most discerning ears.