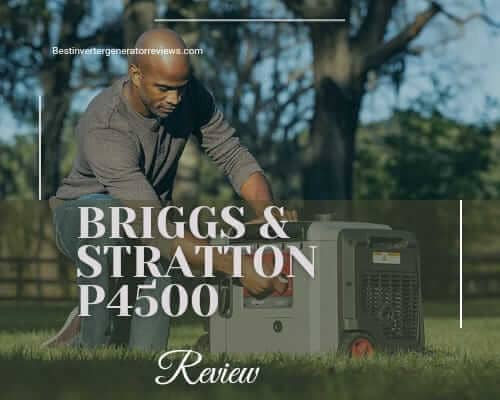 Looking for an inverter generator? that is the best for RV trips? yes! specially designed for RV, and which is used for home's backup power, and which is also used for running large appliances. For these purposes, the Briggs & Stratton p4500 inverter generator is the best choice. In 2019, Briggs & Stratton introduced the people to its innovative addition to its popular PowerSmart Series of quiet inverter generators. This generator is also engineered to safely power your all sensitive electrical appliances with a big amount of power output.
Key Features
| Product Information | Detail |
| --- | --- |
| Starting Watts | 4500 |
| Running Watts | 3700 |
| Fuel Type | Gasoline |
| Engine Type | 224cc 4-stroke OHV Engine |
| Fuel Capacity | 3.5 Gallons |
| Running Type | 16 hours at 25% load |
| Noise Level | 58 dba |
| Weight | 115 lbs |
| Dimensions | 24.5″L x 17.6″W x 20.3″H |
| Starting Method | Remote start / Electric start |
What make the Briggs & Stratton P4500 Great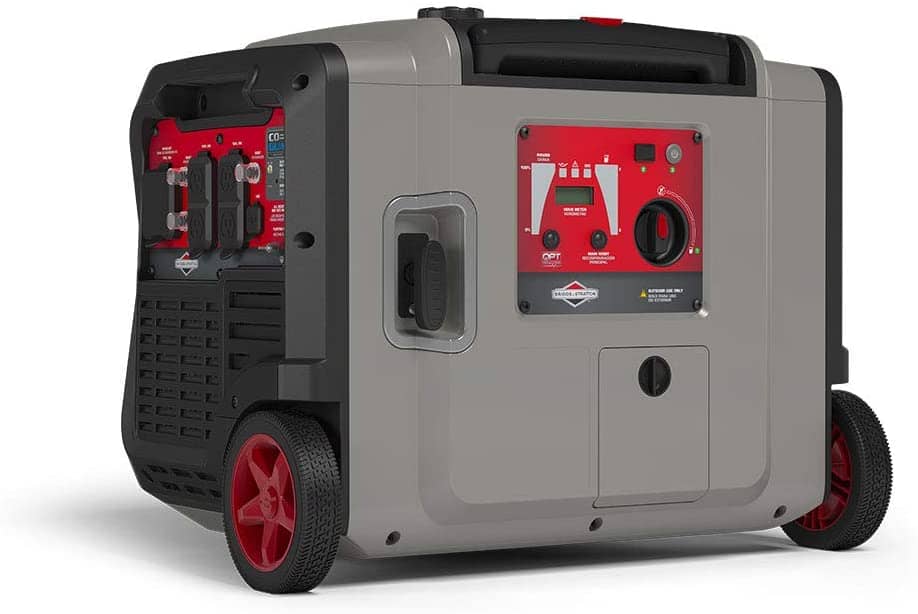 CO Guard Feature
Briggs & Stratton P4500 is a highly advanced and versatile generator designed specifically for RV owners, but it's also an excellent choice for homeowners looking for a reliable power source. This model is built with a range of impressive features that make it stand out from the rest, but the most noteworthy feature is its built-in carbon monoxide monitoring system.
One of the biggest concerns for any generator owner is the risk of carbon monoxide poisoning. This gas is odorless, colorless, and deadly, making it extremely dangerous to have in your living space. The Briggs & Stratton P4500 is designed to address this issue head-on, providing a built-in monitoring system that continuously tracks CO levels and shuts down the generator automatically if levels rise above safe limits.
This feature alone is enough to make the Briggs & Stratton P4500 a top choice for homeowners and RV owners alike. It offers peace of mind knowing that you and your loved ones are protected from this potentially deadly gas. However, there is much more to love about this generator than just its carbon monoxide monitoring system.
How does this unit start and transport?
If you're looking for a reliable and easy-to-use generator, look no further than the Briggs & Stratton P4500. This powerhouse of a generator is not only powerful, but it's also incredibly easy to start. In fact, starting the P4500 is so easy that even your children at home can do it with ease.
The generator comes equipped with an electric push-button and recoil starting system, giving you two options to start the generator. Whether you're feeling a bit tired or simply want to let your children get in on the fun, the electric start is a breeze to use. And with the added option of recoil starting, you can rest easy knowing that you'll always be able to start your generator, no matter the circumstances.
But that's not all that sets the P4500 apart. The generator is also incredibly easy to transport, thanks to its telescoping handle and two non-flattening wheels. Whether you need to move it around your backyard or take it on the road for a camping trip, the P4500 can go wherever you go. And with its protective hard-shell cover in sleek gray and black, you can be sure that your generator will stay safe and protected from dirt and debris.
So if you're in need of a generator that's both powerful and easy to use, the Briggs & Stratton P4500 is the perfect choice. With its effortless starting system, easy transportability, and durable design, it's the ultimate generator for anyone in need of reliable power.
Control panel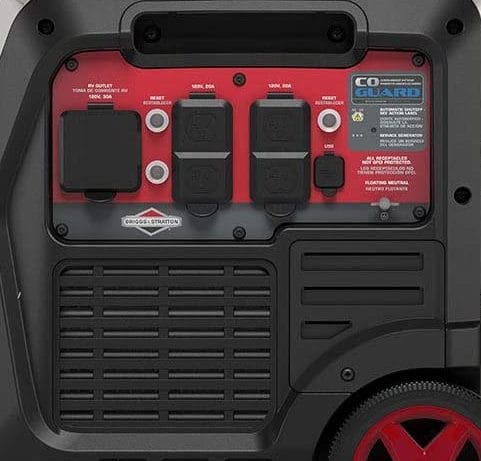 The Briggs & Stratton P4500 is a highly versatile generator that features a unique and user-friendly design. One of the most noticeable components of the P4500 is its side panel, which is home to all of the generator's power outlets and circuit breakers. This design feature is highly convenient for users, as it allows them to easily access all of the generator's functions and controls from a single location.
Among the power outlets found on the Briggs & Stratton P4500 side panel is a 120 volts 30A RV outlet. This outlet is specifically designed for use with RVs, allowing users to easily connect their vehicles directly to the generator. This can be highly beneficial for those who enjoy camping or traveling in their RV, as it provides a reliable and convenient power source for all of their electrical needs.
In addition to the RV outlet, the P4500 side panel also features four duplex 120V 20A outlets. These outlets are perfect for powering multiple small to medium-sized devices simultaneously, such as laptops, smartphones, or small appliances. This feature can be particularly useful in situations where a single outlet is not sufficient, such as during outdoor events or camping trips.
This 4500 watt generator also comes equipped with two USB ports, allowing users to keep multiple items powered simultaneously. This feature is highly convenient for those who rely on their smartphones or other devices for work or entertainment, as it ensures that they can stay connected and productive regardless of their location.
To protect these outlets from moisture and dust, each one is fitted with a plastic cover. This not only helps to keep the outlets clean and functioning properly but also ensures the safety of the user. Additionally, the entire generator is encased in an impact-resistant plastic housing that reduces noise volume by the engine and protects your generator from dust and knocks. This design feature helps to minimize any potential damage to the generator and ensures that it remains in good working order for years to come.
How much power you can expect from The Briggs & Stratton P4500
When it comes to the power output, the Briggs & Stratton P4500 is fitted with224cc engine that allows it to power output 4500 starting watts and 3700 running watts. For this power output, you are able to run your small to large appliances like bulbs, fans, air-condition, refrigerators, and also your sensitive electronic appliance, like mobiles, TV, laptop, etc.
Fuel Economy
The Briggs & Stratton P4500 inverter generator is a power-packed machine that is perfect for outdoor activities and emergencies. One of the most impressive aspects of this generator is its fuel economy, which Briggs & Stratton claims is among the best in the market. However, as per your opinion, it may not be the best, but it still holds up well when compared to other inverter generators.
With its 3.5-gallon gasoline tank, the P4500 can run for up to 16 hours at 25% load, making it an ideal choice for extended outdoor events, camping trips, or emergency power outages. Imagine being able to enjoy a whole day or night of partying or camping without having to worry about running out of power. This generator can handle large appliances with ease, so you can plug in your TV, fridge, and other devices without worrying about power surges or outages.
One feature that sets the P4500 apart from other generators is its fuel gauge. This is a feature that is often missing from other models, and it can be incredibly useful for keeping track of fuel levels and preventing unexpected shutdowns. With the fuel gauge, you can quickly check how much fuel is left in the tank and plan accordingly.
Weight and Noise Level
The Briggs & Stratton p4500 inverter generator is a powerful generator that is designed to provide high output power with low noise levels and a manageable weight. One of the key features of this generator is its ability to deliver a high level of power without compromising on noise levels or weight.
One of the most impressive aspects of this generator is its quiet operation. Despite its powerful performance, the generator operates at a soft 58dB operating volume, which is considered quiet for an inverter generator of this size. This makes it an ideal choice for use in a range of settings where noise levels need to be kept to a minimum, such as camping trips, outdoor parties, and RV trips. This quiet operation ensures that you can enjoy the benefits of a high-performance generator without being disturbed by the noise it produces.
In terms of weight, the Briggs & Stratton p4500 inverter generator is also a standout product. With an empty weight of just 115 lbs, it is lightweight and easy to handle, making it a convenient choice for a range of applications. Despite its relatively light weight, the generator is still robust and durable, making it a reliable choice for long-term use.
In addition to its low weight, the generator is also designed to be easy to lift and move around. With space provided on either side of the generator, it is easy for two people to lift the generator and move it where it needs to be. This makes it a practical and versatile choice for use in a range of settings, from outdoor events to emergency backup power for homes and RVs.
Parallel Kit
Are you tired of constantly running out of power during power outages or while camping? Look no further than the Briggs & Stratton P4500 generator. With its impressive power output of 4,500 peak watts and 3,700 running watts, this generator is sure to keep your appliances and devices running smoothly.
But wait, there's more! With the optional parallel connection kit, you can double your power output to a whopping 9,000 peak watts and 7,400 running watts. That's enough power to keep your entire household running during a blackout or to power all of your camping gear at once.
One thing to note is that the parallel connection feature is not explicitly mentioned in the product description. However, it is listed as a standard feature for the PowerSmart generator series, so it is safe to assume that the Briggs & Stratton 30795 P4500 generator is capable of parallel operation with the use of the parallel kit.
With the parallel kit, you can connect two Briggs & Stratton 30795 P4500 generators in parallel to effectively double your power output. This is a great option for those who need even more power, such as those with large RVs or those who run multiple power-hungry appliances at once.
Warranty
The Briggs & Stratton P4500 generator is a reliable and powerful option for anyone in need of backup power or portable power while on the go. One of the standout features of this generator is its warranty. With a 3-year residential warranty and a 1-year commercial warranty included in this 3 years warranty, you can have peace of mind and confidence in your purchase.
The 3-year residential warranty provides coverage for any defects in materials or workmanship, giving you the assurance that your generator is built to last. And with the 1-year commercial warranty, you can use this generator for your business needs with confidence.
Having a warranty option is crucial when purchasing any type of product, especially one as important as a generator. With a warranty, you have the assurance that if there are any issues with your generator, you can get it repaired or replaced without having to spend additional money out of your pocket.
The Briggs & Stratton brand is known for its high-quality products, and the inclusion of a generous warranty further solidifies the company's commitment to customer satisfaction. With the warranty, you can feel confident that you are investing in a product that will not only meet but exceed your expectations.
Pros:
Best for RV tips
Awesome run timing
Great housing of plastic cover on the entire generator
Telescoping handle with 2 wheels
Good for power backup
Cons:
Wheels would be a little bit large.
Not has a remote start system
Conclusion
While writing a review about Briggs & Stratton P4500, I have noted that some people gave bad reviews to this inverter generator due to facing some problems. But I don't think there is any major problem with the generator. This generator is really good and it has the best features which deserve appreciation.
I'm honestly saying that If you need the most powerful inverter generator in 3k watt to 5k watt so you should try this inverter generator because Briggs & Stratton is a famous brand and they never give people any bad product.
You can easily use the generator for many activities like a home backup during the outage of electricity, especially while RV trips, or camping. This generator is able to run your many appliances at the same time. one of the amazing things which I noted was that one of the customers told that, he ran this unit for at least 50 hours.
Some people like to go for enjoying RV trips or camping that's why they have to search for the best RV generator. If you like to go there then you don't need to search for any generator because you're at the right place.
Just check the price on Amazon and buy this good model at an affordable price.
FAQs
Q: What kind of warranty does Briggs & Stratton P4500 Inverter Generator come with?
A: The Briggs & Stratton P4500 Inverter Generator comes with a 10-year limited warranty on parts and labor, so you can rest easy knowing that if anything goes wrong, the company will take care of it for you.
Q: Is the Briggs & Stratton P4500 Inverter Generator good for my needs?
A: The Briggs & Stratton P4500 Inverter Generator is a great generator for your needs, especially if you're looking for one that will power your home or business with ease. It has a quiet operation and runs efficiently, so it won't be too loud or take up too much space. You can also easily hook up additional cords to it if needed.
Q: How long does the Briggs & Stratton P4500 Inverter Generator last?
A: The Briggs & Stratton P4500 Inverter Generator will run for about 13 hours on a single tank of fuel. This is more than enough time to run through all your appliances in a single day, so you don't have to worry about running out of power!
Q: How much fuel does it take?
A: The Briggs & Stratton P4500 Inverter Generator uses just over 3.5 gallons of fuel per hour of runtime, which means that it can run for as long as 16 hours on just one tank full! That's nearly three times longer than many other generators on the market today!
Q: How much does it weigh?
A: It weighs about 115 lbs.