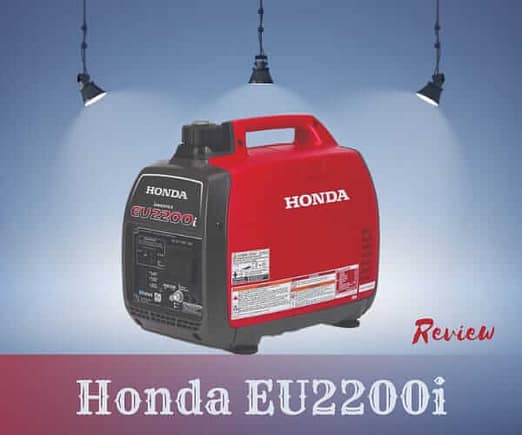 Today in the modern world inverter generators are also modern tools in the field of power supply machines. They have a lot benefits more than regular portable generators.
But when you think about purchasing an inverter generator meanwhile you get advice from some of your friends or relatives so most of them will recommend you for Honda. Why? Because Honda is one of the best and most trusted brands, and it is one of the unquestionable leaders in the market.
The Honda eu2000i was a great example that introduces Honda's brand loyalty and gained people's trust. Lots of customers you'll see to appreciate about Honda eu2000i. In 2018 Honda stopped manufacturing eu2000i and after then introduced a new model EU2200i with more good features.
Although, I'm talking about one of the trusted brands. still, my opinion is that we should read all features of every product which we are intending to purchase. Let's see how many features are equipped with the Honda eu2200i.
TECHNICAL SPECS of HONDA EU2200I
| Product Information | Details |
| --- | --- |
| Running Watts | 1800 |
| Surge watts | 2200 |
| Fuel type | Gasoline |
| Tang capacity | 0.95 Gallons |
| Run Time | 8.1 hours at 25% load |
| Weight | 46.5 lbs |
| Dimension | 20.2″ L x 11.4″ W x 16.7″ H |
| Noise Level | 48 db at 1/4 load, 57 db 100% load |
Features of Honda EU2200i Inverter Generator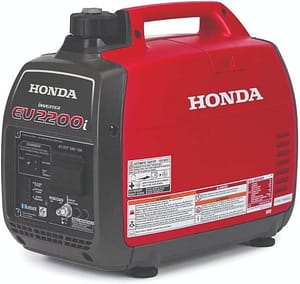 When it comes to product updates, disappointment can be a common occurrence as we often expect some features to be missed out on. However, Honda has truly outdone themselves with their latest update. With the upcoming update of their eu2200i product, they have managed to keep all of the great features from its predecessor, the eu2000i, while also introducing some exciting new changes.
From a visual standpoint, the eu2200i still retains the sleek and modern design of its small brother, the eu2000i. The striking colors of the new version will surely catch your eye and give you a sense of confidence in the product's durability and reliability.
Many may wonder if the new model will be as great as the previous one, but there is no need to worry. The eu2000i was already an exceptional product, and with the introduction of the latest update, the eu2200i is guaranteed to be even better. With the addition of new features and improvements, Honda has truly taken this product to the next level.
If you're looking for more information about the new version, rest assured that all details have been carefully considered and thought through. With a closer look, you will see that the eu2200i is not just a simple update, but a product that has been meticulously crafted to meet and exceed expectations. The new model is undoubtedly a testament to Honda's commitment to innovation and quality, and it's a product that is sure to impress.
Engine & Output Power
Generators are an essential component of modern life, providing power when and where it is needed most. At the heart of every generator lies the engine, which is responsible for producing the electrical power that drives our homes, businesses, and communities. The engine is the workhorse of the generator, providing the power necessary to keep the lights on, the refrigerator running, and the air conditioner humming.
When it comes to generators, quality matters. A good quality engine is essential for ensuring that the generator is reliable, efficient, and powerful. This is where Honda generators stand out from the competition. Honda is renowned for its commitment to engineering excellence, and their generators are no exception.
The Honda EU2200i generator is equipped with a brand new 121cc Honda GXR120 4 strokes engine. This engine is a thing of beauty, with a reputation for being solid, long-lasting, and powerful. It is an upgraded version of the Honda GXR100, and it is capable of delivering higher wattage than its predecessor.
The new engine generates 2200 starting watts and 1800 running watts, which is 200 watts more than the previous model. This additional power means that the generator can now power more equipment than ever before. You can now connect a computer, TV, blender, coffee pot, or any other household appliance without fear of overloading the generator.
Furthermore, the Honda EU2200i is an inverter generator, which means that it produces clean and stable sine wave power with less than 3% total harmonic distortion (THD). This makes it safe to directly connect sensitive electronic devices like laptops, smartphones, and tablets without fear of damaging them.
Honda generators are known for their durability, and the EU2200i is no exception. Many customers who use Honda generators on a daily basis report that they are solid and long-lasting, running flawlessly for years. With the new 121cc engine, the EU2200i is sure to provide reliable power for many years to come.
In conclusion, the engine is the most important component of a generator, and the Honda EU2200i is equipped with a top-of-the-line 121cc Honda GXR120 engine. This engine is powerful, reliable, and efficient, providing 2200 starting watts and 1800 running watts of clean and stable power. It is perfect for powering all of your household appliances and electronics, as well as small power tools on job sites. With a Honda generator, you can rest assured that you will have the power you need, when you need it, for years to come.
Design & weight
The Honda EU2200i 2200 watt generator is a perfect example of design excellence and attention to detail. From its compact size to the striking red and black color scheme, every aspect of this generator has been carefully crafted to make it both functional and visually appealing.
One of the most notable features of the Honda EU2200i inverter geneator is its weight. Weighing in at less than 47 pounds when empty, this generator is incredibly lightweight and portable, making it an excellent choice for anyone who needs to take their generator on the go.
To make carrying the generator even more comfortable, it has a thick, molded plastic handle on the top. This handle is designed to provide a comfortable grip that won't cause any discomfort or swelling, even if you need to carry the generator for an extended period.
The design of the Honda EU2200i generator also allows for easy maintenance. The maintenance cover is fixed with a single screw, which means that accessing the generator's internal components is quick and easy. This makes it simple to perform routine maintenance tasks, such as oil changes or air filter replacements, without spending too much time or effort.
Overall, the combination of the Honda EU2200i's lightweight design and easy maintenance makes it an ideal generator for anyone who values both functionality and convenience. Whether you need a generator for camping trips, outdoor events, or emergency backup power, the Honda EU2200i is an excellent choice that you won't regret.
Run Time & Fuel Capacity
Imagine you're out camping, deep in the heart of the wilderness, surrounded by the sights and sounds of nature. The sun has set and the darkness has enveloped the world around you, but you're not worried. You have the trusty Honda EU2200i generator by your side, providing a reliable source of power to keep you warm, safe, and connected to the modern world.
One of the key features of this generator is its impressive run time and fuel capacity. Despite having a small fuel tank that can hold just 0.95 gallons of gasoline, the Honda EU2200i is a powerhouse that can keep going for hours on end. At quarter load, it can run for a whopping 8.1 hours, which is more than enough to get you through a full night's sleep without having to worry about refueling.
Of course, if you're using the generator at full load, you'll get slightly less run time. But even then, the Honda EU2200i can keep chugging along for up to 3.2 hours on a single tank of gas, which is still pretty impressive. Whether you're using it to power your lights, charge your phone, or run a small appliance, this generator has you covered.
Admittedly, when compared to the Westinghouse iGen2200, the Honda EU2200i's run time might seem a little lackluster. The iGen2200 can run for up to 12 hours at quarter load on a tank of gas that holds a full gallon, which is pretty impressive. However, even though the Honda EU2200i falls short of that benchmark, it's still a fantastic generator that can provide reliable power for hours on end. And best of all, with its long run time, you can spend the whole night out in the wilderness without having to worry about running out of fuel.
Noise level
The noise level feature is really excellent which makes this unit ideal for camping, tailgating, RVs, or where there you don't like to disturb the people by the generator's noise. The noise level of this model distinguishes it from other brands' models.
You'll also be amazed by the generator's noise because it operates 48 dba at 25% load and 57 dba at full load.
Wow, it's really great feature. Otherwise, mostly inverter generator of this size operates 52 to 60 dba at 25% load.
When it comes to the quiet inverter generator the Honda EU2200i looks like a winner since it is one of the quietest inverter generators in 2000 watt inverter generator models.
Control Panel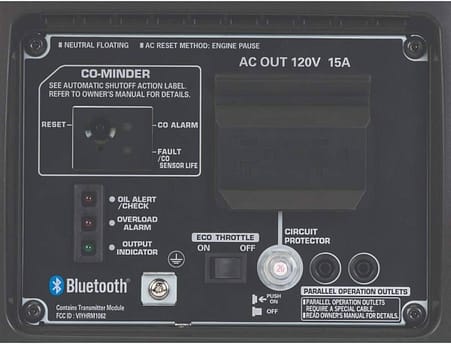 Step right up and take a look at the impressive control panel of the Honda EU2200i generator! With its sleek design and user-friendly features, this powerhouse is sure to meet all of your power needs.
Let's start with the AC outlets – the EU2200i has not one, but two standard 120 Volts 15 Amps outlets to power your equipment. That's twice the power for your devices! And if that wasn't enough, this generator also comes equipped with a 12Volt 8.3Amps DC outlet for powering 12V automotive-type batteries. However, be aware that an additional cord is needed for this outlet, which is sold separately by Honda.
But that's not all – this generator has three indicator lights that will keep you in the loop on what's happening under the hood. The first light will blink when the oil levels are low, so you never have to worry about running your generator without proper lubrication. The second light will let you know if you're running the generator on overload, so you can adjust your power needs accordingly. And finally, the third light will indicate when the generator is ready to provide power, so you can rest assured that everything is running smoothly.
Now, let's talk about the Eco-Throttle mode. This nifty feature allows you to run the generator on ECO mode, which maximizes runtime and fuel economy while reducing noise levels. When you switch on the ECO mode, the generator will run slowly and manage the electricity load, allowing you to get up to 9 hours of run time. That's 9 hours of uninterrupted power to keep you going through any emergency or outdoor adventure.
And don't forget the Fuel off switch – this allows the generator to use up the remaining gasoline in the carburetor before shutting down, ensuring that your generator is always ready to power you whenever you need it.
Finally, for those who need even more power, the EU2200i has a parallel kit operation outlet that allows you to connect a second Honda EU2200i or EU2200i companion to double your maximum power output to a whopping 4400 watts.
Starting up this impressive machine is a breeze too, with the same manual recoil start method as its predecessor, the EU2000i. It only takes one pull to get the generator going, so you can spend less time fussing with the controls and more time enjoying the power it provides.
So, whether you're powering your tools on a job site or keeping your lights on during a blackout, the Honda EU2200i generator has got you covered with its impressive control panel and powerful features.
Difference between Honda EU2200i and EU2200i Companion
Are you in the market for a reliable and efficient inverter generator for your camping or RV trip? If so, you may be wondering about the difference between the Honda EU2000i and the EU2200i Companion. Well, the answer is quite simple, the EU2200i comes with an extra 30 amps outlet that the EU2000i does not have.
With the EU2200i, you get two AC outlets, one 20 amps and one 30 amps, while the EU2000i only has one 20 amps outlet. This means that the EU2200i Companion can handle a greater electrical load, making it a more versatile option for outdoor adventures.
But that's not all that's different between these two models. When you compare the technical specifications, you'll find a few upgrades in the EU2200i Companion. Despite having the same look and dimensions as the EU2000i, the new model is one pound heavier, but it offers an additional 200 watts of power. This means that the EU2200i Companion can power more electrical devices and appliances than the EU2000i.
Another significant improvement is the noise level of the EU2200i Companion. It operates at 5% quieter than its predecessor, making it a great option for outdoor enthusiasts who value peace and quiet. The EU2200i Companion also has a fuel shutoff valve that allows the generator to run dry, which helps prevent stale fuel issues, making it easier to maintain.
Perhaps the most impressive thing about the EU2200i Companion is that it comes with all of these new features, and yet it is still offered at the same price as the EU2000i. That's right, Honda has provided new and improved features without increasing the price, making it a great value for anyone looking for a reliable and efficient inverter generator.
In conclusion, if you're looking for an inverter generator for your next outdoor adventure, you can't go wrong with either the Honda EU2000i or the EU2200i Companion. While the latter offers an extra 30 amps outlet, 200 more watts of power, and quieter operation, both models are reliable, efficient, and backed by Honda's reputation for quality and durability.
Pros:
Really quiet inverter generator
Nice run time
Powerful engine
Portable and lightweight
Fuel efficient
It comes with a 3-year residential
200 watts more than older model
Cons:
No fuel Gauge
No hour meter
Not cheap inverter generator
Conclusion
The Honda EU2200i is an exceptional inverter generator that has been highly regarded by users due to its many desirable features. This generator is the upgraded version of the previous model, and it has been designed with improved functionality and performance to meet the needs of its users.
Despite its impressive features, you may not be surprised by any of the technical aspects of this generator. This is because it has all the same features compared to other models in its class. However, what makes the Honda EU2200i stand out from the crowd is its unparalleled reliability and quality, which are characteristics that are synonymous with the Honda brand.
During the review process, it was incredibly difficult to find any cons associated with the Honda EU2200i, making it a highly sought-after generator among users. This generator has been engineered to perfection and has all the features that you would expect from an inverter generator. Additionally, it runs at a whisper-quiet 48 decibels when operating at 25% load, making it an excellent choice for camping trips or any other activity where you require a quiet generator.
In other words, the Honda EU2200i is a smart choice for any place where you need reliable and quiet power. If you require more power, you can easily upgrade it by choosing a parallel kit option. If you're looking for a trustworthy brand inverter generator in the 2200-watt range, then you can stop searching because Honda is one of the most reliable and respected brands in the market.
It's safe to say that you don't need to hesitate when purchasing the Honda EU2200i, as it will perform perfectly for you. With this generator, you can rest assured that you are investing in a quality product that will serve you for many years to come. In conclusion, the Honda EU2200i is an exceptional inverter generator that you can rely on to provide you with reliable and efficient power, making it a smart choice for anyone in need of a quality generator.
FAQs
Q: Will The EU2200i run an RV air conditioner?
A: Are you planning a getaway in your RV but unsure if your power source can handle the demands of your air conditioner? Look no further than the EU2200i from Honda. With its impressive 1800 running watts, this powerhouse of a generator is more than capable of keeping your RV cool and comfortable on even the hottest days.
Thanks to its reliable performance, you can rest easy knowing that your air conditioner will run smoothly without any disruptions or unexpected shutdowns. And with its compact design and quiet operation, the EU2200i won't disturb your peaceful surroundings or draw unwanted attention from your fellow campers.
However, it's important to note that while the EU2200i can handle the load of your RV air conditioner, it may not be able to power additional devices at the same time. So, if you're looking to run multiple appliances or electronics, you may need to consider a larger generator or plan to alternate usage to avoid overloading the system.
Overall, the EU2200i from Honda is an excellent choice for RV enthusiasts who want a reliable and efficient power source for their air conditioner. With its impressive wattage and quiet operation, it's the perfect companion for your next adventure on the open road.
Q: Does it run a refrigerator?
The Honda eu2200 is able to run your refrigerator, electric oven, blender, and much more. If you want to know more about how many tools a 2000-watt generator can run then you should check our 2000 watt inverter generators.
Q: What I can run with Honda EU2200I?
A: You can the following equipment:
A Refrigerator or Freezer.
Phone Chargers & Tool Chargers.
Sump Pump or Dehumidifier.
RV Air Conditioner, small. (3,000 watts for a large one).
Room Air Conditioner, small.
Power Tools like Drill, Grinder, Sawzall.
Kitchen Appliances like Microwave or Electric Frying Pan.
Fans & Lights.
Computer, Printer, Modem, Router, etc.
Coffee Maker.
Garage Door Opener.
Server Computers & Switch Gear.
Phone System, Fax Machine, Printer.
Q: how much oil does Honda eu2200i take?
A: Honda EU2200i takes 14 Oz / 0.44 L and It is the engine oil capacity.
Q: How long can the honda eu2200i run?
A: It all depends on your electric load, how much load you're using then the generator run for a long time or short time.
However, this unit can run for 8.1 hours at a 25% load. If you increase the electric load then the run time will decrease.
Q: What is the Honda EU2200i?
A: The Honda EU2200i is a portable and powerful generator that is ideal for powering low-wattage appliances and more. It has an output of 2200 watts, which means it can run machines like refrigerators, freezers, air conditioners, and other small household appliances. It has a manual starter/generator that will start up quickly and run smoothly even when the engine is cold. The machine also features an optimized operation mode for low-load applications such as running fans or lights.