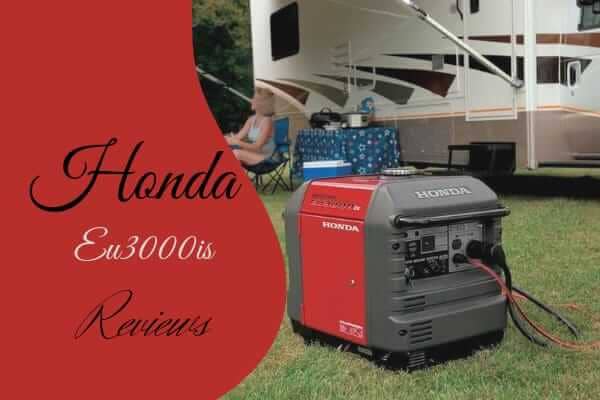 Although, the Honda inverter generators are too expensive in the market, because it never compromises while building its products. That's why you can't deny its popularity and merit.
This Japanese company has won the trust of the people by working hard day and night for providing facilities to the people. This is why this brand is most famous and sold in the market, many people want to purchase its products instead of other brands. The people know its popularity, quality, and reliability.
Yes, there is one dislike thing about this brand is that due to its expensive everyone can't purchase Honda products. You have seen the Honda's loyalty and quality in Honda's eu2000i old model which won people trust and likeness. Many people purchased this old model and appreciated it.
Now the question is how the new model Honda eu3000is is.? is it also the best performance as the previous model.? is it worth this price tag.? Let's take our all answers to the questions since in this article you'll know everything about the Honda eu3000is.
What are the benefits of this article? The most benefit is that you'll confirmed that this model is suit for you or not.
Technical Space of Honda EU3000is
| Product Information | Detail |
| --- | --- |
| Starting Watts | 3000 |
| Running Watts | 2800 |
| Fuel Type | Gasoline |
| Fuel Tank Capacity | 3.4 gallon |
| Weight | 130.7 lb |
| Run time | 20 hours at 1/4 load |
| Noise Level | 50 dba at 1/4 load |
About the Honda EU3000is – at a Glance
The Honda EU3000is falls in the 3000-watt inverter generator category which is suitable for a variety of uses, especially for RV. It has a solid amount of power in this compact design for your most appliances, easy to start, solid, and reliable as any Honda inverter generator.
This is the quietest inverter generator in 3000-watt inverter generators so far that makes nicely choice for camping, RV trip, ever your home backup power normally, or during the power outage. The good thing about it is you're allowed to use this model anyplace since it comes with CARB compliant.
To make this generator solid and reliable, it is covered by a steel frame, meaning it can't be damaged easily by weather elements.
However, you'll get the generator weight is a bit heavy and face problem to move around (but it has a solution for this problem is you'll have to purchase wheels kit separately).
But you just have to accept it if you're tired of a plastic cover inverter generator and want something new, this might be a good idea for you.
Features of Honda EU3000is Inverter Generator
If you plan to buy this model, you should take a look at all features. Yes, it is equipped with great features which will force you to but this model. Please keep read for further detail.
Original Powerful Engine and Power
The Honda EU3000is is an exceptional generator, perfect for powering your appliances at home, job sites, camping, RVs, and more. It comes equipped with a 100% original powerful 196cc 4-stroke Honda GX200 engine, which is designed to provide exceptional power and reliability.
With 3000 starting watts and 2800 running watts, this generator offers enough power to run a wide variety of appliances, including bulbs, fans, electric stoves, microwaves, juicer blenders, and refrigerators. However, many generators with high power output are not suitable for powering sensitive electronic equipment because of the high RPM and unstable power wave, which can damage the appliances.
But the Honda EU3000is is different. Despite its large amount of power, it generates clean, reliable, and stable power waves of less than 3% Total Harmonic Distortion (THD), making it safe to connect even the most sensitive electronic equipment, such as computers, mobile phones, laptops, tablets, and more.
In other words, you can enjoy the convenience of using your sensitive electronic devices without any worry of damage. The Honda EU3000is ensures that your appliances run smoothly and efficiently, thanks to its advanced technology that provides a consistent flow of clean energy.
Extremely Quietness
Are you tired of the constant noise pollution caused by large generators? Do you want to enjoy the convenience of a large generator without compromising on peace and quiet? Look no further than the Honda EU3000is Inverter Generator, the quietest large generator in the market.
It is a well-known fact that larger generators tend to be noisy, but Honda has addressed this issue head-on by designing a generator that operates at an unbelievably low noise level. The Honda EU3000is operates at just 50 decibels (dba) at ¼ load and 57 dba at rated load, which is considerably quieter than most other generators of similar size.
This remarkable feature sets Honda Inverter Generators apart from other brands in the market and is the reason behind their premium price point. The Honda EU3000is is perfect for those who value peace and quiet and is ideal for use in RV trips, camping, outdoor events, and other activities where a silent generator is a must.
So, bid farewell to noisy generators and embrace the tranquility offered by Honda EU3000is. Experience the convenience of a large generator without compromising on the peace and quiet you deserve. Invest in a Honda EU3000is today and elevate your outdoor experiences to a whole new level.
How much can you expect Honda EU3000is run time?
It is common fact that if you have a large engine then your generator has just a short time for running. mean it cannot give you a long run time with low fuel.
But now we have a surprise for you, What? Because the Honda EU3000is is a reliable and powerful generator that has garnered an impressive reputation in the industry. When it comes to its runtime, this generator is truly exceptional. It is a common fact that generators with larger engines tend to have shorter run times. However, the Honda EU3000is defies this convention with its remarkable runtime capability.
At a quarter load, this generator can run for up to 20 hours, which is simply astounding. This means you can enjoy uninterrupted power supply for an entire day and more. Even when you are running it at the full rated load, you can still expect a decent runtime of almost 7 hours. This is all made possible by the Honda EU3000is's exclusive Eco-Throttle System, which allows it to run efficiently and save fuel.
With a tank capacity of 3.4 gallons of gasoline, the Honda EU3000is provides an amazing runtime. This is particularly impressive when you consider the fact that other generators with similar fuel tanks often have shorter run times. With the Honda EU3000is, you can enjoy a longer runtime without having to refill the tank frequently, which is a great convenience.
Due to its exceptional runtime, the Honda EU3000is is an exclusive choice for home backup, RV trips, and camping. These activities often require a generator that can run for a long time with just one fuel fill. The Honda EU3000is meets this need perfectly, making it an ideal choice for those who want a reliable and efficient power source for their outdoor adventures.
Is There Anything Special in Honda EU3000is Control Panel?
While the control panel may not have any groundbreaking features, it has everything you need to power your appliances with ease. However, one standout feature is the electric start, which is a rarity in 3000-watt inverter generators. This convenient feature eliminates the need for manual recoil start and makes starting the generator a breeze.
With ample space and power, the Honda eu3000is can accommodate a wide range of appliances and purposes. It comes equipped with two 120volt 20 amps outlets, one 120volt 30 amps locking plug, and a 12volt DC outlet, making it easy to charge your automotive batteries. Whether you need to power your RV, run your power tools, or keep your home appliances running during a power outage, this generator has got you covered.
The control panel is designed with user-friendliness in mind, making it easy for anyone to operate. The panel features three LED lights for low oil alert, output indicator, and overload alarm, as well as an engine fuel valve, ECO-Throttle switch, choke, and engine switch. The intuitive design ensures that you can easily operate the generator without any confusion.
Despite its wide range of features and power capabilities, there may still be instances where you require even more power. That's where Honda's parallel kit option comes in. With this feature, you can connect another Honda eu3000is to increase your power output even further.
Dimensions and Weight
The overall dimensions of this generator are 25.9 inches in length, 17.6 inches in width, and 22.4 inches in height. It is a bit heavy inverter generator that is 130.7 lbs in weight.
What did I like in Honda EU3000IS?
The Honda EU3000IS is a highly acclaimed inverter generator known for its outstanding performance and reliability. As an owner of this model, I have discovered several impressive features that make it stand out from other inverter generators on the market.
Firstly, the Honda EU3000IS is powered by a robust original Honda GX200 engine. This engine is not only highly efficient, but also has the potential to run for years without any major issues. Its exceptional durability ensures that you will not have to worry about replacing it anytime soon.
Another impressive feature of the Honda EU3000IS is its smart runtime. This inverter generator is designed to provide power for several hours, making it perfect for overnight use or extended outdoor activities. This feature is highly useful for outdoor enthusiasts who need reliable and uninterrupted power supply throughout their trip.
Moreover, the Honda EU3000IS is incredibly quiet, even at full rated load. This means that you can enjoy your outdoor activities or use this generator in residential areas without worrying about any disturbance caused by the noise level. The low noise level of this inverter generator is a result of its advanced technology and design, making it an ideal choice for those who value peaceful surroundings.
What did I dislike in this model?
Honda is a brand that has always been known for its exceptional quality and high-performance products. However, during the evaluation of the Honda EU3000is generator, it became evident that there were a few downsides to the model. These drawbacks were disappointing, given the generator's high price tag and Honda's reputation for manufacturing top-notch equipment.
One of the most significant drawbacks of the Honda EU3000is is that it does not come equipped with wheels and a handle. These features are essential for portability, and their absence makes it challenging to move the generator around. Even worse, the wheel and handle kit must be purchased separately, which significantly increases the price of the unit. As a result, the Honda EU3000is is not a practical choice for everyone, especially those on a budget.
Additionally, the Honda EU3000is is an inverter generator, which means it should have a lightweight design. However, when compared to other brands, this model is relatively heavy, making it difficult to transport. This fact raises questions as to why this generator is so heavy when it does not produce as much power as other inverter generators that are lighter in weight.
Lastly, the Honda EU3000is lacks USB ports, which are becoming increasingly necessary in modern times. USB ports allow users to charge their devices while in remote locations, which is a crucial feature for outdoor enthusiasts who use generators. The absence of USB ports in the Honda EU3000is is a significant oversight, especially considering the high price of the unit.
Conclusion
If you want a solid, reliable, long-lasting portable inverter generator in 3000 watts. Also, that can run your large appliances then the Honda EU3000is inverter generator is a good option for you.
This 3000-watt generator has a really good running time, solid engine, and body that make the generator run for years. One the most amazing features of this model is its quiet operation. Maybe you don't get any quietest generator then it in this size.
Although it is more expensive then other models but it is real product that will last ;onf easily. It is best for camping, home backup and all outdoor activies.
on other hand, Honda is a well-known brand everyone knows its product quality. In short, you'll not have any problem with this inverter generator.
| | |
| --- | --- |
| | The Honda EU3000is is an advanced, high-performance, natural gas engine. It features a compact design and is built to withstand harsh environments. This generator can run for up to 20 hours on a single tank of fuel, depending on environmental conditions and load requirements. |
| | |
| | |
| | |
| | |
| | |
| | |
| | |
| | |
Frequently Asked Questions
Q: Can I use Honda EU3000is as a home backup power?
A: With its 3k starting watts, this model is strong enough to run the most important household appliances during a blackout. using this generator for an RV air conditioner (up to 13500 BTU), refrigerator, furnace, microwave, coffee maker as Honda recommends.
Since it is an inverter generator and gives stable and clean power less 3% THD, you can also safely use it with modern portable electronics too such as tablets, smartphones, notebooks, LCD TVs, etc.
Q: Can I run an RV Air condition -15k BTU – with it?
A: If you want to run a 15000 BTU air condition with this model you can run easily since the generator provides 2800 running it can easily run your 15k BTU ac.
Q: How long can I run it for?
A: It's up to you load that how much load you're using. If you run the generator at 25% load then it can easily run up to 19 hours. If there is a rated load then it can run almost 7 hours. You can spend the whole night with it.
Q: Is it a quiet inverter generator?
A: Yes, it is a very quiet inverter generator if you compare it to other 3000-watt inverter generators like Yamaha, Champion, and Generac. This is not wrong to say about this model is it is one of the quietest generators in the 3k-watt category.
Q: Is it a heavy generator?
A: If you compare to other brands of 3000-watt generators like Yamaha, Generac, Champion then it is a very heavy generator but it is not a bad thing because it has a steel frame that's why the can run for years.
Q: Why should I choose this model over other generators?
A: You can count on this Honda EU3000is inverter to deliver reliable power when you need it most. It also comes with a 3-year warranty from the manufacturer, which is more than most other generators on the market offer.
Q: Why use a Honda EU3000is generator?
A: The Honda EU3000is uses inverter technology to convert the direct current (DC) output of your car battery into alternating current (AC) power. This means that you can run any household appliance that has a plug and works on 120V.
Q: What is the maximum output for this generator?
A: The maximum output for this generator is 3000W. That's enough to power most homes, including multiple floors of your home, or all of the appliances in a small business.
Q: What are the features of the Honda EU3000is inverter generator?
A: The Honda EU3000is inverter generator is a portable and easy-to-use generator that runs on gasoline. It has an electric start system, which makes it easier for you to start the engine in cold weather. The Honda EU3000is inverter generator also comes with a Honda EcoStart™ system, which reduces fuel consumption by as much as 20%. This is one of the reasons why it is so effective at reducing carbon emissions.