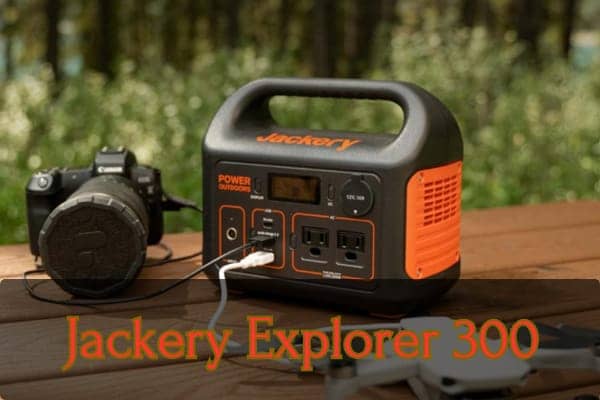 Welcome to my in-depth review of Jackery Explorer 300!
There are many reviews that can be found regarding this model but all have been outdated. So, I want to bring new updates about this solar generator and bring in front of you what is the reality behind it. Also, I shall tell you what is the ability of power this machine and what I like and dislike about it. So, please stay connected with me till the end and support me by sharing this article on your social accounts!
About Jackery Explore 300 – At a Glance
Jackery, a name synonymous with excellence in the realm of battery-based portable power stations, requires no formal introduction. They stand as pioneers, having unveiled the world's first portable lithium-based station back in 2015. This was the inception of a remarkable journey that has seen their Explorer series evolve through numerous iterations, now boasting cutting-edge features, including the remarkable ability to harness solar power. At its core, Jackery's commitment endures, offering a steadfast and dependable source of portable power, complete with output sockets compatible with a vast array of electronic devices.
Now, let's venture into the heart of Jackery's product lineup and explore the best-seller, the Explorer 1000. Imagine reducing it in size by two-thirds, and you're left with the remarkably compact Explorer 300 station. This diminutive powerhouse embodies user-friendliness and feather-light portability, yet it retains the unwavering reliability of its larger brethren, thanks to the incorporation of high-quality components and a user interface that's both simple and effective.
In line with other esteemed high-end brands such as Honda and Yamaha, Jackery's commitment to quality comes at a premium. The Jackery Explorer 300, priced at $299.99, includes a robust 300W pure-sine inverter and a substantial 293Wh lithium-ion NMC battery. This pricing aligns seamlessly with their dedication to delivering exceptional value in terms of dollars per watt-hour (WHr). As an added incentive, Jackery is currently offering an enticing 30% discount exclusively on their website for the Explorer 300, making it an even more enticing choice for the discerning adventurer.
Don't miss this golden opportunity to elevate your outdoor experiences with Jackery Explorer 300 at an exceptional value. Embrace the power of premium, and embark on your adventures with confidence today!
How To Use Jackery Explorer 300
The Jackery Explorer 300 is a user-friendly powerhouse that boasts an intuitive interface complete with a digital display panel. Whether you're a seasoned portable power station pro or a first-timer, navigating this device is a breeze.
The dashboard on this 300-watt solar generator is designed for clarity and simplicity. It features a digital display panel that provides you with vital information, such as charging percentages, input sources, and output levels. You won't need a manual to find your way around this power station.
The Explorer 300's display features a white backlight that activates when you connect a USB device or press a button. To conserve energy, the backlight automatically turns off after 15 seconds of inactivity while disconnected from the grid. LED indicators next to the output sections show if a socket is active, allowing you to optimize battery usage by turning off unused sections.
One of the most amazing features of this model is its lightning-fast recharge time. Whether you're plugging it into a wall outlet, using solar panels, or even your car outlet, it takes just 4.5 hours to fully recharge. Simply connect it to a DC source with a voltage range between 12V to 30V, and it will start charging. You can also use a 12V car battery as a power source with the included car adapter. Plus, the Type-C socket allows you to use your phone or laptop charger as an alternative to the AC adapter.
When it comes to powering your devices, the Jackery Explorer 300 has got you covered. With 2 AC output ports, 1 USB-C, USB-A output, and a 12V car output port, it's ready to meet all your multi-device charging needs. Say goodbye to the hassle of juggling multiple power sources.
Thanks to its professional MPPT technology, the Jackery 300 can harness the sun's energy efficiently. When paired with SolarSaga 100W solar panels, it can be fully recharged from the sun in just 5.5 hours. Embrace eco-friendly charging with ease.
The AC inverter of the Jackery Explorer 300 boasts an impressive 85% efficiency. However, for medium to high loads, the fan may kick in, emitting a low-level hum. While the advertised capacity is 293W/hr, the actual capacity when using it solely as an AC inverter is reduced to 250W/hr.
Incorporating a pass-through mode, the Explorer 300 enables simultaneous charging and discharging. This feature is particularly handy in an office setting, resembling an uninterruptible power supply (UPS). It ensures a seamless power supply during outages, making it an ideal addition to your office arsenal with its 300W output power capability.
What appliances it can power?
In a world driven by small devices, the Jackery Explorer 300 emerges as a dedicated powerhouse, meticulously designed to cater to your on-the-go power needs. Whether you're camping in the wilderness, embarking on a road trip, or just navigating daily life, this portable wonder promises to keep your devices charged and ready.
Simply connect it to a wall outlet or your car's output port, and it will eagerly sip up the energy it needs to fuel your adventures. Once fully charged, it's ready to serve your devices in ways you never thought possible.
Let's check the numbers and see what this compact dynamo can do when it's at its peak:
Smartphone: With the Jackery Explorer 300 in your arsenal, you can recharge your smartphone up to 30 times. No more worrying about your phone running out of juice when you need it most.
TV: Need some entertainment while off the grid? You can enjoy approximately 4.5 hours of television, ensuring that you don't miss your favorite shows or the big game.
Laptop: For the mobile professional or remote worker, this power station offers the convenience of four laptop charges. Stay productive wherever you roam.
Fan: Stay cool in the heat with up to 15 hours of fan operation. It's like a personal feature having on your desire.
5-Watt light: Illuminate your surroundings for an impressive 27 hours, making it perfect for outdoor adventures or emergencies.
Digital camera: Capture your memories with peace of mind. The Jackery Explorer 300 can recharge your digital camera up to 54 times.
This versatile power station isn't limited to just small gadgets. It can even handle the energy demands of small to medium-sized fridge/freezers.
However, remember to play it safe. The AC output port should only be used for devices operating at less than 300 Watts. If your combined wattage exceeds this limit, the unit will automatically shut off to protect itself.
Compact, powerful, and dependable, the Jackery Explorer 300 is your ideal companion for keeping your devices charged while you're on the move. And, if you find yourself running low on power, simply plug it into your car outlet for a quick top-up. With the Jackery Explorer 300 by your side, you're never without the energy you need to stay connected and in control.
What is like in this model
After reviewing it, I fell in love with its some nice features which I'd like to elaborate on.
Versatile Charging: This small boy is incredibly versatile when it comes to charging. Whether you're using the SolarSaga 100W solar panel or any other 12-24V DC source, you're covered. This includes the AC-to-DC adapter and the 12V DC car cord, as long as you have a 7.9 × 0.9mm plug.
USB Compatibility: Charging couldn't be easier with the 300-watt generator. It's compatible with regular USB-C, USB PD, and even USB-A when you have the right cord. You can even charge from two sources simultaneously for faster charging.
Intuitive Display: The LCD display is always active when charging or in operation, ensuring you have constant visibility into the power status. The backlight is designed to time out after 15 seconds, preserving energy.
Efficiency: Thanks to highly efficient converters and inverters, the Explorer 300 consumes minimal power at idle. You can leave it on for extended periods without worrying about energy wastage, even if some outputs are unused.
Discharge Warning: The display backlight blinks ten times when your power level hits 20% to give you a timely warning. While it's designed to do the same at 10%, it triggers at 12% in some cases.
Durable and Portable: With a user-friendly design, the Explorer 300 is easy to transport and perfect for camping or travel.
Safe and Reliable: Utilizing lithium-ion technology, this power station is not only safe but also environmentally friendly. It features a Battery Management System (BMS) and a pure sine wave inverter that safeguards your devices from potential damage.
Solar Capability: Harness the power of the sun by charging the Jackery Explorer 300 with solar energy. You can even use it as a solar generator for your RV or tailgating adventures. It takes just 5.5 hours of sunlight to achieve a full charge when used with the Jackery SolarSaga 100W solar panel (not included).
Multiple Output Options: Whether you need USB A, USB C, or AC outputs, the Explorer 300 offers a plethora of options to charge your devices efficiently, all within its wattage capabilities.
As my likeness of some nice features of this model, there're some features I don't like them. Maybe you'll like them or not. Let me elaborate on them.
What I don't like in this solar generator?
Here are some aspects to consider that you may not find ideal in the Explorer 300 solar generator:
Additional Costs: While the Explorer 300 itself is a valuable investment, there's an extra consideration when it comes to solar charging. This generator doesn't include solar panels, so if you decide to go the solar route, it can incur an added expense. The recommended Jackery SolarSaga 100W panel, for instance, costs $299. So, keep in mind that solar charging, while eco-friendly and efficient, can involve a significant initial cost.
Power Output: Compared to its larger sibling, the Explorer 1000, the Explorer 300 may not be as robust for powering larger devices. The Explorer 1000 is more substantial and can handle heavier loads, making it a better choice if you have substantial power needs. However, it's important to note that the Explorer 1000 is bulkier and heavier, which could affect its portability.
Battery Output at 12%: One minor drawback is that the Explorer 300's power output tends to diminish when the battery gauge hits the 12% mark. This can be likened to a car that sputters when the fuel gauge shows 1/8 tank, even though the tank size and range are as expected. While the battery capacity is accurate, it's essential to be aware of this behavior when managing your power usage.
PD Dual Inputs and Outputs: The Explorer 300, like many devices with PD dual inputs and outputs, requires a bit of attention.
If you forget to activate the USB section to function as a power source, the generator may assume that you intend to charge it from the connected PD source. This could lead to unintended power depletion from your USB-C PD power bank, iPad, or MacBook Pro.
Given that the Explorer 300 has a battery capacity several times larger than these devices, plugging them in without first pressing the button on the generator to initiate power transfer might lead to your device running out of juice. Therefore, it's advisable to exercise caution and monitor the watt meters closely.
Final Verdict
In the world of portable power solutions, the Jackery Explorer 300 stands out as a versatile and reliable companion for your outdoor adventures and travel escapades. Its ease of use and lightweight design make it a breeze to carry along wherever your journey takes you. One of its standout features is its solar charging capability, which adds a green touch to your power needs. Furthermore, the ability to charge up to six devices simultaneously makes it an excellent choice for families or those traveling in groups.
Before making your purchase, it's crucial to assess your device's wattage requirements. If you're in search of a generator to power high-wattage devices, you might want to explore alternatives like the Jackery Explorer 1000, boasting a robust 1000Wh battery capacity. However, if your goal is to charge and power numerous smaller devices efficiently, the Explorer 300 emerges as one of the top contenders in the market.
When it comes to value for money, the Explorer 300 truly shines. It offers a compelling combination of performance and affordability that's hard to beat. If it aligns with your needs and specifications, we wholeheartedly recommend investing in this powerful portable power station from Jackery.
One of the most striking aspects of the Jackery Explorer 300 is its compact size. Its impressive battery capacity relative to its volume sets it apart. As expected from Jackery, the build quality is exceptional, ensuring durability and longevity. The practicality of charging through the USB socket is a standout feature, simplifying your charging experience. While the device boasts numerous advantages, it's not without its limitations. The accuracy of AC power measurement could be improved, and the absence of a built-in flashlight, a handy tool during outages, is a notable omission.