In this article, I analyzed the AIVOLT 10000 Watt Inverter Generator with deep and checked its everything which is related to quality, performance, portability, noise, run time, etc. However, this article will provide you the detailed information so that you can take a decision about whether this generator is best for you or not. Please read my honest reviews and support me.
About AIVOLT Brand
Founded back in 1990, AIVOLT has grown into a leading name in the world of dependable power solutions for homes. With a presence that spans the globe, AIVOLT runs its own top-notch manufacturing facilities and houses a team of technical experts positioned worldwide. This dedication to innovation has resulted in the acquisition of over 100 patents, firmly establishing AIVOLT as a true trailblazer in the field of power solutions.
Today, AIVOLT is a name synonymous with trust and reliability around the world. Whether it's being there to rescue you during unexpected power outages or enhancing outdoor experiences for families, AIVOLT is the brand countless individuals and households turn to for their power needs.
The AIVOLT brand signifies more than just power; it represents an unwavering commitment to offering cutting-edge, sustainable solutions that cater to the diverse needs of households across the globe. With a mission to ensure you remain powered and connected in every situation, AIVOLT continues to push the boundaries of power technology, making life more comfortable, secure, and enjoyable for everyone. When you choose AIVOLT, you're choosing confidence in your power supply!
An overview
Imagine you need a powerful generator, and you come across the Aivolt 10000-watt inverter generator. It's a new option on Amazon this year. It looks a bit like the Duromax XP9000ih and the Genmax GM9000ied, but the Aivolt has a slight edge – it offers 100 more watts of power.
What makes the Aivolt generator special is how easy it is to use. It comes with a remote start feature, so you don't have to deal with cords or switches. Just push a button, and it starts up.
And it's eco-friendly too. You can use two types of fuel, so you can choose what's available or better for the environment.
Under the hood, it has a big engine that can handle heavy electric loads. This means you can power your entire house at the same time. Think about running all your appliances without any problems – it's a game-changer for generators.
But, like any complex technology, there's more to learn about this inverter generator. Let's explore each of its features to get a full picture of what the Aivolt 10000-watt inverter generator can do.
AIVOLT 10000 Watt Inverter Generator Reviews
Experience the Abundance of Power and Convenience
AIVOLT is Introducing an advanced inverter generator that boasts a quiet operation and impressive power capabilities. This AIVOLT generator can provide 10,000 starting watts and a reliable 8,000 running watts when powered by gasoline.
This generator is equipped with a robust 459cc 4-stroke OHV (Overhead Valve) air-cooled engine, featuring high-quality copper windings, ensuring both long-lasting performance and a consistent power supply. It's designed to be your household's dependable savior during emergencies and power outages caused by natural forces.
What sets this inverter generator apart is its versatility in using dual fuels. When running on gasoline, it effortlessly delivers 10,000 starting watts and 8,000 running watts, ensuring that your essential appliances and devices stay functional, even in challenging circumstances.
Alternatively, it can produce 9,000 starting watts and 7,200 running watts when fueled by propane (LPG), giving you options to meet your specific needs. Whether you're facing a severe storm or an unexpected power failure, this generator will be your reliable source of hope.
However, it's important to note that the rated power of the Aivolt 10,000-watt inverter generator is 8,000 watts when using gasoline at 120 volts. If you require a robust 50-ampere current at 240 volts, a rated power of 12,000 watts or more is necessary.
To address this demand, you can connect two generators using a parallel kit, although it's regrettable that this kit is not included with the generator itself. Parallel operation ensures that your power-hungry appliances receive the necessary power without compromise.
In addition, when using the generator, consider the unique power requirements of certain electrical appliances. Many devices need an initial surge of power during startup that exceeds their regular operational needs.
To ensure a steady power supply, it's advisable to start devices with higher power requirements first. Only after these devices are running smoothly should you introduce additional equipment. This sequential approach ensures a stable and uninterrupted power flow, allowing you to make the most of your outstanding Aivolt generator.
Enhanced Fuel Efficiency
When it comes to making the most of your fuel, the AIVOLT AT20-2100001E generator is a remarkable choice. Thanks to its clever eco switch, this generator has been thoughtfully crafted to ensure that every bit of fuel serves a purpose. This means that even at a 25% load, this generator can run for an impressive 19 hours or more.
This level of fuel efficiency is a true game-changer, helping you save a substantial amount on your fuel expenses in the long term. Whether you're traveling in your RV, working at a job site, or facing the uncertainties of a storm or emergency, this generator is your ideal companion.
The eco switch not only impacts your financial savings but also makes a positive contribution to the environment.
By choosing the AIVOLT AT20-2100001E generator, you're making a responsible choice that aligns with both economic and ecological values. With this generator, you're not just investing in power; you're investing in a more sustainable and cost-effective power solution that meets your needs while minimizing your impact on the planet.
Extremely Quiet
This generator is exceptionally quiet, but its excellence goes far beyond just reducing noise. It operates using innovative inverter technology, consistently providing power with less than 3% Total Harmonic Distortion (THD). In simpler terms, it's not just any power source; it's a dependable and pure energy supply that you can trust with your sensitive electronic devices.
When we talk about "sensitive electronics," we're referring to a wide range of devices – from your beloved smartphone and thrilling gaming console to the essential projector for captivating presentations, your reliable laptop for work and play, and even those handy small power tools. All of these gadgets can find peace of mind when connected to this outdoor generator, as it ensures their safety and well-being.
In a world where our lives are deeply intertwined with technology, this generator steps up as a guardian for your electronic companions. It enables you to venture into the great outdoors with the confidence that your devices will remain unharmed.
Thanks to its quiet operation and commitment to delivering clean, reliable power, it becomes an invaluable asset for those who cherish both the tranquility of nature and the uninterrupted performance of their beloved devices.
Versatility and Portability
When it comes to portable power generation, the AIVOLT 50AMP 120/240V dual fuel quiet inverter generator is a shining example of flexibility and ease of use. This powerful solution effortlessly adapts to your energy requirements, ensuring a dependable power source in various situations.
Whether you're at home, embarking on an RV adventure, enjoying the great outdoors while camping, dealing with an unexpected emergency, or working at a job site, this generator is your reliable companion, always ready to step up to the task.
The Aivolt AT20-2100001E dual fuel inverter generator is smartly designed with mobility in mind. Its portability meets the demands of our modern, on-the-go lifestyle. Equipped with four sturdy 7-inch never-flat rolling wheels, it glides smoothly across different terrains. These wheels make it a breeze to move the generator from one spot to another, ensuring a hassle-free experience.
To make transportation even more convenient, the Aivolt generator features a collapsible and robust steel handle. This not only simplifies storage but also makes it effortless to maneuver the generator as needed. The handle is built for durability, ensuring long-lasting performance.
One of the most impressive features of the AIVOLT generator is its wheel lock mechanism. This serves a dual purpose – it prevents accidental rolling, which can be a safety concern, and it adds extra stability when the generator is in operation. This means you can count on the generator's steadfast presence, even in challenging conditions or on uneven surfaces.
Control Panel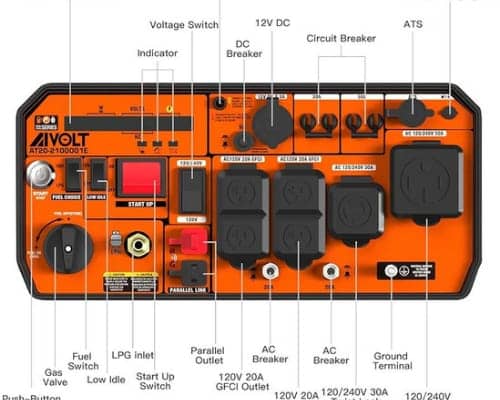 The control panel on this generator is incredibly versatile and user-friendly. It offers a wide variety of outlets to cover all your power needs. You'll discover four 120V 20A GFCI outlets, which are great for running standard household appliances and tools. Additionally, there's a 120V/240V 30A twist lock outlet, perfect for heavy-duty equipment and machinery. And for the most demanding power requirements, there's a robust 120V/240V 50A industrial outlet.
But there's more to this generator's convenience. It features a 12V DC cigarette outlet with a dual USB adapter, which is a game-changer. This means you can charge your electronic devices directly from the generator, turning it into a portable power hub for your tech gadgets.
The control panel also sports an LED display center, giving you valuable insights into the generator's operation. It shows essential information like fuel consumption, real-time power output, voltage, frequency, and the remaining runtime. This feature empowers you to manage your power usage efficiently and make informed decisions based on the generator's performance.
Moreover, if you ever find yourself in need of even more power, there's an option to connect two AIVOLT 10000-watt inverter generators together using a parallel kit. This effectively doubles your available power capacity. This is an impressive feature, especially when you're dealing with larger projects or powering multiple devices at the same time. It's worth noting that the parallel kit is sold separately, providing you with a flexible solution to meet your growing power demands.
Safety features
Safety is a top priority when it comes to the AIVOLT 10000-watt inverter generator. One way it does this is with its CO Alert technology. This fancy feature keeps a constant eye on the levels of carbon monoxide in the air.
Now, you might know that carbon monoxide is a colorless and odorless gas that can be really dangerous when it reaches high levels. The CO Alert technology in the AIVOLT generator is like a guardian, always on the lookout.
If it ever senses that carbon monoxide levels are getting too high, it takes action and automatically shuts down the generator. That's a clear sign of its commitment to your safety.
But there's even more to keep you safe with this generator. It has a low-fuel automatic shutdown feature. This smart function prevents the generator from running on empty, which could cause problems. It's like having a built-in safety net to make sure the generator doesn't become a hazard.
And there's another layer of protection – built-in overload protection. This is like a safety shield for your electrical devices and appliances. It ensures that the generator won't accidentally harm itself or the things it's powering, especially when there are sudden spikes in power demand.
To make things even easier and safer for you, the AIVOLT generator comes with indicator lights. These little lights are like your personal guides. They give you instant feedback, making it simple to check on how the generator is doing. They let you know its condition at a glance, adding to your peace of mind.
Additional Features
The AIVOLT 10,000-watt dual fuel generator is also a unique piece of modern engineering. What makes it stand out is its exclusive fuel change technology, which allows you to switch between fuel sources effortlessly, even while the generator is running. This innovation ensures that you'll never be left in the dark when you need power.
But this generator offers more than just convenience; it's a powerhouse designed to support your entire home. It comes with an Automatic Transfer Switch (ATS) outlet, seamlessly integrating with your home's electrical system. This means it can keep your entire house illuminated and functional during power outages or when you require extra electricity, ensuring your daily life goes on uninterrupted.
AIVOLT has also considered user comfort by providing a remote control. This user-friendly feature allows you to start the generator from the comfort of your home, which is particularly useful during extreme weather conditions. Whether it's scorching heat or freezing cold, you can get your generator up and running without stepping outside.
This silent remote start generator comes well-equipped to meet your needs. In addition to the generator itself, you'll receive two remote controllers for added convenience. It also includes a dual 2.4A USB adapter to make device charging effortless. AIVOLT goes the extra mile by providing an LPG hose with a regulator, a battery charger, an oil funnel, and tool kits to ensure you have everything you need to operate and maintain your generator seamlessly.
What's even more impressive is that AIVOLT offers a generous 2-year long-term warranty, giving you peace of mind. They also provide FREE lifetime technical support from experts, demonstrating their dedication to your satisfaction and ensuring you have access to guidance when you need it most.
Conclusion
The Aivolt 10,000-watt inverter generator is a power machine that is the perfect choice for eco-friendly and user-friendly. Despite a big size engine, it operates extremely quietly making it an ideal choice for those who are looking for the best RV generators or camping.
AIVOLT gave smart features in this model that increase the value of this machine in the market. In short, there are many valuable points that I mentioned above like long run time, fuel efficiency, dual fuel, safety alert systems.
To be honest, this 10k-watt generator is really good for everyone who needs a powerful inverter generator. If you think it is not perfect for you then you must try to check Duromax XP9000ih or Genmax GM9000ied these models are also well designed.
FAQs
Q: Is aivolt generator good?
A: The Aivolt generator appears to be a promising option, based on its utilization of cutting-edge technology. One notable feature is its ability to function continuously for an impressive 100 hours without requiring maintenance. This extended operational duration can be highly advantageous as it minimizes downtime and upkeep efforts, making it a convenient and user-friendly choice for those seeking reliable power generation.
However, it's important to note that the specific details and characteristics of the Aivolt generator, as well as any potential limitations or considerations, may vary depending on the model and its intended applications. Therefore, it's recommended to thoroughly research and compare different Aivolt generator models to determine which one best suits your needs and preferences.