Definitely, you don't know when you'll have to face the bad weather, and you wouldn't like to run out of power.
A good quality generator can supply electricity for a long time when there's a power shortage due to extreme weather conditions or any other reason.
Definitely, in this situation, you'll need a reliable generator at a price that won't break your budget. Because you'll have to invest your money in other needy things. You see WEN pulling towards you in a tough budget.
No doubt WEN built quality generators to provide durable power in any situation. Most users like them for their innovative designs and ease of use.
When it comes to Choosing WEN Generators, we have researched for about 1 day to find the best models. We didn't only see the wattages, we also see run time, fuel type, performance, and outlets so that you can easily power your appliances.
Before this article, we have picked the top 5 best WEN inverter generators. If you need a quiet generator then you can see inverter generators.
We have picked the top 3 WEN models which are available in the market with affordable prices.
In the end, we created a buying guide for you people.
I hope after reading this article you can take any decision about WEN generators.
1: WEN DF1100T 11000 Watt Dual Fuel Portable Generator
| | |
| --- | --- |
| Starting Watts (gas) | 11,000 Watts |
| Running Watts (gas) | 8,300 Watts |
| Starting Watts (Propane) | 9,500 Watts |
| Running Watts (propane) | 7,500 Watts |
| Fuel Type | Dual Fuel |
| Engine Type | 457cc 4-stroke engine |
| Run Time | 8.5 hours at 50% load |
| Warranty | 2 years |
| Dimension L, W, H | 27.3 x 20.6 x 21.9″ |
| Fuel Capacity | 6.6 gallons gas |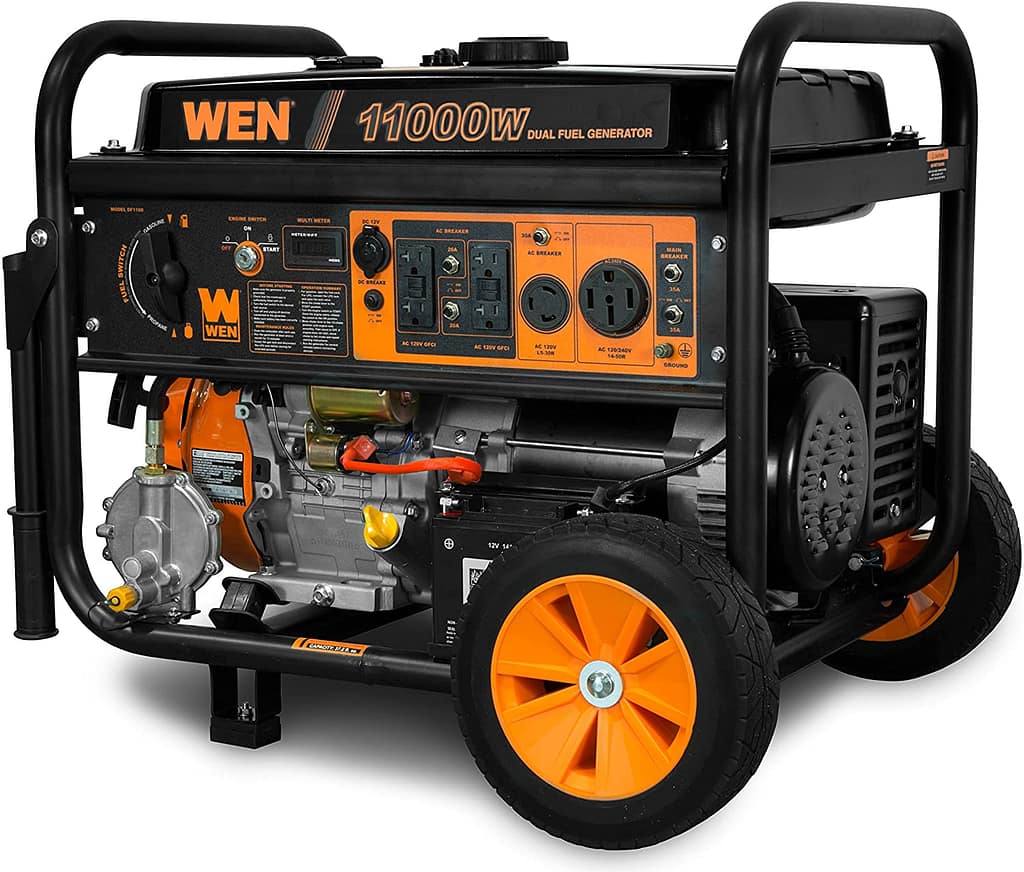 The WEN DF1100T is a dual powerful portable generator that can run a whole house with refrigerators and freezers and RV trailers. This generator allows users to switch between propane and gasoline as fuel. You're allowed to change your preferred fuel with a simple fuel selection dial.
This model can be used for different types of connections with 120Volt to 240Volt outlets, which is perfect for emergency backup and construction sides.
To handle all types of heavy-duty electronic tools and appliances, the WENDF1100T is fitted with a 457cc 4-stroke powerful original WEN engine.
However, the engine can run on gas and propane, so it will generate 11,000 starting watts and 8,300 running watts while powered by gasoline.
While powered by propane, the engine is able to provide at least 9,500 starting watts and 7500 running watts.
Its gas tank capacity is 6.6 gallons of gasoline, with this gas capacity the generator can run for more than 8.5 hours at half load.
This run time average makes it one of the best models in 11000 watt generators.
Having an electric start button to start the generator, and manual recoil backup.
One of the best features of this model is that it is equipped with a 50 amp outlet. This means if you're looking for the best 50 amps generator this may be a suitable choice for you.
Pros:
Dual fuel feature
50Amps outlet available
Electric start
Best for emergency backup and RV
Cons:
2: WEN DF475X 4750 Watt Portable Generator
| | |
| --- | --- |
| Starting Watts (gas) | 4,750 Watts |
| Running Watts (gas) | 3,800 Watts |
| Starting Watts (Propane) | 4,350 Watts |
| Running Watts (propane) | 3,500 Watts |
| Fuel Type | Dual Fuel |
| Engine Type | 224cc 4-stroke engine |
| Run Time | 11 hours at 50% load |
| Warranty | 2 years |
| Dimension L, W, H | 23.2 x 17.5 x 18.5″ |
| Fuel Capacity | 4 gallons of gas |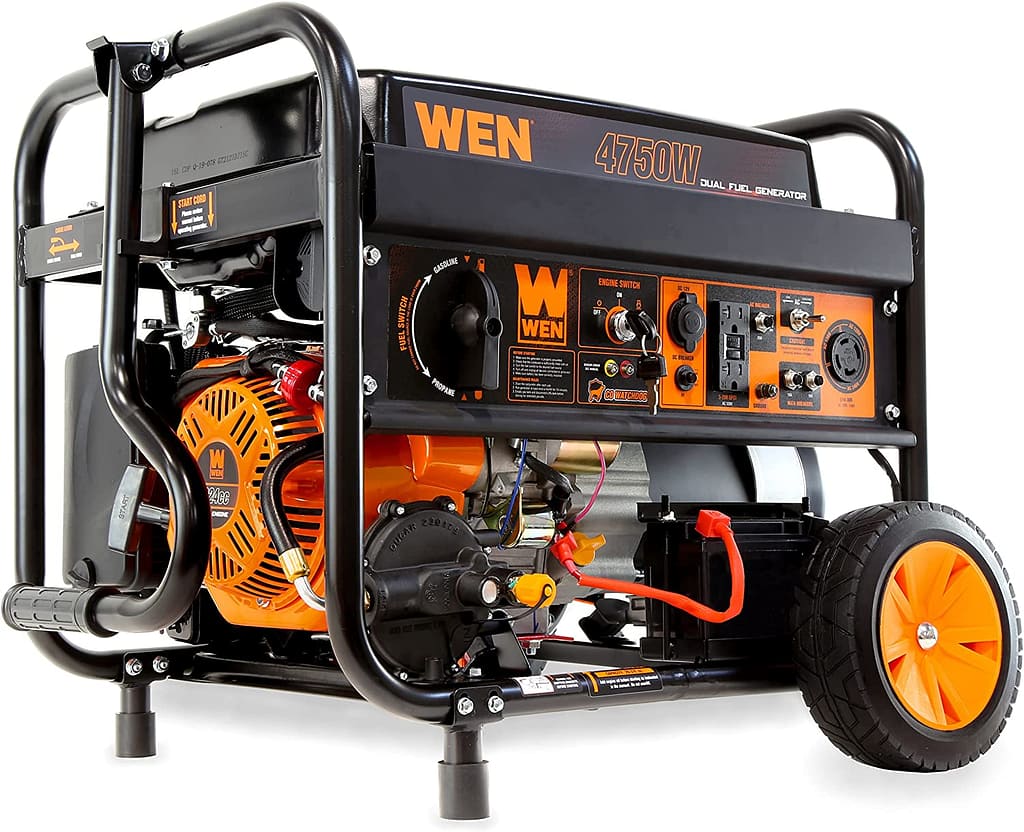 This WEN DF475X 4750 Watt Portable Generator stands out from others because of its durable construction and a long run time. The overall size of this generator is 23.2 x 17.5 x 18.5 inches, and its weight is only 105.8 pounds. This unit has less weight than the WEN 56380i inverter generator.
The generator comes with a 224 cc 4-stroke OHV engine that produces 4750 surge watts and 3800 running watts. Also, the engine runs on gasoline and propane, you can select any fuel by the fuel switch that is fixed on the control panel.
One of the best things which I like very much in this model is its long run time.
The run time capacity is 11 hours, which means this generator can run for 11 hours at half load.
You can get this run time in only 4 gallons of gasoline which is the generator fuel tank capacity.
Moreover, this unit has a feature watchdog CO automatically shut down sensor which will help you to protect your family from carbon monoxide.
The control panel feature a 12v DC outlet, two 120V 20 amps outlets, and one 120V/240V transfer switch RV-ready NEMA L14-30R twist-lock receptacle.
The buy will get an oil bottle, a wheels kit and single handle, and a 47-inch LPG connection hose.
Also, it comes with 2 years warranty.
Pros:
A long run time feature
Fuel efficient
Carbon monoxide
2 years warranty
Dual fuel
CARB & EPA compliant generator
Cons:
Maybe it will be hard to start on Propane
3: WEN GN6000 6000 Watt Portable Generator
| | |
| --- | --- |
| Starting Watts | 6,000 Watts |
| Running Watts | 5,000 Watts |
| Fuel Type | Gasoline |
| Engine Type | 272cc OHV 4-stroke |
| Run Time | 7.5 hours at 50% load |
| Warranty | 2 years |
| Dimension L, W, H | 23.2 x 16.9 x 17.2″ |
| Fuel Capacity | 3.4 gallons of gas |
If you're looking for a generator that gives maximum flexibility and output without costing much, you should invest your money in the WEN GN6000. WEN GN6000 6000 Watt Portable Generator with two types of high amperage outlets 120V/ 240V. It's able to generate enough power for the fridge, sump pump, air conditioner, and other household appliances.
This model has a 30amp 120/240 14-30R outlet, which can handle your whole home appliances during emergency power backup. Also, this may be your best RV generator since it also has a separate 120 volt 30amps TT-30R outlet for RV trailers.
Besides that, there is a 12volt cigarette lighter for charging low-volt appliances and batteries.
Its 272cc OHV 4-stroke powerful engine produces up to 6,000 starting watts and 5,000 rated watts of reliable power.
The gasoline tank holds at least 3.4 gallons of gasoline, and the generator runs up to 7.5 hours at 50% load.
This may be your best model in the 5k watt category if you need the best 5000-watt generator.
It is designed with 129.7 pounds weight, maybe this is heavyweight for one person. But, its folding handle and 2 large size wheels make it easy to move and transport.
Really this is a great portable generator for home backup, job sites, RVs, and camping.
Pros:
Best for home backup, RV, and Job sites
Portable and compact design
Fuel efficient
2 years warranty
Cons:
How to buy the best WEN Generator?
If you're looking for the best WEN generator due to budget leaking or you like WEN, so you need to keep some tips in your mind while buying a WEN generator.
During the review, I noted some points that may helpful for someone during buying the WEN model.
Model Number
The model number is very important for you, if you like any model, keep remembering its model number since every generator has a different model number from others.
Maybe you like a 5000 starting 4500 running watt generator but you buy a 5000 starting and 4000 running watt model. Therefore, remember the model number after selecting the Watts.
There is some model that has a little bit different in their wattages but all have a serial number.
Run time
A long run time feature makes the generator people beloved in the market.
Although WEN generators are famous in the market due to their long run time. But, see every model run time so that you can get a good run time unit.
However, this type of generator can power you for a whole night during a power outage or you're on RV trips.
Engine
The engine is the main worker in every generator so make sure before buying the generator. How much power and CC your generator is since if the engine is powerful that can run long last.
A big engine has more CC that can produce more watts than other small engines.
Warranty
Today, a warranty is very important for every product, especially for generators since we have to invest more cost to buy them.
During reviews of these three models, we noted that they have only 2 years warranty while other brands like Champion, Honda, Yamaha, and Westinghouse give a maximum 3 years warranty.
Although, this is only 2 years warranty since it is still best from other brands which give only one year warranty to their customers. And, 2 years enough to the customers' satisfaction.
Weight
Weight is very important to know the customers because most generators come with heavy weight. If your generator has heavyweight then make sure you should buy a generator that comes with a handle and wheels kit so that you can move and transport your generator easily.
Conclusion
WEN generators are designed for heavy electricity load. However, these models are ready to done any heavy duty electric task.
Mostly we need heavy duty generator at construction sites since there we need to power high amperes electronic tools this is why these generators are the perfect selection for construction sites.
Due to their quiet operations, they can be used to power your RV trails, you'll not have any major issue of their noise.
The WEN generators run very quiet even though they are heavy duty units.
FAQs
Q1: Can I parallel two WEN generators to increase power output?
A: Yes, some WEN generator models are parallel capable, which means you can connect two generators together using a parallel kit to combine their power output. This allows you to effectively increase the total power capacity. It's important to check the specifications of your specific WEN generator models and follow the manufacturer's instructions for parallel operation.
Q2: Can I convert a WEN generator to run on propane or natural gas?
A: WEN offers some dual-fuel generator models that can run on both gasoline and propane. However, it's not possible to convert a gasoline-only WEN generator to run exclusively on propane or natural gas. Modifying the fuel type of a generator can void the warranty and may result in unsafe operation. If you require a propane or natural gas generator, it's recommended to choose a model specifically designed for that fuel type.
Q3: Can I use my WEN generator in extreme weather conditions?
A: WEN generators are designed to withstand various weather conditions, but it's important to exercise caution and follow safety guidelines. Generators should not be operated indoors or in enclosed spaces due to the risk of carbon monoxide poisoning. When using a WEN generator outdoors, protect it from direct exposure to rain, snow, or other elements to prevent damage. Additionally, avoid operating the generator in extremely hot or cold temperatures as it can affect performance and lifespan. If you have concerns about using your generator in specific weather conditions, it's advisable to consult the user manual or contact WEN's customer support for guidance.
Q4: Can I use my WEN generator at high altitudes?
A: WEN generators are typically designed to operate at altitudes up to a certain level, which can vary depending on the model. High altitude operation may require adjustments to the carburetor or fuel mixture to ensure proper performance. It's recommended to consult the user manual or contact WEN's customer support for guidance on using your specific generator at high altitudes.
Q5: Can I use my WEN generator for RV or camping purposes?
A: Yes, WEN generators can be used for RV or camping purposes. Many WEN generator models are portable and feature RV-ready outlets, making them suitable for powering RVs, campers, or providing electricity during camping trips. However, it's important to consider the power requirements of your RV or camping appliances and choose a generator with adequate wattage capacity. It's also essential to follow safety guidelines and use appropriate extension cords and adapters when connecting your generator to RV or camping equipment.
Q6: How often should I perform maintenance on my WEN generator?
A: Regular maintenance is essential to ensure the proper functioning and longevity of your WEN generator. The specific maintenance intervals and procedures can be found in the user manual. Generally, routine maintenance tasks include:
– Inspecting the oil level and performing oil changes as per the recommended schedule.
– Inspecting and cleaning the air filter.
– Checking and cleaning the spark plug.
– Verifying the fuel system for any leaks or blockages.
– Inspecting and tightening electrical connections.
– Cleaning the generator's exterior and ensuring proper ventilation.
Q7: Can I run sensitive electronics or appliances with a WEN generator?
A: Yes, WEN generators are designed to provide stable and clean power output suitable for powering sensitive electronics and appliances. Many WEN generators feature inverter technology, which produces a stable sine wave output, making them safe for powering devices like laptops, smartphones, TVs, and other electronics. However, it's essential to check the generator's specifications and ensure it has the necessary outlets and voltage requirements for your specific devices.
Q8: Does WEN offer a warranty for their generators?
A: Yes, WEN typically offers a warranty for their generators. The specific warranty terms and coverage may vary depending on the model and region. It's recommended to consult the documentation provided with your WEN generator or visit their official website to find detailed information about the warranty and any registration or claim procedures.