Today, I'm going to talk about the WEN 56380i new style machine, that is well suitable for your RV trailers, and camping.
You'll not have any heavy load of money on your arm due to buying this model. The price tag makes it a very valuable machine since it has all the features which you'll need ever.
Is it not good that you can save half price instead of purchasing an expensive brand's inverter generator while it has all the features that you would find in an expensive generator like Honda EU3000IS.
Thanks to the WEN, that helped out their audience by designing an excellent machine with an affordable price.
For those people who are looking for a generator that is suitable for RV trailers or camping and parties, the WEN 56380i might be best for them.
Large size generators might create problems by making too noise level while using them for camping and RV even your home.
Obviously, there are so many people who are celebrating their parties and they don't want to worry.
But WEN 36380i gives peace of mind by low dba rating. Mean it will not disturb your camping mates.
About WEN 56380i Inverter Generator – At a Glance
WEN 56380i quietest inverter generator is powered by gasoline which is considered a heavy-duty generator.
To give you power backup at home or RV trailers, it is fitted with all the necessary outlets.
Power is not finished because you still have an option to increase more power up to 7,600 starting watts of power and 6,800 watts of running power.
This large-size generator takes a place inside itself of parallel kit capability. You just need to connect another WEN56380i and then you'll have the ability to enjoy with 6,800 watts of power.
One of the best features of this model is despite a large amount of power output, it is very safe for sensitive electronic items. For those who are worried about charging sensitive appliances, the WEN is a good choice for them.
Its smart inverter technology provides clean and stable power of 1.2% THD. I don't think you have to worry about connecting sensitive appliances on this model.
This is a smart guy in the WEN inverter generators series since it comes at a very affordable price.
I think the cursory information is not enough. we should look at all the features in detail?
WEN 56380i Features
Design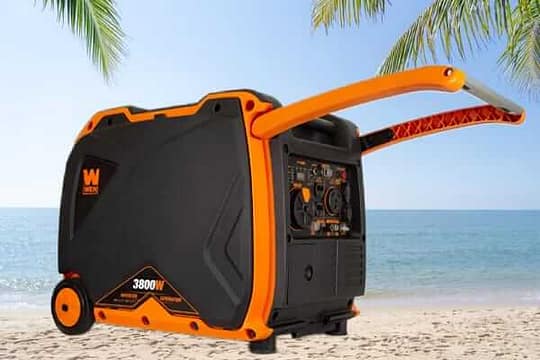 The design of the WEN 56380i Inverter Generator is undoubtedly eye-catching and well thought out. The company has paid close attention to every detail of the generator, from its aesthetic appeal to its practicality for outdoor adventures.
Despite its little bit heavy weight, WEN has equipped the generator with two wheels and a telescoping handle, making it easy to transport from one location to another. This is a crucial feature for RV trips, camping, and other outdoor adventures, where the generator may need to be moved frequently.
Moreover, the telescoping handle is a unique feature that sets this generator apart from other models in its class. The handle is only opened when it is needed, and when not in use, it can be easily folded down. This not only adds to the overall portability of the generator but also reduces the risk of the handle getting in the way or becoming damaged during transport.
The overall design of the WEN 56380i is also noteworthy. Its compact size and smooth edges make it easy to store and maneuver in tight spaces, while the bright orange and black color scheme adds a touch of style to its appearance.
WEN has also made sure to incorporate practical design elements into the generator's construction. The control panel is located on the front of the generator and features clearly labeled buttons and switches that are easy to use. The fuel tank is also conveniently placed for easy refueling, and the generator's air vents are positioned to ensure optimal airflow and cooling.
Clean Power
The WEN 56380i is a powerful and reliable inverter generator that has been designed to provide clean and stable power output. With a maximum wattage output of 3800 watts and a rated output of 3400 watts, this generator is capable of powering a wide range of appliances and devices, from power tools and RV air conditioners to sensitive electronics such as smartphones, tablets, and laptops.
One of the most notable features of the WEN 56380i is its ability to produce clean power that is free from voltage spikes and drops, as well as harmonic distortion. This is due to the advanced inverter technology that is integrated into the generator.
Unlike conventional generators that produce power directly from the engine, inverter generators use sophisticated electronics to convert the AC power from the engine into DC power and then back to AC power again, resulting in stable and reliable power output.
This clean power output is particularly important for sensitive electronics, such as smartphones, tablets, and laptops, which can be easily damaged by power surges, voltage drops, or harmonic distortion. With the WEN 56380i, you can rest assured that your devices will be protected from such power fluctuations, allowing you to use them safely and reliably.
Smart Digital Display
One of the key features of the WEN 56380i inverter generator is its easy-to-read digital display. This display provides users with all the information they need to monitor and control the generator, including voltage, wattage, frequency, run time, and fuel supply.
This information is critical for ensuring that the generator is running at optimal levels and can help users avoid costly mistakes such as overloading the system or running out of fuel unexpectedly.
The digital display on the WEN 56380i is also designed to be user-friendly and intuitive. Its display is large and clear, with easy-to-read numbers and symbols that make it easy for users to quickly and accurately monitor the generator's performance.
The display is also backlit, which means that it can be easily read in low-light or dark conditions, making it ideal for use in emergency situations.
Fuel Efficient
The WEN 56380i is an ultra-efficient portable generator that has been designed to provide reliable power on the go. One of the standout features of this generator is its impressive fuel efficiency, which allows it to run for over 8.5 hours on a half-load with just a 2.2-gallon tank.
The WEN 56380i achieves its exceptional fuel efficiency through a combination of advanced engineering and innovative design. One of the keys to the WEN 56380i's fuel efficiency is its advanced inverter technology.
This technology ensures that the power output from the generator is clean and stable, which means that it is safe for use with sensitive electronics. This in turn allows the generator to run at lower RPMs, which reduces fuel consumption and extends the generator's run time.
In addition to its advanced inverter technology, the WEN 56380i is also equipped with a number of other fuel-saving features. The generator has a smart throttle system that adjusts the engine speed based on the load, which helps to conserve fuel and reduce noise.
The generator is also designed with a fuel shut-off feature that allows the engine to be turned off without using the fuel in the carburetor, which helps to prevent stale fuel from building up and affecting performance.
WEN 56380i is Best for RV?
If you're a passionate RV traveler, then you know the importance of having a reliable and efficient generator for your trips. The WEN 56380i is a top-rated generator that is specifically designed for RV use. This generator is packed with features that make it an ideal choice for RV enthusiasts.
The WEN 56380i is powered by a heavy-duty 212cc 4-stroke OHV engine that generates 3800 starting watts and 3400 running watts. This power is more than enough to run most of your appliances in your RV trailer or campsite. With this generator, you don't have to worry about running out of power when you're on the road.
One of the most impressive features of the WEN 56380i geneator is its separate RV outlet. This 30-amp 120-volt outlet is specifically designed for RV use and allows you to connect your RV trailer directly to the generator.
This means that you can power all of your RV appliances without any additional equipment. This is a major advantage for RV enthusiasts who don't want to deal with complicated wiring and setup.
In addition to the RV outlet, the WEN 56380i also has one 12-volt DC outlet and one USB port for charging batteries. This is a great feature for RV enthusiasts who need to keep their batteries charged while they're on the road. The generator also has one 120-volt 20-amp outlet that can be used to power other appliances or tools.
The WEN 56380i inverter is designed with portability in mind. It has a compact and lightweight design that makes it easy to transport from one location to another. The generator also has built-in wheels and a foldable handle, which makes it easy to move around your campsite or RV trailer.
This model is one of the best RV generators on the market today. It has all the features that RV enthusiasts need for a comfortable and convenient trip. The generator is reliable, efficient, and easy to use. It is also designed to be durable and long-lasting, so you can rely on it for many years of use.
Pros:
Ideal choice for large travel trailers
Inexpensive inverter generator
Good run time
Fuel efficient
Portable design
Easy to use and Transport
Cons:
Should have a remote control
WEN 56380i vs Honda EU3000is
Honda always stays upper level due to its high quality and performance which people like very much. in other words, it tries to come people's expectations.
But here are creating some difficulties for Honda when we compare to the Honda with the most favorite generator "WEN 56380i".
WEN has added some additional features which make this model one of the best inverter generators in the market.
The 56380i generator generates 800 starting watts more than EU3000IS and 600 running watts extra than Honda.
It has a little bit large engine than EU3000IS. The WEN is fitted with a powerful 212cc engine and the Honda 196cc engine.
Only a 16cc difference between both engines. This means WEN is better than Honda which gives more output power.
One of the same things in these models is both are powered by gasoline.
If you compare both generators in portability so the WEN 56380i is a winner.
Because it is more lightweight than Honda. Despite being lightweight, the WEN has 2 wheels and a telescoping handle which makes it so easy to transport anywhere. With these 2 best things, one person can also move this model easily.
It seems the Honda has a very long run time since it is able to run more than 20 hours at 1/4 load while the WEN can run at least 8.1 hours at 50% load.
According to my review, WEN 56380i is the best in run time because it takes only 2.2 gallons of gasoline to give you 8 hours of run time at 50% load. This means if you run this model at 25% load and give it more than 1.2 gallons of gasoline then the 56380i can beat EU3000IS.
Because Honda takes 3.4 gallons of gasoline to give you 20 hours of run time at 25% load.
The 2nd same thing in these models is they are best for RV trips and camping because both are quiet generators.
But Honda might be more quieter than WEN because Honda generates 50 dba at 1/4 load while WEN generates 57 dba at the same load. It is great for the Honda eu3000is since it has 57 dba at 100% load which is the quietest generator than WEN.
One thing that is the most important and amazing news about the WEN is you can purchase 3 models of WEN56380I at that price while purchasing only one model of Honda EU3000IS.
WEN 56380i vs Predator 3500
There are so many features that are the same in these models, but still, the WEN seems to be a winner.
These two modes are fitted with the same 212 OHV 4-stroke engine, but both are different in providing wattage.
With the same engine size, WEN is able to generate 3800 starting watts and 3400 running watts while the Predator provides 3500 starting watts and 3000 running watts. This means there is a 300 watts difference between starting watts and 400 watts in running.
The fuel tank capacity is the same in both generators. WEN has 2.2 gallons capacity and Predator has 2.6 gallons capacity. With 2.2 gallons of gasoline, the 56380is can run more than 8.5 hours at 50% load while Predator can not beat the WEN in run time.
Yeah, these generators are quiet machines and will not disturb people.
Despite being more lightweight than WEN 56380, the Predator is still left behind the WEN in portability due to WEN's telescope handle. However, most people like this handle since it is more comfortable to move the generator.
It is good for them that they have all safety features, and both are user-friendly generators.
Conclusion – Should you buy it?
Finally, you read everything about the WEN 56380i. Also, you see the comparison between Honda and Predator.
In my opinion, if you're looking for a cheap inverter generator that can be used for RVs and camping, also for home usage then this model is an ideal choice.
You don't need to pay a high price. Having a lot of features that might be rare in an expensive generator.
It will give you a long run time with the best fuel efficiency. This means you'll have a generator that can be run for a long time with a small tank of gasoline.
Besides that, you can easily transport it like a small generator. This is very amazing that a 3800-watt generator is very easy to carry with you at any place. Its smart design makes it the best unit for outdoor activities.
Also, it can easily handle your heavy load at home especially when you're enjoying RV trips.
This model has so many lovers and people gave it positive reviews which is proof of its popularity.
It is not wrong to say about this model that this is one of the best models in the market.
I think you don't need to take time for thinking about WEN. Make your friend this model and enjoy funs.
FAQs
What is the WEN 56380i inverter generator?
The WEN 56380i inverter generator is a quiet, reliable, and powerful generator that can power your home during a blackout. It features an in-line fuel filter that prevents debris from entering the carburetor. The engine is protected by a durable motor cover and a transfer case with full-time four-wheel drive. With this generator, you can run any of your appliances at full capacity without worrying about overloading them.
How does it work?
The WEN 56380i inverter generator has two 120V 20 Amps outlets, one 120V 30 Amps outlet, and one 12V outlet. This means that you can run several devices at once without having to worry about draining your battery or running out of electrical power. It also has a USB port so you can charge your phone while using the generator.
What makes it unique?
One of the best things about this product is how quiet it is compared to other generators on the market today. The WEN 56380i generator produces less noise than most other models because it uses less fuel and generates less heat than traditional engines do while still being powerful enough to provide plenty of electricity for all of your appliances if needed! Also included lots of features that make it a quiet generator for camping.
What are the advantages of inverter generators?
Inverter generators are more efficient at turning electricity into usable power than standard generators. They work by converting direct current (DC) from your battery pack into alternating current (AC). AC is the kind of electricity that powers your appliances and electronics—and it's the type of energy we use most in our daily lives.
Why do I need an inverter generator?
If you're looking for a way to provide power for your home, commercial property, or farm, an inverter generator is the most efficient method for doing so. When you use an inverter generator, you'll be able to power everything from your lights and refrigerator to your computer and TV without having to worry about running out of power or having to find someone else who can help you out until the sun comes up tomorrow morning.
Q: Why do I need a generator?
A: There are a lot of reasons to have a generator at your disposal. Not only can they be used to power your home, but they can also help maintain power in an area that has been affected by an outage. In addition, generators can be used to power essential appliances during emergencies.
Q: What is the difference between a portable and an inverter generator?
A: Portable generators are designed for temporary use; they do not have a permanent installation and must be stored when not in use. Inverter generators are designed for longer periods of time and can be mounted on or near buildings or other structures (such as poles).