Duromax XP13000EH Review:
Would you like to buy a quality generator? Meanwhile you want a heavy duty machine?
No need standby generator since it can't remove easily. Mean you need a portable generator in heavy-duty power output like a standby generator.
Okay, you don't need any further searching because we have found one of the best heavy duty portable generators on the market.
The Duromax XP13000EH is one of the heaviest generators in today's market.
Thanks for the Duromax that is giving us quality generators that can easily power our whole home.
Don't think this costly generator due to its high output and good features. Duromax doesn't take a high price to this model, it has an affordable price so that you don't have any load on your pocket.
Duromax is a reliable brand that has some best inverter generators and generators in the market. People have a good response to this brand's generators
You have a good option from Duromax when you need an affordable generator in heavy range, just need to find a generator in the list of this brand.
This model has very good reviews from users. How does this generator gain good reviews?
Is this a good machine that's why it has a good response?
Should also try this generator for a home backup or heavy work?
Let's check this model, how does the Duromax XP13000EH is?
This article needs just 3 minutes and tells you the important information about this model. So please keep reading this review.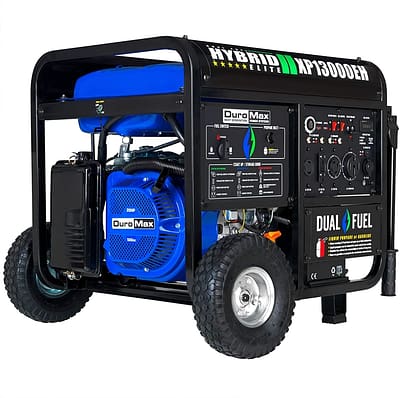 Technical Space of Duromax XP13000EH
| Product Information | Detail |
| --- | --- |
| Starting Watts (Gasoline) | 13,000 |
| Running Watts (Gasoline) | 10,500 |
| Starting Watts (Propane) | 12,350 |
| Running Watts (Propane) | 9,957 |
| Fuel Type | Dual Fuel |
| Fuel Capacity | 8.3 Gallons of Gasoline |
| Engine Type | 500cc 4-cycle Air-cooled |
| Noise Level | 74 dba |
| Run Time (Gasoline) | 8 hours at 50% Load |
| Run Time (Propane) | 6 hours at 50% Load |
| Starting Method | Electric / Manual |
| Weight | 236 lbs |
| Dimensions | 29″ L x 30″ W x 26″ H |
About DuroMax XP13000EH – What's your First Impression?
In simple words, the DuroMax XP13000EH is not for those people who need to run small appliances or low-range generators.
Therefore, it is a big size portable generator that runs easily to run your all home's appliances.
But you're not allowed to connect your sensitive electronic appliances with it since it has less than 10% THD.
This power of output is not recommended for sensitive equipment that's why you should keep away to connect all those items with it.
The DuroMax XP13000EH has a powerful and heavy engine that's why you will have a heavyweight that you can not easily lift.
However, the generator has a folding handle and 2 wheels which allow you to easily move your generator even though you're on stony earth.
You can easily run this machine in any situation because it can run on gasoline and propane.
Power your home when gasoline is not available in the market.
Having a great panel, which is equipped with all needy outlets.
What is not wrong to say about this generator is you can share its power to run several RV trailers while RV trips with some families.
All the Duromax generators can be used at any place and any time since they all are EPA and CARB approved. Mean this model is also EPA and CARB approved so that you don't have to face any program while using this big generator.
It has so many great features which we should see in deep, so let's start to see it's each feature in deep view.
Features of Duromax XP13000EH Portable Generator
The big advantage of this model is it is a portable design generator that can be easily moved around. Not like a standby generator that doesn't allow you to move around.
Mean this type of generator work like stand by generator and weighs like a portable generator that can easily move around.
Engine & Power output
Duromax fitted the most powerful and big engine in this model so that we can take heavy work with this generator.
However, we see a 500cc, 20hp OHV Duromax engine. This engine can run on gasoline and propane but there is different wattage during changing the fuel.
The Duromax XP13000EH generates 13,000 starting Watts and 10,500 running watts. during power on propane it provides 12,350 starting Watts and 9,975 running watts.
This generator is like a horse that can easily handle a heavy load and run high amp tools.
If you're looking for a generator for your job sites so this one is the best choice among the best portable generators. You can easily run any tools with this generator.
It has a feature of automatically shutting down when it feels low oil in the engine so that the generator can safe from any damages.
Control Panel
Duromax XP13000EH comes with many outlets which are ready to run any appliance. Duromax gives in this model two 120volt 20amps GFCI, one 120volt 30amps twist-lock RV outlet, one 120/240 30amps twist-lock outlet, and one 120/240 volts 50 amps heavy-duty outlet.
Connect every electronic appliance according to its volts and amps with this portable generator.
There is an Idle Control Button on the panel if you "ON" this button so it'll control the generator's RPMs when the generator is not in use.
Also, it helps to reduce the generator noise as much as possible and save fuel. This model is an ideal choice for the job sites since here we need power intermittently.
Run Time & Fuel Capacity
The Duromax XP13000EH has an impressive run time that is very helpful for us during power outages or job sites.
This model has the power to run at least for 8 hours at the half load when you run it on gasoline.
On the propane, it can run up to 6 hours at 50% load. However, this long run time is enough to leave you in electricity issues during the power outage in your area.
As you know this is a big generator, however, its fuel tank takes 8.3 gallons of gasoline.
When it comes to the propane tank, you can connect 40 lbs propane tank that is recommended size from Duromax.
Portability
The weight of this model is 236 lbs when it is empty from the fuel.
But thanks to its manufacturers, they make the heavy generator in a portable size.
This generator has a steel frame that can't be easily damaged so that the generator works for years.
The overall dimensions of this model are 29 inches in length, 30 inches in width, and 26 inches in height.
It'll not take up too much space in your home or yards.
One of the good things about this model is despite its heavyweight, you're still able to take it easy with you where you want to go.
The Duromax Xp13000EH with a 5-star rating from its users since this is one of the best portable generator in 13000-watt generators.
Here are 7 amazing advantages you may not have known About Duromax XP13000EH
The Duromax XP13000EH portable generator is a reliable option for anyone who needs a reliable generator at an affordable price.
The XP13000EH can run on a variety of fuels, including natural gas and propane. It also has a fuel gauge that lets you know when it's time to refuel, so you never have to worry about running out of gas. The Duromax XP13000EH has 120 and 240-volt outlets with 20A, 30A, and 50A. Also, it has a 12volt outlet, so you can plug in your phone or other devices while you're using it to charge them.
It's easy to use, too! There's an On/Off switch on the front of the generator that turns it on or off with just one hand; then there are two jacks—one for charging devices and one for connecting external power sources (like an inverter). And since it uses only natural gas as fuel, there's no need for any additional maintenance aside from changing out the tank every few years or so if needed! The Duromax XP13000EH also comes with a three-year warranty from the manufacturer.
Duromax XP13000EH portable generator is a best-seller among generators. It's lightweight, easy to carry, and can be stored easily in your garage or car.
With its large tank, the generator can run for up to 8 hours on a single tank of fuel. This makes it perfect for long camping trips or power outages at home.
It comes with an easy-to-read display screen that shows how much fuel is left in the tank, as well as how much power each outlet is drawing from the battery bank.
The Duromax XP13000EH is a heavy-duty generator but it runs silent and vibration free.
Final Verdict – Should you buy it?
Finally, all the features of this model are in front of you.
The Duromax is one of the heaviest portable generators that can easily handle the load of any heavy appliance.
You can use this generator where you need to run high voltage electronic appliances at home or job sites or construction sites.
This powerful generator gives you space between two fuels. This means you can easily run the generator with any fuel (propane or gasoline) which is available on the market.
There are so many outlets in the control panel, just connect your appliances with any outlet according to their voltage and amps.
This means you're able to run large-size electronic appliances at home, on RV trips, or on job sites. The Duromax XP13000EH is a perfect solution for those people who need electricity at construction sites.
Also, it has a solid body frame that can work in any hard place.
The great thing for buyers from the DuroMax in this generator is it is not a very expensive generator.
You just need to buy this model and take a lot of work from it.
| | |
| --- | --- |
| | The Duromax XP13000EH is one of the best models in the 2022 market, the generator has a powerful engine that can easily handle the heavy load, a portable design, a dual fuel feature, and more! |
| | |
| | |
| | |
| | |
| | |
| | |
| | |
| | |
Frequently Asked Questions about Duromax XP13000EH
How the Duromax XP13000EH is start?
This is a large generator that's why it should have an electric start option. Duromax gives 2 options to start the generator. There are two options to start this model ( electric start and manual recoil).
How the loudest this generator is?
The Duromax did not mention at what load the generator can be too loud.
But it has a 74 dba noise level which is not too much noise for this size generator because there are some small size generators in the same noise level.