In this article, we will try to discuss about the Generac GP6500.
We have discussed about Generac inverter generators and really they are the best models in the market.
One thing we noticed during reviewing Generac's models, this brand provides such good generators in the market.
Generac made some different designs and styles, even modern style models that are available in the market.
We saw its few models are very popular in the market and many people liked them.
Today, we're not talking about its inverter generator because we picked a generator from the Generac that has the best reputation in the market.
Although Generac is a very famous brand in manufacturing heavy-duty and stand-by generators.
While the Generac GP6500 is not a standby generator but even also it is not small that cannot handle your heavy load.
We chose this model so that we can know about its performance because many people want to purchase this.
So here we try to know about Generac GP6500 features. How does this generator perform?
Let's find its all features.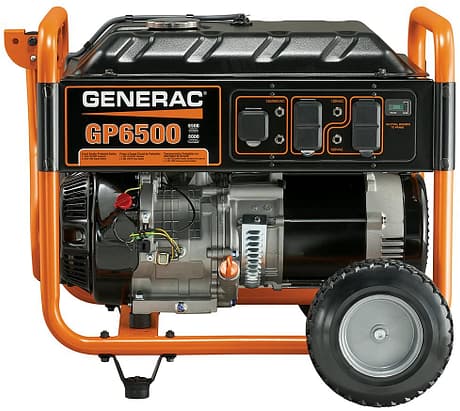 What did I like about Generac GP6500?
Although we know that the Generac 6500 is not a standby generator but it is still the best alternative if you're looking for a 30 amps generator for RV trips or households.
This model has different volts and amps outlets, even though you can run a high-power tool since it has a 30 amps 120/240 volts outlet.
Also, four 20 amps 120 volts GFCI outlets, I think these outlets are enough to run our large-size home appliance.
Power outage
To make it the best alternative to run home appliances, it is fitted with a 389 cc 4-stroke overhead valve engine. This engine is not a small engine because it provides 6500 rated watts and 8125 surge watts.
This engine has a low oil sensor that detects the oil when the generator has finished its oil. However, this safeguard guard doesn't allow the generator to run on low oil. Now your investment is safed in the market.
You're allowed to run lights, fans, refrigerators, AC, microwave, washing machine, etc.
EPA & CARB
I'm very amazed by this model because it comes with an average price and I was not expecting with it that it'll be EPA CARB certified.
No matter if you have a plan to run this model in a public place since it comes with EPA & CARB certified. People are saved from this model's smoke this is why you're allowed to use the generator in public places.
Average price
To be honest, Generac has modern style models but they still come with an average price tag so that everyone has a limit to purchasing them.
However, you can purchase this model for under 800$, while you can't a good performance model in this price.
Long Run Time
The Generac GP6500 has a massive run time, I am very glad to see its long run time.
This can easily run for more than 10 hours at 50% load but it takes lots of gasoline. That means you'll have 3250 watts for at least 10 hours to run multiple appliances.
The Fuel tank holds at least 6.9 gallons of gasoline to power you for 10 hours.
Warranty Package
Generac gives a long time period warranty since this model comes with 3 years consumer warranty and 1 year commercial warranty. This warranty is enough to satisfy any customer.
Easy to Transport
Maybe its weight is heavy for you but the wheels and a handle make it easy to move the generator to any side.
This is an amazing thing that you can take your heavy generator with you at anywhere you want to go.
Really the portable design deserves to appreciate that makes a large generator like a small machine.
What I don't like in Generac GP6500?
According to my opinion, one thing that is very bad about this generator is it doesn't have an electric start option. This means you'll have only one option for starting this model. Sometimes it is very hard to start a heavy generator hence my opinion is that every large size generator has an electric start button.
Another bad thing that I noticed is it is not a fuel-efficient model because it holds 6.9 gallons of gasoline and runs for a short time period.
I think it should take 5 gallons of gasoline to run 10 hours.
Also, its noise level is a little bit loud, it might generate at least 81 dba noise level on 50% load.
Our Verdict
We're excited to give this generator a final verdict.
The Generac GP6500 is a great choice for anyone who wants a reliable generator that will keep them and their family safe, no matter what the weather throws at them. It has enough power to run everything from your TV and microwave to the lights in your garage, and its fuel efficiency means you'll be able to use it for longer than if you were using an engine-powered generator.
It's also quiet enough that you can use it around pets or children without worrying about disturbing them, but it still packs plenty of punch when needed.
We have been using it for a few months now, and we are very happy with its performance. We've used it to power our home during storms, to power our house when the power goes out, and even to power our light fixtures in the garage while we were working on our car.
It doesn't use much fuel at all—we can get about 10 hours of runtime per gallon. And because it's so quiet, you don't have to worry about waking up your neighbors!
The only thing that would make this generator better is if it had a longer run time per tank of gas on half load. It runs great for ten hours, but after that, you'll need to refill it every time you want more use out of it.
FAQs
Q: Can the Generac GP6500 generator be used in a cold environment?
A: No. The Generac GP6500 generator is not designed for use in extreme cold temperatures, and it must be stored indoors at temperatures lower than 55 degrees Fahrenheit (12 degrees Celsius). If you are storing your generator indoors, it should be stored on a platform or pallet that will allow air to circulate around the unit.
Q: What is the best way to store my Generac GP6500 generator?
A: In order to ensure the proper functioning of your generator, we recommend storing it in a dry location with minimal humidity. You can also store your generator on a platform or pallet that will allow air to circulate around the unit.
Q: What are the benefits of the Generac GP6500 generator?
A: The Generac GP6500 is one of the most powerful generators available on the market today. It is also very easy to use because of its user-friendly interface and features. The generator has an impressive output power of 7,000 watts. This makes it perfect for powering heavy-duty appliances such as air conditioners, refrigerators, and other large electrical devices. It comes with an electronic control panel that allows you to set up your desired power output levels easily and quickly. Another great feature of this device is its quiet operation which allows you to enjoy peace and quiet while working on your projects without disturbing your neighbors or family members who live nearby.
Q: What are some downsides of this product?
A: One downside of this generator is that it doesn't come with wheels so you'll have to buy them separately if you want them attached to your vehicle so they can be transported easily from place to place without getting damaged along the way. Another drawback is that it does not include any type of warranty which means if something goes wrong with your unit then there won't be any assistance from the manufacturer if something goes wrong with theirs then there won't be any assistance from.
Q: Does the Generac GP6500 generator have a fuel shutoff valve?
A: Yes. The fuel shutoff valve is located on the front of the unit. This valve can be used to turn off your generator in case of an emergency and prevent damage to the unit.