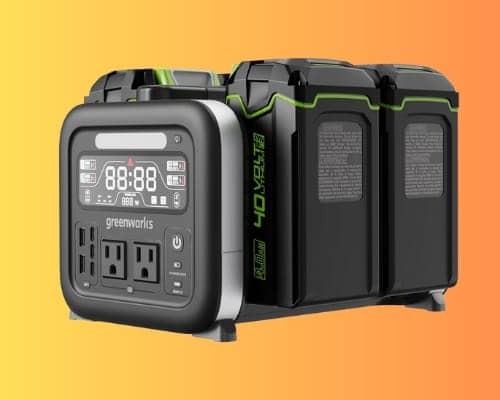 Are you tired of constantly searching for reliable reviews of the latest portable power stations? Look no further! We have curated a comprehensive collection of unbiased and up-to-date reviews specifically focused on the Greenworks 40V Portable Power Station for the year 2023.
Our team of experts has meticulously tested and evaluated this powerful device, providing you with valuable insights and real-world performance assessments. Whether you're an outdoor enthusiast, a frequent traveler, or someone who wants to be prepared for emergencies, our reviews will help you make an informed decision about the Greenworks 40V Portable Power Station.
Don't waste time and money on subpar power stations. Trust our reviews to guide you towards the perfect portable power solution. Join the countless satisfied readers who have made informed decisions and unlocked the true potential of the Greenworks 40V 500 watt inverter generator.
Features of Greenworks 40V Portable Power Station
4 Batteries Slots
Meet the Greenworks 40V Portable Power Station – a nifty gadget with room for four batteries, making it a total game-changer. It links up seamlessly with the super-popular Greenworks 40V Lithium-Ion Battery Platform, giving more than 75 indoor and outdoor tools a serious boost in efficiency.
This powerhouse is no slouch when it comes to design. Picture this: two battery bays on each side, left and right, all coming together to handle up to four 40V batteries. It's like a symphony of power, not just distributing it smartly but making sure you've got a robust and reliable energy source for all your on-the-go adventures.
Right on the front, stealing the show, is the LCD display. Think of it as the brains of the operation, telling you everything you need to know – how much juice is left, and whether it's soaking up power or not. It's like having a personal assistant for your power needs.
Stay in the loop and take charge effortlessly, thanks to the Greenworks Portable Power Station's slick display. This isn't just about keeping the lights on; it's about doing it with style and smarts.
7 Ports to Power
When it comes to powering your devices, the Greenworks 40V Portable Power Station has you covered with its impressive array of 7 ports. Located on the front panel, these ports offer a versatile range of power options for all your devices. Notably, you'll find two AC outlets that can deliver a substantial 500 watts of power each. This means you can easily plug in and power larger appliances or equipment.
In addition to the AC outlets, the power station also features 5 USB ports, further expanding your charging capabilities. Among these USB ports, there are 2 USB-A ports, each capable of delivering a maximum output of 30W. These are perfect for charging phones, tablets, or other USB-A compatible devices. Furthermore, there are 3 USB-C ports with a maximum output of 65W each, providing fast and efficient charging for devices that support USB-C connectivity.
One of the standout features of this power station is its ability to utilize multiple ports simultaneously. This means you can connect and power multiple devices at the same time, making it incredibly convenient and efficient. With a combined total output of 755 watts across all the ports, you can rest assured that your devices will receive the power they need, all at once.
Whether you need to charge your laptop, power your appliances, or keep your USB devices juiced up, the Greenworks 40V Portable Power Station offers a comprehensive and reliable solution. With its 7 ports and impressive power output, you can enjoy seamless and simultaneous power distribution to meet your diverse needs.
Personalize batteries size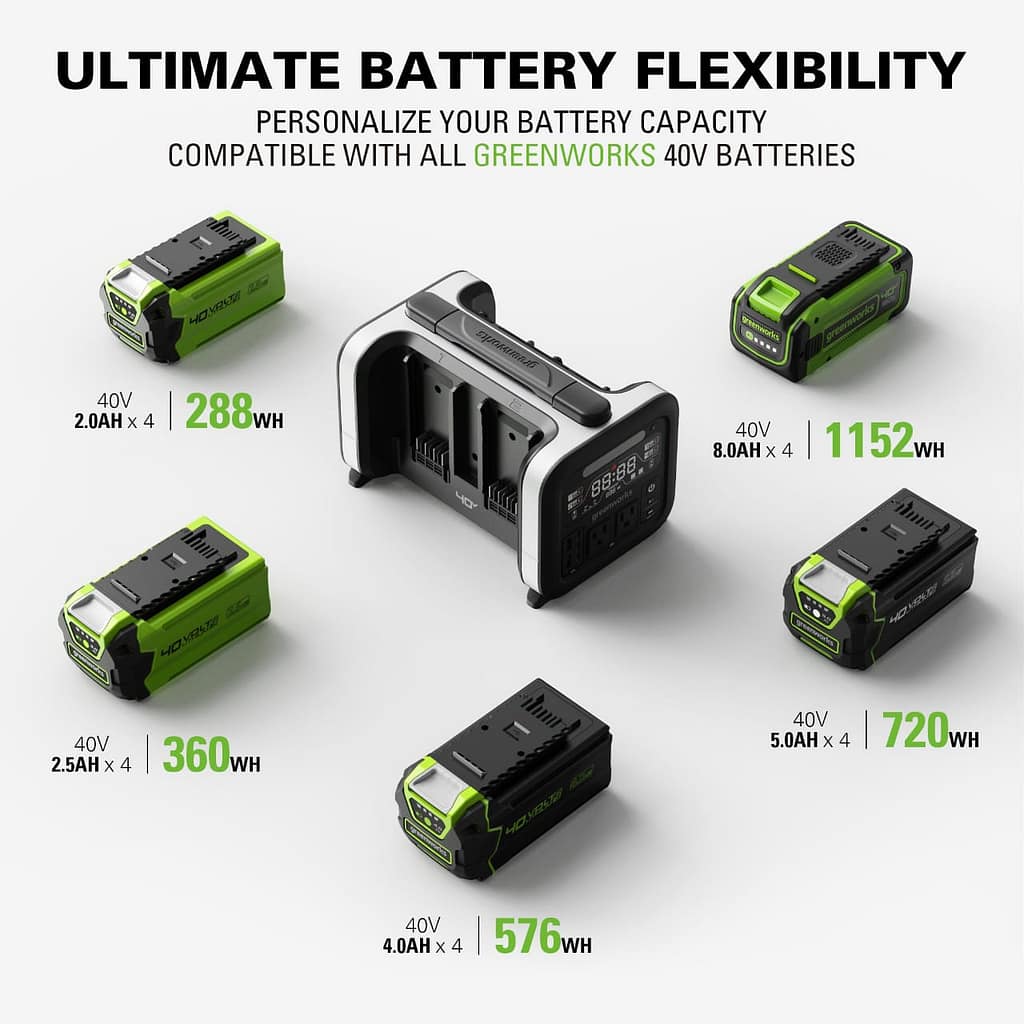 Meet the 40V Portable Power Station from Greenworks – a true game-changer in the world of portable power. It's not just a device; it's a sophisticated marvel that effortlessly accommodates a range of Greenworks 40V batteries, from the modest 2.0Ah to the powerhouse 8.0Ah. This little powerhouse breaks through limitations, ensuring it plays nice with the entire 40V battery family, giving you a power solution that's not just flexible but downright comprehensive.
Take a glance at the image above, and you'll see more than just a product – it's a visual testament to what this unit is capable of. But it doesn't stop there; it breaks down the Watt Hour (WH) capacity you can expect when you pair it with four batteries of equal capacity. It's like a roadmap to understanding the combined power potential that the Greenworks Portable Power Station brings to the table.
Perfect for emergency situations
This extraordinary power station serves as your trusted companion when you find yourself without electricity, offering an uninterrupted and seamless power source.
With its four 8.0Ah batteries, the Greenworks 40v Portable Power Station provides an impressive runtime that will keep you powered up during extended outages. You can rely on it to run a 100W fridge for up to 9.6 hours effortlessly, or keep a 120W heated blanket running smoothly for a solid 8 hours, ensuring your comfort and convenience even in unexpected circumstances.
But the Greenworks 40v 500 watt Power Station doesn't stop there. It demonstrates its versatility by supporting a variety of essential devices. For instance, it can power a 40W Mini Fridge continuously for an astonishing 25 hours, a 105W TV reliably for 9.5 hours, and a 16W Game Console impressively for 62 hours. These remarkable figures, derived from thorough testing conducted by Globe Lab using four fully charged Greenworks 40V 8.0Ah batteries, highlight the exceptional reliability and endurance of this power station.
Perfect for outdoor activities
Ideal for outdoor enthusiasts, the 40V Portable Power Source is designed to enhance your camping adventures, providing unparalleled energy convenience seamlessly. This device may be your trusty companion, effortlessly fitting into the rhythm of your outdoor escapades.
To unlock its full potential, pair the power source with four 8.0Ah batteries. This dynamic combination opens the door to a world of possibilities. Imagine indulging in the luxury of brewing perfection with a 400W coffee maker for up to 2.4 hours. Alternatively, bask in the comforting warmth radiating from a 100W heating mug for an extended 9.6 hours. When it's time to create a captivating ambiance, let the soft glow of a 10W lantern illuminate your surroundings for an astonishing 96 hours, ensuring your night is filled with enchantment.
Different Ways to recharge
Charging up your this portable power station is a breeze with multiple options at your fingertips. If you've got Greenworks power tools, take advantage of the convenience by using their battery chargers. For a straightforward solution, simply connect the power station directly to an AC outlet using the provided power cord.
If you find yourself off the grid or in a remote spot, tap into solar power by connecting solar panels directly to the station. This means you can recharge wherever you are, even when the usual outlets are nowhere in sight. It's all about flexibility and ease of use with these diverse recharging methods.
Easy to Monitor
Monitoring your portable power station has never been easier. Thanks to the SMARTg home app, you can now enjoy seamless control right from your mobile device. This user-friendly app allows you to keep a close eye on power usage, receive timely low-battery notifications, and even seek assistance whenever needed.
Adding to the convenience is the real-time large LCD screen, providing at-a-glance access to essential information. From battery capacity and output/input details to estimated recharge time, everything you need to know is right there on the screen. This means you can effortlessly keep track of the charging status whenever it suits you, gaining valuable insights into how your power station is performing. Easy monitoring, smart control – all in the palm of your hand.
Final Verdict
Ready to level up your tools and gadgets? The Greenworks 40v Portable Power Station is where top-notch tech meets ultimate convenience. It's not just power; it's a whole new way to roll, redefining what efficiency and performance look like.
This device doesn't tie you down to uniformity. It's your power, your way. Mix and match batteries as you see fit, whether you want a harmonious quartet or a custom blend tailored to your needs. The Greenworks 40V 500w is all about adapting to your preferences, ensuring a power supply that's not just efficient but tailor-made for whatever you're up to.