Honda EU1000i Review:
Today, we will cover one of the best inverter generators in the market, which falls in 1000 watt generator category.

This generator is manufactured by Honda which is a trendy brand all the time in the entire market and all over the world.

This Japanese company brings a lot of products as people demand that's why this company has trended in all seasons.

Many people trust Honda and give positive reviews of its products.

This is why see the good value of Honda products in people's view on the market instead of other companies.

Honda manufactured the Honda 1000 watt inverter generator which is one of the smallest models in the inverter generator field.

Does this model as good as its elder brother Honda eu2200is which gained lots of positive reviews and people love?

Does Honda eu1000i better than other models like Sportsman 1000 watt?

Is this able to run your small appliances and come to your expectations?

Let's take all our answers to the questions about the Honda eu1000i.
This review is very valuable for you if you want to purchase a small size inverter generator in 1000 watt.

We'll try to compare this model to other models so that we take the conclusion of which model should you buy.

Now you have to read more detail, so please keep reading.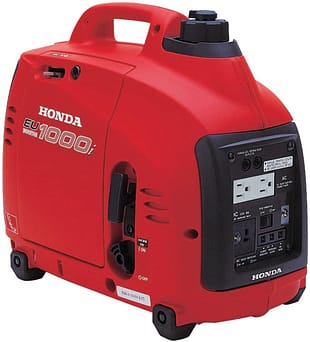 Technical Space of Honda EU1000i
| Product Information | Detail |
| --- | --- |
| Starting watts | 1000 watts |
| Running watts | 800 watts |
| Fuel type | Gasoline |
| Fuel tank capacity | 0.6 Gallons |
| Run time | 8 hours at 25% load |
| Engine type | GXH50 49.4 cc 4-stroke |
| Noise level | 48 dba at 25% load |
| Weight | 28.7 lbs |
| Starting Method | Manual recoil start |
| Dimensions | ​17.7″ x 9.4″ x 15.0″ |
First Impression – About Honda EU1000i

Honda designed this motor for all small electronic equipment, which means you shouldn't try to run big appliances on it.

The starter solution of this unit is like a universal solution which we see in the vast majority of inverter generators.
That means you'll have only one option to start this generator and that is only manual recoil start.

Designed very light in weight and made portable and compact so that easy to move the generator at any place like boating, mountain valley, and where you need a lightweight generator.

Apart of lightweight, it is very slim and thin. It has a handle that makes it very easy to lift the generator very smoothly with one hand.

If you pick the generator for a long time so you don't have blisters on your hands.

Moreover, the Honda eu1000i is equipped with all safety protraction. It automatically shut down if the generator hasn't oiled and when you put too overloaded it.
What did I like about the Honda EU1000i?

Honda always uses good materials and parts when they build its generators and other products. This is why you'll not see any cheapest parts in their generators.

Many people have trust in Honda. Due to high quality, the Japanese charge high price rates for their products.

Honda inverter generators are always appreciated in the market and they are able to compare to other many brands.

There are a few things that I like in the honda eu1000i, so let's see what they are.
Original Honda Engine

The Honda eu1000i generator is fitted with the original honda GXH50 49.4 cc engine which is an extremely solid engine from Honda.

This little solid engine makes the generator capable of providing 1000 starting watts and 800 running watts.

You can run some of the following equipment easily:

RV refrigerator
Portable fans and lights
Computer, laptop
Hand Drill (1/2'')
Drill (1/2', 5.4 amp)
This means this model is an ideal choice for many goals. The boy is ready for any place to provide the little power source.
Long Run Time

There are some questions about this generator and one of the most questions is about its run. How long can a honda eu1000i run on a tank of gasoline?

The honda eu1000i has the best performance in its run time. It has only a little fuel tank that takes 0.6 gallons of gasoline.

With only 0.6 tanks of gasoline, this generator can run at least 8 hours at a 25% load. At full rated load ( 100% load) it is able to run for more than 3 hours.

Portability

Honda used high quality plastic in the Honda eu1000i so that it can last for many years. The plastic which is used in honda cannot easily be damaged.

The weight of this model is just 28.7 lbs, which is very lightweight for a generator. This means It Is very easy to transport, use and run this generator.

Noise

Honda keeps introducing low noise levels in their inverter generators. This is why their generators are quieter than other generators in the market.

The Honda eu1000i is also one of the quietest inverter generators in the 1000-watt generators category.

This model has a 48 dba noise level at 25% load and 53 dba at full rated load. No doubt this noise level is less than a normal conversation. This is one of the most quietest models in 1000 watts inverter generators.

You'll not have any noise issues from this generator while using it on camping or RV trips. It runs very quietly, maybe you'll not feel that you're enjoying the electricity by a generator.
Another good thing about this model is it has a good outlet panel. To run most appliances, it has two 120volt AC outlets, and one 12volt DC outlet.
What I don't like about Honda EU1000i?

I am always disappointed with Honda generators' prices, they have very high prices in the market.

This model also has a very high price while there is only a manual start.

Well, it is a high price generator but with this price, it must have an electric start. Honda should give an electric start with this model.
Also, there is no USB port available. These are some of the things which impact the generator's smartness.
---
Conclusion – Should you buy it?
If you want an inverter generator that can easily run your small electronic equipment and also want good quality then you need to purchase a Honda eu1000i.

Honda is one of the best companies which can use only good quality parts to build their products that's why they run long last.

Obviously, if you would like to have a good quality product then you have to pay a high price rate. If you can afford its price then my opinion is this is the best choice for you.
This logic we see in Honda inverter generators which run for years and have good performance, mostly their customers satisfy Honda products.

So keep in mind this model has a high price tag but with this, you have a valuable product that can not disappoint you.

The Honda eu1000i can be used for many purposes due to its long run time and very lightweight.

Especially it can be used for hunting, boating, and where you need a very lightweight inverter generator. It allows charging your mobile, laptop and other sensitive electronic equipment in a place where is no electricity.

I can say about this generator you just need to buy and meet your all needs with peace and smooth.
FAQs
Q: Why should I buy a Honda EU1000i inverter generator?
A: Honda EU1000i inverter generator is the best choice for you. It has the best performance, high reliability, and low maintenance cost. The generator is a compact, quiet, and highly efficient generator that will run your home or business when you need it most. It's a great choice for light-duty applications like recreational vehicles (RVs), boats, cabins, and homes with outdoor power needs. It generates up to 1,000 watts of clean, reliable power at 12 volts DC output.
Q: What are the features of this generator?
A: The Honda EU1000i inverter generator features high efficiency, low noise, and long service life, which are all important factors for choosing a good electric power plant.
Q: What materials are used in its construction?
A: This generator uses die cast aluminum alloy as its main material, which is stronger and lighter than ordinary steel so that it can reduce the weight of loaders and other equipment that need to be transported easily to repair sites or move between sites quickly when needed during emergencies such as natural disasters or other situations where electric power may be needed quickly without delay such as when there's been an accident at a chemical plant that needs.
Q: What are the advantages of using an inverter generator?
A: The inverter generator is a type of generator that has the ability to convert alternating current (AC) power into direct current (DC) power. This means that it produces electricity that can be used for a variety of purposes, including charging batteries and running appliances. It also means that you don't have to worry about extra wires, cords, or switches when you use your inverter generator. However, not all generators are made equal; if you're looking for one that will help you save money on your electricity bill, then you should look at one with an inverter generator. An inverter generator will allow you to run appliances without any extra wires or cords that aren't necessary for the appliance itself.