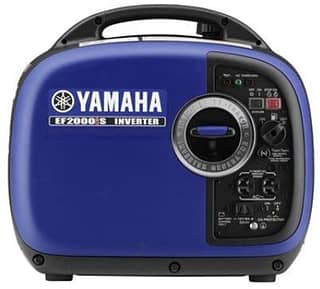 Sometimes there is a situation like that where you don't like to compromise with anything since if you compromise with anything so your enjoyment might be spoil.
This is why you just want to take a thing that you can easily trust it. However, you're camping or RV trailers or job sites, or need home backup due to Storm so you have to purchase an inverter generator that you can trust it which is why you search for a well-known and trusted brand.
So, when it comes to trusted brands, we see a list of the brands and we find Yamaha is one of the most trusted brands that's why many people love to purchase Yamaha's equipment when they don't want to compromise with other brands.
We see many friends of Yamaha EF2000iSv2, they are purchasing this model and giving it 5 stars.
So, I think is this a good model? Should you purchase this machine? if you are searching for 2000 watts inverter generator.
I have kept all questions in my mind and then review about this model in depth. You'll know about EF2000iSv2 Yamaha and clear your multiple questions about this generator.
Let's start the review in depth.
Technical Space of Yamaha EF2000isV2
| Product Information | Detail |
| --- | --- |
| Starting Watts | 2000 |
| Running Watts | 1600 |
| Fuel Type | Gasoline |
| Fuel Tank Capacity | 1.1 Gallons |
| Engine Type | 79cc 4-stroke OHV |
| Noise Level | 51.5 dba at 25% load |
| Run Time | 10.5 hours at 25 % load |
| Weight | 44.1 lbs |
| Dimensions L,w,H | 19.3" x 11.0" x 17.9 |
| Starting Method | Manual Recoil |
About YAMAHA EF2000iSv2 – first Impression
Yamaha introduced Yamaha EF2000iSv2 with a new style and more features than the EF2000is model.
With the rounded edges and slimmer design, it looks like a radio system when you see it at a glance. Ah, but it doesn't give you sound waves because it is a generator that gives you electricity.
Yamaha made this model more user friendly this is why it gained many positive consumer reviews. The good features of this model are how informative its control is, how slim and lightweight it is, and how quiet is.
Really this small type of inverter generator is best for light usage, tailgating, RV, and camping trips.
It is not wrong to say that this model design is pretty good than other 2000 watts inverter generators.
Especially its main competitor Honda EU2200i that is also a famous model. But when it comes to design it looks so bad and ugly against Yamaha EF2000iSv2 and also WEN 56200i.
Features of Yamaha EF2000isv2 Inverter generator
Yamaha EF2000isv2 is similar to ef2000isv1 because V2 is an updated version of the old model V1 it has the same features which you have got old version but the new version comes to some new features which we see in full detail.
Engine & Power Output
Yamaha and Honda always focus on their generator's engines so that they run a long time and many years. This is why their generator's qualities are different from other brands and expensive in the market.
To keep this generator lightweight and easy to transport anywhere, this model is fitted with a small size 79cc OVH 4-stroke engine. However, the small engine means you have just limited power to run your limited small equipment. This generator provides 2000 starting watts and 1600 running watts. This generator is best for light usage on RVs, and home backup.
You can run this model for a long time because it has a feature of heat dissipation. This means it will not heat so quickly. Otherwise, most generators heat quickly and make so noise. I don't think this feature comes with other 2k watt models.
How quiet is it?
From the general perspective, nobody loves to listen to generator noise. This is why you search for a quiet generator.
Yeah, the solar generators run without noise but they don't give you much power to run your multiple electronic types of equipment.
Thanks to the inverters technology they provide us with a quiet generator. Unfortunately, some inverter generators do not run so quietly, they also make noise which is why you have to check the noise level in the inverters series before buying.
But while buying Yamaha inverter generators, I don't think you should worry about the noise level.
Because the Yamaha EF2000isv2 is also one of the most quiet models. It generates only 51.5 dba of noise at a 25% load, and at a rated load it produces 60 dba of noise.
This noise level is able to compare a lively conversation between two people.
If you keep it with you during the camping so it will not let you realize that it is running or not.
How much run time you can expect with Yamaha EF2000isv2?
This is the main factor in the generators due to it most of the generators are purchased or ignored.
You also want to purchase a good running time generator like other people and start searching.
Most of the people want a generator that can easily run for a whole night so that they sleep in camp without worrying about refilling the generator's tank.
Maybe Yamaha kept this factor in mind and try to give the best run time with their generators. This is why we get the best run time in this model since this generator runs more than 10 hours at 25% load.
It is considered a quite good run time in the 2000 watts category.
To be a surprise for you, the Yamaha EF200isv2 only takes 1.1 gallons of gasoline and runs for a long time. This means this generator has excellent fuel efficiency.
Even also, you'll not have any weight problems after full the tank with gasoline.
Control Panel
Yamaha EF2000isv2 is really appreciated model because it comes with a 12volt 8amp DC outlet that helps you to charge your external batteries at camping and RV.
Also, it has two 120volt with 13.3apms and 16.7amps for powering your other electronic appliances.
unfortunately, Yamaha did not give USB ports with this model. It is the same as where we see in Honda inverter generators.
Yeah, inverter generators are known for providing clean wave electricity but this model has Pulse Width Modulation (PWM) feature that generates only 1% voltage stability and 0.1-hertz frequency stability.
Also, this generator feature with parallel kit capacity for connecting 2 EF2000isv2, or EF2000isv2 with EF2000is.
It is also equipped with a Smart Throttle system for more fuel efficiency. Even also it has a fuel gauge and oil watch warning system.
This is really good that Yamaha gave on the top of the control panel three indicator lights so that everyone can easily see.
Small size equipment and tools are always appreciated because they can be easily transported.
This generator is also like those tools because its overall dimensions are a bit small.
The dimensions are consisting 19.3 inches in length, 11 inches in width, and 17.9 inches in height.
With the small size, the weight is also low because the weight of Yamaha EF2000isv2 is only 44.1 pounds.
Finally, this model is approved for use in California because it comes with both EPA and CARB-compliant.
Pros:
Trusted brand
Solid engine
Lightweight
Excellent performance
Good run time
Fuel efficient
3 years of warranty
Cons:
Not affordable price
USB port not available
Yamaha EF2000isv2 vs Honda EU2200is
Both brands are most of the popular brands in the market. Both brands' inverter generators are appreciated, solid and reliable. This is a difficult task to compare these both brands with each other.
But some models have excellent features and clever designs which make them smart than others. This is why we see here the EF2000isv2 is looking a more smart model than the Eu2200is when it comes to design.
Also, Yamaha's model seems to be a winning model due to its best running time than Honda's model. EF2000isV2 is able to run more than 10 hours at 25% load with 1.1 gallons of gasoline while its competitor runs only 8 hours at the same load with 0.95 gallons.
The Honda model has 200 watts are extra watts than Yamaha but these are not enough to run large equipment. It is right to say that both models are made for running small size tools and appliances.
The common factor in both models is their engines, both have a solid and reliable engine. Even also, they don't have USB ports and too expensive generators.
Yamaha is lightweight because it is only 44.1 pounds while the Honda is 47 pounds. Yeah, Honda runs very quietly since it has a 48 dba noise level at 25% load while Yamaha has a 51.5 dba noise level.
To be honest, if you're looking for a trusted brand's model in a 2k watt inverter generator then you must buy Yamaha EF2000isv2.
Check price Honda EU2200is on Amazon!
Conclusion – Should you buy it?
After taking a review of Yamaha EF2000isv2 and comparing it to other models like Honda EU220is I have reached at the point that this is a good quality generator.
Especially when you don't want to compromise with other brands.
EU2200is is also similar to Yamaha both are solid and reliable generators. Both are the expensive machines.
It comes with both EPA and CARB-compliant. This means you'll not have any problems while using this model in a public place.
Lightweight, small size, easy to carry only one hand, it is a well good design. A low noise level is great for using public places and composite sides.
If you're looking for a reliable portable generator and you have a budget then you must try this model. Because this model doesn't have any serious downsides except USB ports.
If you have a low budget then my opinion is for you that you put a glance at WEN 56200 which is also a good generator at a low price.
In short, the Yamaha EF2000isv2 is one of the best portable, reliable, solid, good design inverter generators in 2k watts models. This will be a perfect match for all the work where you don't need to run heavy-duty machines.
I'd like to say if you're looking for a small unit for camping, boating, or hunting, this is a very good model for these purposes.