predator 3500 inverter generator review
Do you need a portable inverter generator for your RV or emergency backup? Also, do you want a good quality machine with a low price? Hmmm, have you out a glance at predator inverter generators? No? Then you should try predator machine. Predator is also one of the best brands that give us an excellent quality product this is why it gained a best seller tag on Amazon.
I couldn't understand why people don't try Predator while this is not too far behind the Yamaha and Honda.
Although, its inverter generators are not like Honda and Yamaha, but it is still good and come your all expectation.
its 3500 model is one of the best examples of its inverter quality.
Now the question is it is a really good machine? should we purchase it instead of Honda eu3000is?
Hmm, it is not better to answer about a product without any information about that that's why I can't answer to your all questions before checking this model.
Now need a review of this model in deep so that we know all about this generator. Also trying to know that this is good for us or not.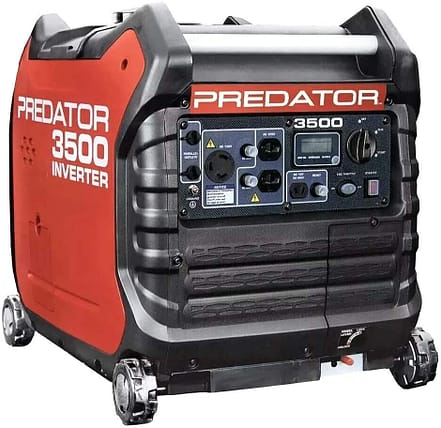 | Product Information | Details |
| --- | --- |
| Staring time | 3500 |
| Running time | 3000 |
| Fuel tank capacity | 2.6 Gallons |
| Fuel type | Gasoline |
| Engine type | 212cc 4-stroke OHV |
| Run time | 11 hours at 25% load |
| Noise level | 57 dba at rated load |
| Weight | 99.2 lbs |
| Dimensions L, W, H | 22.75″ x 17.3″ x 20″ |
| Starting Method | Electric start and Manual recoil |
About Predator 3500 Inverter Generator
When it comes to price tag, Predator 3500 is a good valuable inverter generator with an average power range.
This model produces a limited power output to run most appliances that we have need ever at home or RV or job site or for other purposes.
This is why it might be right to say that this generator is an ideal choice for several purposes.
If you're in a situation where you need a power source for the whole night. Really this generator will help you to provide clean and stable power for the whole night.
Also, its inverter technology gives you peace of mind to charge your all sensitive appliances without worrying about any damages.
Which Engine is used in predator 3500?
The amazing thing about this generator is, its engine is more powerful and it is the same as those engines which I have seen in Honda's inverter generators.
Yeah, this engine is not actual Honda's engine but it works like Honda eu3000is.
Predator is fitted with a 212cc engine and this is a bit large engine since it provides 3500 starting watts and 3000 running watts. This engine has enough power to handle home appliances.
Another good thing is that there is a 500 watts difference between surge watts and rated watts. This means you can easily estimate of your appliance's power, and how many appliances you can run on this generator.
This engine is being both EPA and Carb certified. It will not harm any human while using it at a place where people are surrounding.
Design
Predator has given this model an excellent design. The design is an impressive shape it really looks like Westinghouse igen4500 and Generac IQ3500.
This type of design makes proud to you while you're camping, tailgating, and RV trailers.
This model has 4 wheels and a handle which is why you will not feel hassle while moving this generator anywhere.
How much run time has the predator 3500 inverter generator?
The predator 3500 has a good run time which you see in a good quality generator like Honda eu3000is. This model is able to run for more than 11 hours at a 25% load.
During the 11 hours runtime, it takes 2.6 gallons of gasoline. Although its weight is 99.2 lbs and the weight will increase when the generator's tank is full of gasoline. In this case, the excellent design can handle the generator weight because it's all up to the wheels.
Control Panel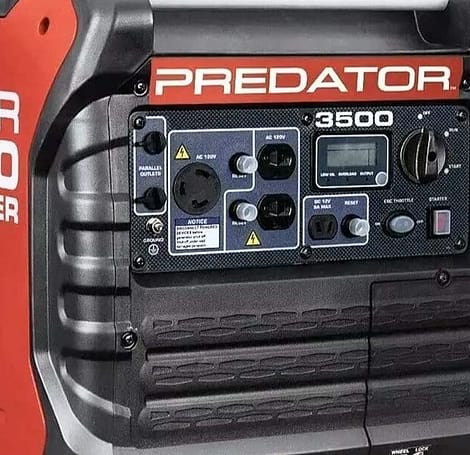 Although this model doesn't have many outlets but still the control panel of Predator 3500 is equipped with 4 outlets. These 4 outlets are enough to run your most equipment. This generator has two 120 volts 20A outlets, one 120 volts 30A twist lock outlet, and one 12 volts DC outlet for charging batteries. This 12V DC outlet is perfect for charging any 12v battery.
To give you information about the generator's work, it has a modern type digital LED display. Also, there are three indicator lights to keep alert you when the oil is low, or the unit is ready to use, or you run it on overload.
You can make 7,000 watts starting watts and 6,000 running watts by connecting two models of 3500 watts.
The control panel has all the features which should have in an inverter generator. You'll have a good model at an average price if you buy this model.
What do I like about Predator 3500 Inverter Generator?
To be honest, the amazing point of this model is the price. I think its manufacturer tried to make this model like Honda's but he keeps it with an affordable price so that everyone will must try this generator.
I think the engine that is used in this model is a clone of the eu3000is engine as many people said. Don't know how much true it is, but its engine is appreciated.
Another nice feature of the Predator is the run time. This means it can be purchased for a whole night power source.
This large size generator runs very quietly. At 25% load, the noise level is only 57 dba which is considered a quiet inverter generator in this size category generators.
Overall, with the low price, you have all the features which you might expect with an inverter generator.
What do I dislike about this model?
The wheels are a bit small which might create problems while moving the generator. I think it should have little large wheels so that it can be moved easily.
Also, I don't understand the logic of why the predator did not give USB ports with this smart model?
Conclusion – Should I buy Predator 3500 Inverter Generator?
When it comes to buying a 3500 watt generator, then predator is a great model in the market that comes very affordable price compare to other models.
This can easily handle your appliance loads since it provides 3000 running watts. You can enjoy camping, RV trips, and outdoor parties with this model because it runs very smoothly due to its low dba.
I am very surprised that an average price inverter generator gives us a long run time.
A portable design that gives you the flexibility to move the generator easily.
Have different outlets to handle different volts of electronic appliances even though you're using them at home or RV.
I think this model is designed for those people who need an inverter generator but they can't spend much.
---
FAQ
Can I connect predator 3500 with 2000?
In short, yes, you can connect both generators by parallel kit. This is a good feature of Predator this is why predator 3500 has many lovers.
Where the Predator models are made?
An American company 'Harbor Freight' is manufactured predator 3500 but like other generators, it is also assembled in China.
How much oil this inverter generator takes?
The predator 3500 inverter generator takes 12 quarts or 20 oz of oil.
Does Predator 3500 inverter generator any good?
For its price tag, this is a good inverter generator since it has all the features you will ever need at your home or for any other activities. Also, it has a powerful engine, good running time, and enough power to run limited appliances.