It's time to take review the Yamaha ef6300isde inverter generator, also compare this model with the Honda eu7000is. We will try to know which model should we buy since both models have high price tags.
This model will must a good product as Yamaha's other products.
Because Yamaha is one of the best companies which has placed in the top 10 best companies worldwide.
Yamaha makes the best quality and solid items that can easily run for many years.
To be considered, there are 2 famous brands in the market whose prices are very high against other brands. Both famous brands are Yamaha and Honda.
But with the high price, there is not any risky decision if you want to purchase Yamaha's products since it is also a trusted brand.
No doubt the Yamaha ef6300isde is a good model because it is designed by a company that is famous in the world.
However, we need to check for what purpose we should buy this heavy power generator.
Also, we'll try to know that it is worth this price tag?
Is there any better option to purchase any other model instead of this generator?
Let's see the Yamaha ef6300eude in deep and try to know every important thing about this model.
Please keep reading this informative review.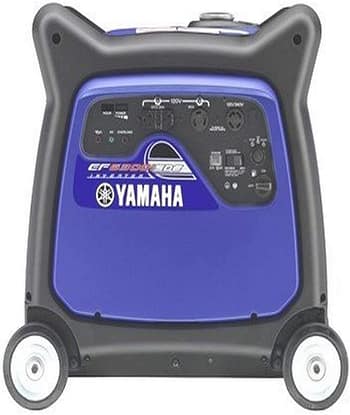 Technical Space of Yamaha EF63isde
| Product Information | Detail |
| --- | --- |
| Starting Watts | 6,300 |
| Running Watts | 5,500 |
| Fuel Type | Gasoline |
| Engine Type | 357cc 4-Stroke Air-cooled OHV |
| Fuel Capacity | 4.5 Gallons |
| Run Time | 13 hours at 25% load |
| Noise Level | 58 to 64 dba |
| Weight | 200 pounds |
| Dimensions | 33.3 x 29.5 x 28.5 inches |
| Starting Method | Wireless Remote / Electric start |
About Yamaha EF6300ISDE – At a Glance
Yamaha ef6300eude is one of the powerful inverter generators in Yamaha's EF series. This model gas got the title of powerful generator in EF series since it can power several large equipments at the same time.
While the other model is not able to power different large appliances at the same time because we get little power in many inverter generators.
This means if you're looking for a home backup to run your home appliances at once then Yamaha EF6300ISDE will be a good choice.
Also, connect all the sensitive electronic appliances because it can run these types of appliances with a safe way.
This model will be nice for you due to its low noise, you're running a heavy duty generator with low noise.
The big package generator comes with a portable size that has small dimensions. The measurement of this generator is 33.3 inches in length, 29.5 inches in width, and 28.5 inches in height.
A user-friendly model helps you to easily monitor the generator. The generator shows you how much it has run and how much it can further run.
Yamaha fitted a good panel in this generator while you'll not see that panel in other models of Yamaha.
Overall, you can expect a good result from the Yamaha ef6300isde inverter generator.
Engine & Power output
To give lots of juice power, Yamaha fitted a big size engine in this inverter generator while the other model has not this type of engine. That's why they just give you a sufficient amount of power that can only limit appliances.
This model is a surprise for those people who want to run the whole home at the same time from Yamaha.
The Yamaha EF6300ISED is equipped with a big 357 cc, Air-cooled 4-stroke, OHV engine.
What do think about this big engine?
Now you can expect to run so many appliances at once with this generator since it produces 6300 starting Watts and 5500 running Watt.
The great news about this generator is it is still able to run all sensitive appliances. Mean 5500 running watts is not only for large appliances – none sensitive. This model generates clean and stable and pure sine waves that are not dangerous for modern type home appliances.
If you run the Yamaha so you'll not feel that you're facing the power outage problem because u can easily run your home in this generator.
Run Time & Fuel Capacity
Here we realize the value of an inverter generator, despite a large size generator, it gives a very long run time as much as possible for it.
However, the generator is able to run at least for 13 hours an at ¼ load. This is a very efficient model since it doesn't take too much fuel to give this good run time.
Yeah, this is a large generator but the design is similar to a small size generator that's why it has a small fuel tank according to its output size.
You can fill the tank of this model with up to 4.5 gallons of gasoline. This capacity of fuel allows the generator to continuously run for the whole night.
Noise Level & Weight
Another smart feature of Yamaha is the generator is designed to locking noise this is why no one will complain about generator noise while you're camping or RVs. Its noise is similar to a conversation between two people. This feature makes it a good choice for RV and camping trips to run heavy-duty appliances with quietness.
It produces 58 to 64 dba while running on a normal load power. This is equipped with a smart throttle that adjusts engine speed according to power load and reduces generator noise level.
Also, this feature increases the generator run time and extends engine life so that it can run for years.
This is a 6300 watts generator means it should have a much weight as we couldn't expect but thanks to Yamaha to give a great design.
It comes 200 pounds which consider a bit heavy weight but Yamaha gives 4 never-flat wheels that cover all the weight.
This means this generator is still portable and easy to transport anywhere.
The Yamaha EF6300ISED doesn't take too many places to safe it at home. A small place is also enough to safe the generator.
Wow, it's really great for us that we can bring a heavy duty generator in our car.
Control Panel
The EF6300ISED control panel is the same as other models but there is one changing, which gives us an extra option to run high volts – 240 appliances.
The control panel is fitted with one 120/240volt four-prong outlet so that we can run 240 volts equipment.
Also, two 20 amps 120 volts GFCI outlets, and one 30amps twist-lock outlet.
It is ready to go for RVs and power your RV trailers.
Conclusion – Is it Recommended to buy the Yamaha EF6300ISDE?
Finally, we have seen all the features of this model, and all the features are very appreciated.
However, we didn't find any serious downsides in this model. This means Yamaha made the ef6300isde by genuine products which give guarantee of its long lasting.
This generator is made for those people who need to run most of the appliances because it has the power to run many types of equipment.
Yamaha EF6300ised has a powerful solid engine that is able to handle large-size electronic equipment.
So if you need a powerful inverter generator then this model is a good choice for RVs, camping, outdoor parties, and home backup.
If you're looking for a heavy-duty power output the  Yamaha EF6300ISED is might a good choice if you have thought.
FQAs about Yamaha EF63000isde
Q: What battery does the Yamaha ef6300isde model take?
A: This model takes the PowerSource Battery – WP12-BS which is a universal battery for most Yamaha generators.
Q: Is this generator safe?
A: Yes! The EF6300ISDE has been tested and certified by UL, CSA, and CE to meet or exceed all safety standards in North America and Europe.
Q: Can I run my refrigerator on this generator?
A: Yes! You can run your refrigerator with the EF6300ISDE as long as you use an external fuel source such as propane tanks or natural gas tanks with regulators installed at the point where they enter your home's electrical system (see step 1 below). If you choose to use an external fuel source instead of natural gas, be sure not to overload any electrical circuits by plugging too many appliances into them at once; this could damage the equipment's circuitry or cause carbon monoxide poisoning if there is insufficient ventilation in your home's living spaces.
Q: Is the Yamaha ef6300isde inverter generator a gas or diesel-powered machine?
A: Yes, it is a gas-powered generator.
Q: What are some of the key features that make this generator an excellent choice for your projects?
A: There are several key features that make this generator an excellent choice for your projects. First, it has an oil change interval of 13 hours with a fuel tank capacity of 4.5 gallons (18 liters), which means that this generator will run for long periods without having to refuel. Second, it has an extended warranty period of 8 years on parts and labor plus a 3 year warranty on the engine itself if it ever breaks down during those 8 years (compared to 5 years on other generators). Third, it comes with two 20-amp circuit breakers at 120V each which allow you to connect different appliances together without adding additional wires into your home wiring system
Q: What is a YAMAHA EF6300ISDE?
A: The EF6300ISDE is a portable generator that offers a great balance of power and portability. It's designed to work with your home or business's electrical system, so you don't have to worry about getting it setup before you go out to use it.
Q: Is the YE6300ISDE a portable generator?
A: Yes, it is. The YE6300ISDE is a portable generator that can be moved to different locations and used for power outages. It does not require an oil change, but you do need to store the fuel in a secure place so that it doesn't spill or leak.
Q: What are the dimensions of this generator?
A: The dimensions of this generator are 33.3″ x 29.5″ x 28.5″, which makes it compact enough to fit into most vehicles without taking up too much space in your garage or shed.