Generac is famous for manufacturing of stand-by generators but they didn't leave to facilitate people by charging their portable and small appliances.
They are also manufacturing portable inverter generators so that people easily charge their mobile, laptop, computer, etc.
However, there is one smart and modern design inverter generator, which Generac is introduced in the series of IQ. Wow, this is really nice and brilliant design, portable and reliable generator which falls in the 2000 watt inverter generator category.
Why do people like Generac?
after research, I realized some points which force people to purchase Generac's items. They manufacture their products as same their competitors like solid, reliable, fuel-efficient, but they also give their products with affordable prices so that everyone can hope to buy Generac products. The Generac IQ2000 is also one of the best inverter generators that gained so much love from people.
So I feel to write everything about this model so that people know that does this model is suitable for you or not?
So being an honest person start writing reviews but you have to read the full reviews for full details.
Ah, Please keep reading this review.
Technical Space of Generac IQ2000
Products information
Details
Starting Watts
Running Watts
2000 watts
1600 watts
Fuel type
Gasoline
Fuel tank capacity
1.06 gallons
Run time
7.7 hours 1/4 load
Engine type
4-stroke 80cc
Weight
46.2 lbs
Dimensions L,W,H
20″, 12.6″, 16.9″
About the Generac IQ2000 Inverter Generator – At a Glance
The Generac iQ2000 inverter generator stands out as a top contender in the 2000-watt inverter generator market due to its superior qualities in portability, run time, and ease of use. As an excellent option for those seeking a reliable power source on-the-go, this model offers impressive features that are sure to leave a lasting impression.
One of the most noteworthy aspects of this generator is its sleek LED display, which provides an advanced level of convenience for users. With its state-of-the-art design, monitoring the generator's performance and operation has never been easier. This unique feature is truly unparalleled and sets the iQ2000 apart from its competitors.
Furthermore, the iQ2000 is equipped with Easy Start technology, which allows for optimal control and effortless startup. This feature offers three different modes to choose from, ensuring that the user has maximum flexibility and customization over their power usage.
Although not the most powerful generator on the market, the iQ2000 is still capable of supplying enough power for small electronic appliances during camping trips, RV outings, and home backup scenarios. It can even be utilized on job sites for running portable power tools, making it a versatile and reliable option for a wide range of applications.
In addition to its quiet operation, the IQ2000 also features an intuitive PowerDial™ that allows you to quickly and easily adjust the machine's output to match your power needs. This user-friendly interface lets you switch between three different modes (Economy, Standard, and Turbo) with just the turn of a dial, giving you full control over the generator's output and fuel consumption.
But that's not all – the Generac IQ2000 also comes equipped with a range of advanced safety features that help protect both you and the machine. These include a low-oil shutdown system, which automatically shuts off the generator if the oil level gets too low, and an overload protection system that prevents damage to the engine in the event of a power surge.
Overall, the Generac iQ2000 inverter generator represents a top-of-the-line choice for those in need of a portable power source. With its impressive LED display, Easy Start technology, and versatility in usage, this generator stands out as a reliable and high-quality option for consumers.
Features of Generac IQ2000 Generator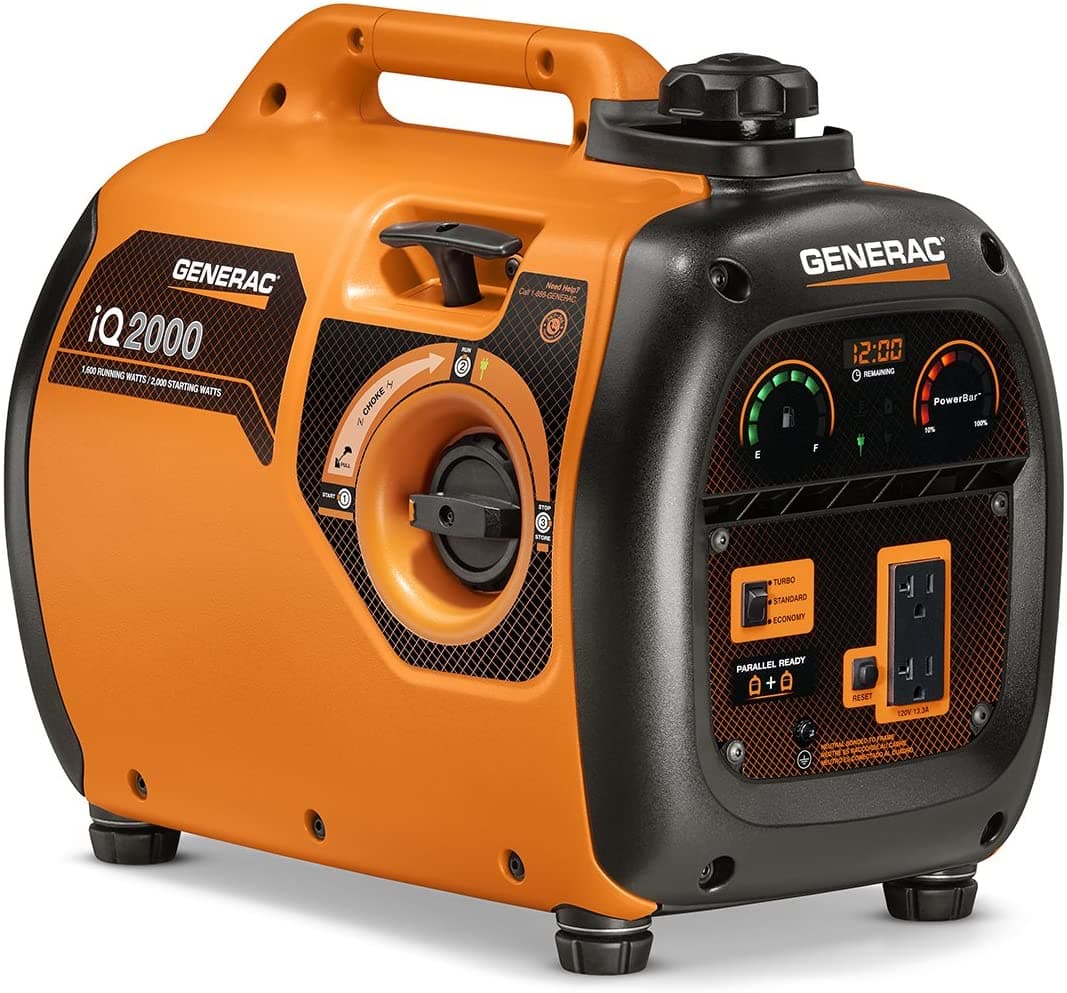 Imagine you're standing in the middle of a bustling marketplace, surrounded by a sea of vendors hawking their wares. Amidst the noise and chaos, your eyes fall upon a sleek, compact machine that seems to be generating a lot of buzz. Curious, you wander over to take a closer look, and are immediately struck by the cutting-edge design and impressive specs of the product before you.
In today's fast-paced world, consumers demand products that are not only functional, but also feature-rich and versatile. And nowhere is this more true than in the world of portable generators, where reliability, efficiency, and ease of use are paramount. Enter the Generac IQ2000 inverter generator, a state-of-the-art machine that delivers on all fronts and more.
At its core, the Generac IQ2000 is a portable generator that packs a punch despite its diminutive size. Capable of producing up to 2,000 watts of clean power, this machine is perfect for powering your essential appliances during a blackout or camping trip, or for providing backup power to your RV or boat. But what sets the IQ2000 apart from its competitors are its advanced features and cutting-edge technology.
Let's see its all features in deep detail!
Engine and Power
The Generac iq2000 inverter generator is a powerful and reliable piece of equipment that is perfect for powering a range of appliances and electronic devices. With its small but mighty 80cc 4-stroke engine, this generator is capable of delivering an impressive 2000 starting watts and 1600 running watts of power. This means that you can power a wide variety of devices, including lights, fans, refrigerators, and even air conditioners, making it ideal for use in a range of settings, from outdoor camping trips to emergency backup power in the event of a power outage.
One of the great things about the Generac iq2000 is that it is an inverter generator, which means that it is capable of providing clean and stable power to your sensitive electronic devices, like computer, laptops, smartphones, tablets, and televisions. This is important because traditional generators often produce power that is not as stable, which can damage or even destroy delicate electronics. With the iq2000, you can rest assured that your devices will be protected and will continue to function as they should.
If you are unsure about what kinds of devices you can power with a 2000-watt inverter generator like the Generac iq2000, you can check out some of the many reviews available online. These reviews will provide you with a wealth of information about the types of appliances and electronics that can be safely and efficiently powered by a generator of this size. Additionally, you may want to consult the owner's manual or reach out to the manufacturer for more specific guidance on what your particular model can handle.
In summary, the Generac iq2000 inverter generator is an excellent choice for anyone in need of a reliable and powerful source of portable power. With its small but mighty engine, it can power a range of devices and electronics, while its inverter technology ensures that your sensitive devices are protected. So whether you are planning a camping trip or preparing for a power outage, the Generac iq2000 is a smart and practical choice.
Run-Time & Fuel Capacity
The Generac IQ2000 is a highly efficient generator that is designed to provide reliable power output and extended run times. One of its key features is its impressive run-time and fuel capacity, which make it an ideal choice for a variety of applications, from outdoor activities and camping trips to emergency backup power for homes and businesses.
With a running wattage of 1600, the Generac IQ2000 is capable of powering a range of electronic devices, tools, and appliances, including refrigerators, air conditioners, and power tools. The generator's fuel efficiency is impressive, allowing it to operate for up to 5.7 hours at 50% load, which is equivalent to 800 watts of power output. This means that you can run your essential devices and appliances for several hours without having to worry about refueling.
If you are using the Generac IQ2000 at 25% load, which is equivalent to 400 watts of power output, the generator's run-time increases even further, up to 7.7 hours. This makes it an excellent choice for situations where you need a longer-lasting power source, such as during extended power outages or outdoor activities that require electricity.
The generator's fuel tank is also designed to provide ample capacity for extended run-times. With a capacity of 1.06 gallons of gasoline, the Generac IQ2000 can run for hours on end without needing to be refueled. This is a significant advantage over other portable generators, which often have smaller fuel tanks and shorter run-times.
Parallel Capacity
Although, The Generac introduced people to this smart design small generator that can be only power your small size electronic appliances or only large equipment at the same time. But the great thing which they realize is that they give a parallel kit capacity option in this model so that people will not be enough only at 2000 watts when they need more power. They can increase their power output while having a need for it. However, this is a simple feature but sometimes this is left due to low price or by mistake.
Smart LED Display
In today's world, technology has made our lives easier and smarter. This is also true when it comes to generators. The small and portable generators are not only powerful but also come with advanced features that make them convenient and user-friendly. One such feature is the smart LED dashboard display, which is found in many of the modern generators available in the market.
The smart LED display is an essential feature that allows you to monitor the performance of the generator in real-time. This display provides you with all the necessary information about the generator, such as the current power output, fuel level, and the amount of time the generator has been running. With this information, you can easily manage the generator and plan when to refuel it, ensuring you never run out of power when you need it the most.
Moreover, the LED dashboard display of this generator is sleek and intuitive, making it easy to operate. You can switch between different modes of operation – Turbo mode, standard mode, and Economy mode – depending on your power needs. The Turbo mode is suitable for situations when you require a high wattage output. On the other hand, standard mode is perfect for moderate power usage, such as running small appliances. Finally, the Economy mode is ideal for low power consumption, such as charging phones or powering lights.
Using the smart LED dashboard display, you can easily switch between these modes to ensure that you have the appropriate power output for your needs. This feature also helps to save fuel and prolong the generator's lifespan by reducing wear and tear. With the LED dashboard display, you can rest assured that your generator is running at optimum levels, giving you peace of mind.
In conclusion, the smart LED dashboard display is a crucial feature that makes generators more user-friendly and convenient. It allows you to monitor the generator's performance in real-time, switch between different modes of operation, and ensures that you have the appropriate power output for your needs. With this feature, you can manage your generator effectively, saving fuel and prolonging its lifespan, making it a worthwhile investment.
Noise Level
As for noise levels, an inverter generator is always quiet than a conventional portable generator. but how it silent is? Because the Generac did not mention its rated noise level. As customer reported that the Generator iq2000 has 53 dba from 20 feet while running on standard mode.
Weight & Dimensions
The IQ2000 has a solid plastic cover and a small engine so that its weight could be low as much as possible this is why it has only 46 pounds which is considered a lightweight generator. Also, it has U shape handle in the middle which makes it easy to transport.
The overall dimensions of this generator make it more compact, portable, and easy to safe since it has very small dimensions. It is 20 inches in length, 12.6 inches in width, and 16.9 inches in height.
Warranty
You don't need to take any tension about this model while buying it because the IQ2000 comes with 3 years of warranty (commercial and residential uses warranty). Let's suppose if you have any issue, you can directly contact Generac's customer service and they will help you as soon as possible.
The company has built people's trust by giving a great warranty option. I don't think you'll have any loss after buying this model.
What do I like in Generac iq2000?
There are many things for liking in this model. The most notable feature of this generator which I liked and also impressed with is its LED display that helps you to easily monitor the generator, it also has an electronic fuel gauge, now you'll be easily informed that how much the fuel is remaining and the generator will run.
You will have not difficulty to read LED lights because every signal light is large. Really this is an amazing feature because we don't see it in any 2000-watt inverter generator.
Its design is different from other small generators, its new modern design, and compact and portable size make this unit a good choice for camping and RVs.
Another thing which I liked is its noise level. It is a very quiet inverter generator and is able to compete with the Honda eu2200i.
What do I dislike in Generac IQ2000?
Unfortunately, the Generac has missed the DC outlet in this model which has a must in an inverter generator. Also, they did not give a USB in the Iq2000.
Oh, they have left the important things which are the glory of an inverter generator.
Generac IQ2000 vs Honda EU2200I
It is really bad to say the Generac iq2000 has beaten the Honda eu2200i. Because both inverter generators are similar to each other but there are some little bit differences.
One the best thing that is only the iq2000 has is the sleek LED display that makes it smart than Honda.
If you would like to see both generators' run times, they are also similar in run time because the iq2000 can run 7.7 hours at 25% while the eu2000i can run 8.1 hours at 25%. There are only differences between in few minutes.
You might like the Generac when you compare both models' noise levels. The Generac iq2000 operates 53 dba at standard mode as customers reviews. Mean it operates 53 dba at 50% load while the Honda eu2000i operates 57 dba at 50% load. Wow, the Generac is more quiet than Honda.
Both generators do not have USB ports but the Honda has a DC outlet which is not available in Generac.
As you know Honda's inverter generators are always expensive in the market. This means you can't buy a Honda 2200i on a tough budget. But the Generac iq2000 can help you in this situation.
Conclusion
Overall, the Generac is really a reliable, modern design, portable, quiet, and digital inverter generator. This model can be used for various purposes including home backup during the blackout, RVs, and camping.
Generac gave a unique shape to this model. I don't think there is any other good style model in the 2000-watt generator category other than it.
Also, it can be used at the job sites when you connect another iq2000 for running more tools.
The Generac iq2000 is one of the most famous models in the market from Generac
My opinion is for you that if you need a digital type, portable, easy to use, easy to start, good running time, and quiet inverter generator then the IQ2000 is might best for you in 2000 watts inverter generators.
This is an inverter generator that you can trust on it since it'll come to your expectations.
Moreover, you don't have to pay much to buy this model like Honda and Yamaha. You'll have a good unit in average price.
| | |
| --- | --- |
| | The Generac IQ2000i is a perfect choice for your home during a power outage. This model is designed as user-friendly, and has a good control panel, you can buy this at an affordable price. |
| | |
| | |
| | |
| | |
| | |
| | |
| | |
| | |
Frequently Asked Questions
How can the Generac iq2000 start?
Usually, it starts as the same normal inverter generator. You just on the choke and start to pull the manual recoil it will start with only one pull.
What can the Generac IQ2000 run?
It can run your small appliances, including lights, fans, laptops, TV, and a computer at the same time. Also, it can run your large equipment with a few small appliances including lights and a refrigerator or air conditioner.
Does the Generac iq2000 best for RV?
Yes, it might best for RV trips due to its compact size, long run time, portability, and ease to start. Also, it is able to run the appliance which you ever need on RV trips.