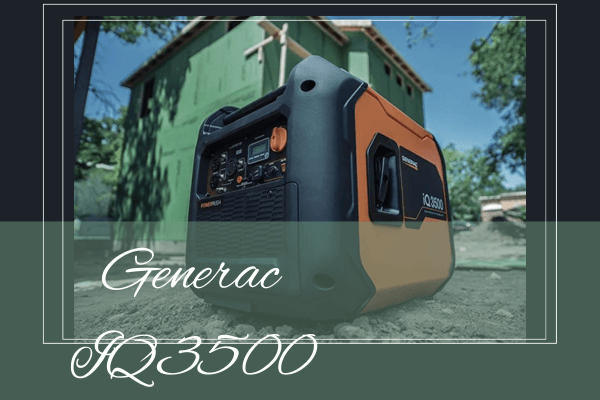 Do you plan to buy Generac iq3500 or some other brand's inverter generator? hmm, it's good if you have a plan to purchase Generac.
But my question is to you have you got all information about this model? Do you know if this is the right machine for your needs?
Oh, Is it not compulsory that 1st know all about this model and then make a decision?
Well, Generac is also well-known brand in the generator market. It manufactured one of the most quieter inverter generators in the 3500 watts category.
Obviously, when you have many years of experience then you launch something new, and different from others. You bring a new thing that impresses people within a short time. This is a little example about Generac because they do like that and launched the Generac IQ3500 inverter generator and this model impressed the people in a short period.
They make portable generators, residential generators, and also industrial and commercial.
It seems like they are masters in designing a generator. I like their two models very much because they were designed very pretty for both models. One is IQ2000 and 2nd is IQ3500.
Now the time is to review IQ3500 in deep and get all information about this generator so that we know whether this model is a good choice for us or not.
Let's have a look, please keep reading for more information.
Technical Space of Generac IQ3500
| Product Information | Detail |
| --- | --- |
| Starting watts | 3500 |
| Running watts | 3000 |
| Fuel type | Gasoline |
| Engine type | 212cc OHV 4-stroke |
| Noise level | 40% Quieter than Honda |
| Run time | 8.9 hours at 50% load |
| Weight | 109.1 lbs |
| Fuel tank capacity | 2.6 Gallons |
| Dimensions | 23.7″ x 18″ x 21.7″ |
| Warranty | 3 years limited warranty |
About Generator IQ3500 Inverter Generator – At a Glance
The 1st best feature of this generator is it has a full steel housing body. This means this model can't be damaged easily no matter you're at the place where the weather is almost worse.
Steel housing means you might have a little bit heavyweight but this is not bad because your generator will last for years.
Wow, it is great, with a solid body, the generator is designed in a new shape which is different from other 3500 watts generators. The orange and black colors further take a place to increase the generator's smartness.
Also, I would like to say about this model is it is that type of machine which we love to take with us at camping, RVs, hunting, food trucks.
With all of these, you're able to keep enjoying your camping and other activities since the generator has the power to run most of the appliances.
Apart from the best inverter generator, the price is still less than Honda's and Yamaha's inverter generators.
To be honest this is really a good inverter generator in the 3000 watts category.
I think now we should see each feature of this model in deep?
Which engine the Generac used in this model?
The true champion that stands head and shoulders above the competition, thanks to its extraordinary engine prowess. Prepare to be captivated by the unrivaled power and performance it brings to the table, setting the stage for your journey towards becoming a celebrated model of efficiency and reliability.
Beneath the sleek exterior of the Generac IQ3500 lies a beastly 4-stroke OHV 212cc engine, purpose-built to catapult you into the realm of success. This robust engine design is a marvel in itself, meticulously crafted to offer an unparalleled experience in power generation. While it may share similarities with other large generator engines in terms of generating up to 3500 starting watts, the Generac IQ3500 is in a league of its own.
Harnessing the might of this extraordinary engine, the Generac IQ3500 delivers a staggering 3500 starting watts coupled with a formidable 3000 running watts. These jaw-dropping figures align perfectly with those found in the renowned Predator 3500, but here's the remarkable twist: the Generac IQ3500's unmatched features elevate it to a position of unassailable superiority.
Picture this: not only does the Generac IQ3500 offer exceptional power output, but it also boasts an array of cutting-edge features that set it apart from the competition. From enhanced fuel efficiency to whisper-quiet operation, this model is an epitome of excellence.
One of the standout features is its remarkable fuel efficiency. The Generac IQ3500 ensures that you get the most out of every precious drop of fuel, stretching your runtime and maximizing productivity. This fuel-sipping marvel allows you to stay focused on what matters most without the nagging worry of frequent refueling interruptions.
But that's not all. Prepare to be enthralled by the symphony of silence that accompanies the Generac IQ3500. Its meticulously engineered design ensures whisper-quiet operation, making it an ideal choice for any setting, be it a bustling film set or a tranquil photoshoot location.
With the Generac IQ3500 inverter generator, you can seamlessly integrate it into your modeling journey without worrying about intrusive noise overshadowing your moment in the spotlight.
Beyond its astounding power output and remarkable features, the Generac IQ3500 boasts a robust build quality that ensures durability and longevity. Crafted with precision and attention to detail, this model is built to withstand the rigors of your demanding lifestyle, providing you with a reliable companion throughout your journey to the top.
How long the Generac IQ3500 can last?
When it comes to ensuring a reliable and uninterrupted power supply, the amount of time your generator can run becomes a crucial consideration. Fortunately, with the right load management, the generator we're discussing here offers an impressive run time that can keep you powered up for extended periods.
Depending on the specific electric load you're running, the run time of the generator may vary. However, even at a 50% load, you can expect this generator to provide a substantial run time of at least 8.9 hours. That's nearly a full night's sleep, or a productive workday without any worries of power interruptions.
But here's the exciting part: if you can reduce your electricity load to 25%, you'll be rewarded with an even more impressive backup time. In fact, with such a load, you can enjoy over 14 hours of continuous power from this generator. That's an extended period of time during which you can go about your activities with peace of mind, knowing that you have a reliable power source by your side.
Generac, the renowned manufacturer behind this generator, has taken great care to design it with a large fuel tank. With a capacity of 2.6 gallons of gasoline, this generator ensures an excellent run time that surpasses many other models on the market.
The sizable fuel tank enables you to power your essentials, such as refrigerators preserving your precious foods, vegetables, and meats, even during prolonged power outages.
Not only is this generator a reliable backup solution for your home, but it also proves to be a trusted companion during your RV trips or camping adventures. When you're out in nature, away from traditional power sources, the ability to enjoy the comforts of home is invaluable.
With its impressive run time, this generator allows you to power your RV appliances, charge your devices, and keep your camping experience comfortable and enjoyable.
Design
When it comes to the design of a generator, it's essential to pay close attention to every detail, as it can have a significant impact on various aspects of its functionality and usability. In the case of the generator we're discussing, Generac has made thoughtful design choices to ensure durability and ease of handling.
To begin with, the body of the Generac iq3500 generator is crafted from robust steel. This choice of material not only enhances the overall sturdiness of the generator but also provides reassurance against potential damages that could occur during transportation or regular usage.
With a steel case, you can rest assured that this generator is built to withstand the test of time, serving you reliably for years to come.
To facilitate the handling of the generator, Generac has incorporated two handles on either side of the unit. This design feature allows for the generator to be lifted and carried by two people, ensuring a safe and manageable experience.
Considering the weight of the generator, which is a bit on the heavier side due to its steel case and a full tank of fuel, having two handles proves to be quite practical when it comes to maneuvering and transporting the generator from one location to another.
However, one aspect that could be improved in the design of this inverter generator is the absence of wheels. Wheels play a crucial role in enhancing the portability of a generator, making it easier to move around, particularly for a single individual.
With the generator weighing in at 109.1 pounds, it can be a bit cumbersome for one person to handle without the aid of wheels. Including a wheel kit with this model would greatly enhance its overall portability and user-friendliness, allowing individuals to transport the generator with ease and convenience.
The 109.1 weight is a bit heavy for a person that's why to being this model more portable the Generac should install a wheel kit with this model.
How quiet the Generac IQ3500 is?
Generac, a renowned name in the generator industry, has truly pushed the boundaries with their latest model, the IQ3500. This exceptional machine has been specifically designed to outperform the Honda EU3000is, making it a formidable competitor in the market.
One of the standout features of the IQ3500 is its ability to operate at a remarkable 40 percent quieter than the Honda inverter generators, ensuring a tranquil and peaceful experience.
Generac has achieved this impressive noise reduction through a combination of cutting-edge smart inverter technology and meticulous enclosure design. These innovations work harmoniously to minimize noise production, allowing the IQ3500 to operate at a level of serenity that surpasses even the highly acclaimed EU3000is.
To put things into perspective, the EU3000is has long been hailed as the pinnacle of quiet inverter generators, generating a mere 57 decibels at full rated load. However, the IQ3500 has emerged as a true game-changer, surpassing its predecessor with a substantial 5 decibels less noise output. This means that when operating at full rated load, the IQ3500 emits a remarkably low 52 decibels, making it an exceptional choice for environments where silence is of utmost importance.
Imagine enjoying your camping trips, RV adventures, or peaceful picnics without the intrusive hum of a generator disrupting the tranquility.
The IQ3500 grants you this luxury, providing a whisper-quiet operation that ensures your moments of relaxation remain undisturbed. Even when running at a 25% load, the IQ3500 impresses with a mere 45 decibels, further highlighting its commitment to delivering a truly peaceful experience.
Other Features of Generac IQ3500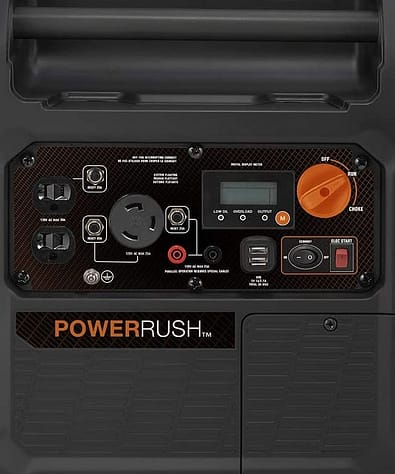 The Generac IQ3500 not only excels in quietness, but it also offers an array of convenient features that enhance its functionality. One standout aspect is its outlet panel, which is thoughtfully designed to cater to various power needs. Equipped with a 30 amps 120 volts L5-30R outlet, it allows seamless connection to an RV trailer, making it an ideal companion for outdoor enthusiasts. Additionally, there are two 20 amps 120 volts 5-20R outlets, providing the flexibility to connect multiple standard household extension cords.
One of the most notable advantages of the generator IQ3500 is its ability to safely power sensitive electronic appliances. Generac understands the importance of protecting your valuable devices, which is why they have included two USB ports directly on the generator.
This convenient feature enables you to directly connect sensitive appliances such as mobile phones and laptops, ensuring their safety and reliable operation.
To further enhance the user experience, the generator boasts a smart LED display. This intuitive interface provides valuable information about the generator, allowing you to stay informed and in control.
With a glance, you can easily access crucial data such as the generator's wattage output, run time, fuel level, oil level, and remaining run time. This valuable insight enables you to effectively manage your power usage and ensure optimal performance.
Moreover, the inverter generator is designed to comply with EPA III and CARB regulations. This compliance signifies that the generator meets the stringent environmental standards set by these regulatory bodies. As a result, you can confidently use the IQ3500 in a variety of locations without any concerns or restrictions.
While the Generac IQ3500 boasts numerous commendable features, it's important to note that no product is without its limitations. One aspect that some users may find lacking is the absence of a telescoping handle and wheels.
This omission can make it slightly challenging for a single person to move the generator, particularly when it comes to transportation or maneuverability. However, it's worth mentioning that this drawback can be mitigated by utilizing alternative methods, such as a sturdy cart or assistance from others.
Pros:
The quietest inverter generator
Great run time
User Friendly
Easy to use
Not expensive
Solid-body
Advance inverter technology
Cons:
No wheels kit
Not much portable
Should have a remote
Generac IQ 3500 vs Honda EU3000is – What are the differences between?
When we see in terms of the wattages, Generac is going to beat the Honda because it will provide 3500 starting watts and 3000 running while Honda has lost 500 starting watts and 200 running watts.
Both generators have powerful engines but Honda's engine might be most powerful than Generac because It is installed a new technology GX200.
These are smart models when we talk about their running because they have long-running time but the Honda has more than 6 hours extra run time.
Yeah, it is right that Honda has more long run time but we also see that it takes 1 extra gallon of fuel. This means both generators have the same run time but there is a little difference in fuel tank capacity.
The IQ3500 design is looking decent and modern style. I don't know why they are failed in portability since we didn't see the wheels in these two models.
The EU3000is is failed against the IQ3500 in portability due to heavy weight. The Generac is an appreciated machine because, despite its steel frame, it has lightweight than Honda.
According to my review, there is a 34.9 lbs weight difference between these two. For your information, Honda has 34.9 lbs extra weight. This is why I have to say that Generac IQ3500 is able to beat Honda EU3000is.
The happy thing is about the generators is that both have safety features that mean we don't need to worry about any kind of damages. Both are user-friendly generators since they have smart digital displays to easily monitor the generator.
The iq3500 and eu3000is are recommended models for RV trails, these come with a separate RV outlet.
One of the big differences which I liked very much is the price. if you purchase Generac IQ3500 then you'll have all the features which you will get in Honda Eu3000is but also you can save half the price.
If you're looking for an affordable generator so this model is like your hero.
Conclusion
Finally, I have elaborated on each feature of this model. Hope now you have decided this is the best choice or not.
I don't think there is any more important information about this model which I didn't mention.
I would like to say you if you are looking for a 3000 watts generator then you should go with Generac IQ3500 because it can be used for many purposes.
Especially this is good for outdoor adventures. Also, you can use it for home backup without worrying about the disturbance of your neighbors since it is one of the quietest inverter generators.
Apart from all the best features, it gives you a huge space for Saving money.
It is the same as we see Honda eu3000is but Honda comes with the double price of Generac iq3500. This means it is better to purchase this model instead of Honda. Also, at Honda's price, you can purchase 2 models of Generac, and then double your power by parallel kit.
In short, it is very difficult to find the right model for our need but Generac is front of you. This gives you a long run time with up to 2-gallon of gas. Designed with low dba that makes it one of the best quiet model in the market.
Also, the company give 3 years warranty with this model.
Wow, it's amazing it gives us so many options. Please click the link given below so that you can see the current price of this model.
FAQs About Generac IQ3500
Q: What is the power output of the Generac IQ3500 inverter generator?
A: The Generac IQ3500 inverter generator has a peak power output of 3500 watts and a rated power output of 2800 watts.
Q: What type of fuel does the Generac IQ3500 inverter generator use?
A: The Generac IQ3500 inverter generator uses gasoline as its fuel source.
Q: How long does the fuel tank last on the IQ3500 generator?
A: The fuel tank on the Generac IQ3500 inverter generator has a capacity of 1.06 gallons, which allows for approximately 8.5 hours of operation at 25% load. However, it is dependent on the load and usage.
Q: Does the Generac IQ3500 have a parallel capability?
A: Yes, the Generac IQ3500 inverter generator has parallel capability, which allows you to connect two units together to increase power output.
Q: What are the dimensions of the Generac IQ3500 inverter generator?
A: The Generac IQ3500 inverter generator has dimensions of 20.5″ L x 11.5″ W x 18″ H.
Q: Does the Generac IQ3500 have an electric start?
A: Yes, the IQ3500 inverter generator has an electric start, which allows for easy starting with the turn of a key or press of a button.
Q: Does the Generac IQ3500 come with a warranty?
A: Yes, the Generac IQ3500 inverter generator comes with a 2-year limited warranty.
Q: What is the Generac iQ3500 inverter generator?
A: The Generac iQ3500 inverter generator is a natural gas generator that uses an electric motor to produce electricity. It features a fuel gauge, automatic voltage regulation, and a remote control to regulate the flow of electricity. It also comes with three different drive options: LP, NG and AC.
Q: Is there any noise or vibration from my Generac iQ3500 inverter generator when started up?
A: No, there is no noise or vibration from your Generac iQ3500 inverter when it is running.
Q: Does it have an oil level indicator?
A: Yes, the Generac iQ3500 generator has a low oil level indicator that displays when the oil level in the engine reaches 1/2 inch below the top of its fill opening.