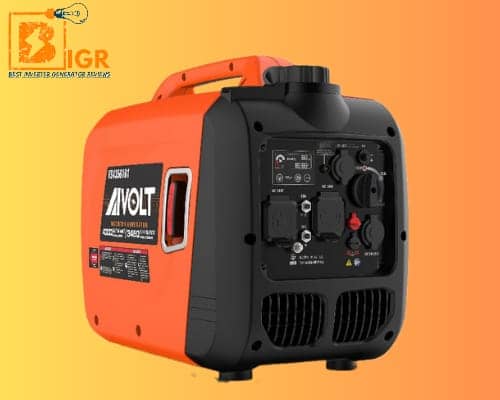 As we step into the year 2023, the search for dependable power solutions remains as crucial as ever. In this context, the AIVOLT VS4350101 Generator stands out as a promising contender, offering a powerful combination of performance, efficiency, and reliability. However, amidst a sea of generator options, the burning question lingers: Is the AIVOLT VS4350101 worth your investment in the upcoming year? Let's embark on a journey to explore the generator's features and capabilities, and by the end of it, you'll have a clearer picture of whether it's the right choice for your needs in 2023.
Overview of AIVOLT VS4350101
AIVOLT is a good brand in the market of portable generators, It manufactures different wattages models.
Before this machine, I took a deep review of its big brother AIVOLT 10000-watt inverter generator. This AIVOLT VS4350101 lightweight and portable size which make it easy to carry by one hand.
I didn't see in this size model that has ability to power most high watt tools and appliances.
There more models available in market including Westinghouse igen4500, Champion 4500, Generac iq3500, etc. Although all these models are perfect but they are not perfect than AIVOLT 4300 VS4350101 in portability.
Now I'm going to describe its overall performance, quality, and everything which is necessary to know customers so that we can know why it is worth buying in 2033.
What are the Best Things of this Model?
Power and Run time
The AIVOLT inverter generator is a powerful source of electricity. It can produce a substantial 4300 starting watts and 3450 running watts, which is versatile for a variety of uses. Whether you're going camping, on an RV trip, tailgating, hosting a party, working on a job site, or dealing with a power outage, this generator has you covered.
What makes this generator reliable is its advanced engine technology. It has a 149cc 4-stroke OHV engine that's air-cooled and uses 100% copper winding. This design ensures durability and efficient power generation. The copper winding enhances the engine's performance and ensures it will last a long time, providing you with a dependable power source.
One of the standout features of the AIVOLT inverter generator is its ability to run for an impressive 100 hours without needing any maintenance. This is a significant advantage, especially in situations where you can't afford interruptions in power supply. It eliminates the need for frequent maintenance and guarantees consistent performance over the years.
Furthermore, this generator is designed for fuel efficiency. It includes eco-switches and has a 0.92-gallon fuel tank, allowing it to run for over 5.5 hours at a 25% load. This not only saves you money on fuel but also provides extended runtime on a single tank. This feature is especially valuable during prolonged power outages or when you're using the generator in remote locations. It ensures that you have power for an extended period without worrying about refueling.
Super Quiet
The AIVOLT inverter generator is built to be incredibly quiet. It runs at noise levels as low as 60 decibels (dBA) when there's no load, and just 62 dBA with a 25% load when you measure it from 23 feet away. This hushed operation is thanks to its fully enclosed housing.
The advantages of this quiet performance are quite significant. It means that the generator won't disturb the peace, making it suitable for a range of places like residential areas, campgrounds, and outdoor events where keeping noise to a minimum is crucial.
This quiet operation also adds to your comfort when you're doing things like camping or having outdoor get-togethers. It's perfect for creating a calm and comfortable environment during power outages or emergencies, reducing the stress and anxiety that can come with those situations.
Moreover, the generator's quiet performance ensures that it complies with local noise regulations, which is especially important in areas with strict noise rules. This makes the AIVOLT inverter generator a versatile choice, suitable for various applications like providing power to your entire home, going on camping trips, RV adventures, job sites, and handling emergency power needs. It's a great balance between delivering power and maintaining a peaceful environment.
Easy to Carry, Anywhere You Go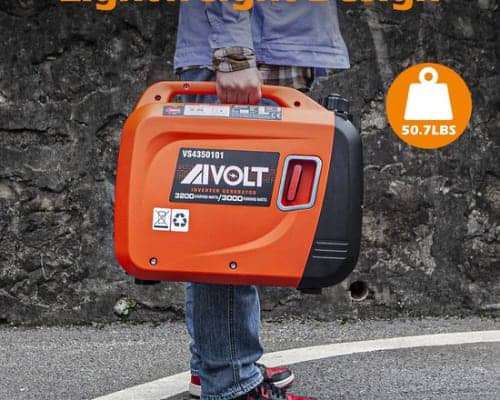 The AIVOLT 120V gas-powered inverter generator is your ideal companion for staying powered up while on the move. It's incredibly lightweight at just 51 pounds, making it 20% lighter and 10% more compact than its competitors. This means you can easily carry it around, thanks to its comfortable, ergonomically designed handle.
Whether you're embarking on an RV adventure, setting up camp in the great outdoors, facing an unexpected emergency, or tackling projects at a jobsite, this generator is there to provide you with reliable power. It's so compact that it can fit conveniently in your car's trunk, just slightly larger than a car refrigerator.
Stable and pure power
The AIVOLT VS4350101 generator is your solution for reliable and high-quality power. Equipped with cutting-edge inverter technology, it ensures that you receive stable and clean electricity. What sets it apart is its remarkably low Total Harmonic Distortion (THD), measuring at less than 3%.
This low THD signifies that the power it produces closely resembles what you get from your local utility grid. This is a game-changer, especially for those with sensitive electronics, including smartphones, game consoles, projectors, laptops, and small power tools. Say goodbye to concerns about power fluctuations that can harm your precious gadgets.
But the AIVOLT VS4350101 isn't just about catering to your electronic devices; it's versatile enough to be your power source for various applications. Need to supply electricity to your caravan? No problem. This generator offers a clean and dependable power source, ensuring that you have the comforts of modern living on the road.
What's more, the inverter technology doesn't just stop at providing clean power; it also contributes to fuel efficiency. The generator intelligently adjusts its engine speed based on the connected load. This not only saves fuel but also reduces emissions, making it an eco-friendly choice for the environmentally conscious.
CO Protect & Low Oil Shutoff
The "CO Protect & Low Oil Shutoff" feature in a 4300 watt inverter generator is a vital safety system designed to safeguard users and maintain the generator's optimal performance.
😈Carbon monoxide (CO) is a colorless and odorless gas, known for its potential danger when produced by engines such as generators. The CO Protect technology plays a critical role by continually monitoring the generator's exhaust emissions. It employs specialized sensors to detect the presence of carbon monoxide in the generator's vicinity.
When elevated levels of 👹carbon monoxide are identified, the system takes immediate action by initiating an automatic shutdown. This rapid response is essential in preventing potential carbon monoxide exposure, a life-threatening risk.
Operating a generator with low fuel can lead to decreased performance and the risk of damage. The low-fuel automatic shutdown feature is responsible for monitoring the generator's fuel level.
When the fuel level drops to a point where it may no longer adequately support the generator's operation, the system activates an automatic shutdown. This preventative measure ensures that the generator does not run on an insufficient fuel supply, safeguarding its reliability and lifespan.
In addition to these safety features, the generator is equipped with built-in overload protection. This protection mechanism prevents the generator from delivering more power than it can safely handle. Should the load exceed the generator's capacity, the protection system intervenes to prevent damage, which may involve reducing power output or triggering a shutdown.
Furthermore, the generator includes 📢indicator lights that serve as a user-friendly tool to convey its status. These lights offer clear visual indications of various conditions, including low fuel, overload situations, or the activation of the CO Protect system⛑️. Users can readily identify any issues or warnings, enabling them to take prompt and appropriate actions.
Control Panel's Features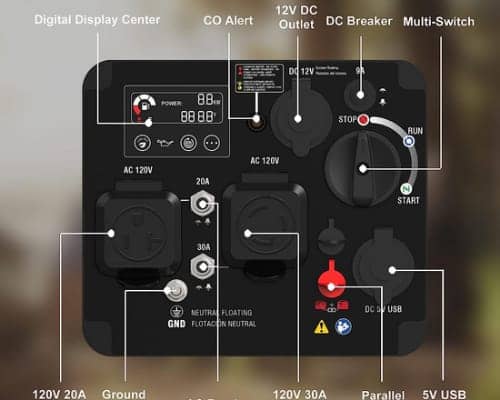 The AIVOLT 4300 watt portable generator is a highly versatile power generation solution featuring a multifunction control panel with a 5-in-1 LCD display center. This control panel offers users a range of information and features to cater to diverse power needs.
The generator comes equipped with a variety of outlet options, including a 120V 20A outlet, a 120V 30A locking outlet, a 12V DC outlet, a 5V type-A outlet, and a 5V type-C outlet. This diverse array of outlets allows users to power a wide range of devices and appliances, from standard household items to electronic gadgets with USB ports.
The standout feature of the AIVOLT generator is its 5-in-1 LCD display center. This display provides users with essential information at a glance, simplifying the monitoring and management of the generator's performance. The LCD screen displays:
Fuel Consumption: This feature enables users to track the generator's fuel consumption, facilitating efficient fuel management.
Output: Users can readily see the current power output, allowing them to understand how effectively the generator is being utilized.
Voltage: Voltage levels are prominently displayed, ensuring the safe operation of connected devices.
Frequency: The generator's power frequency is clearly shown, which is particularly important for powering sensitive equipment.
Runtime: The LCD screen indicates the current runtime of the generator, assisting users in planning maintenance and refueling.
Additionally, the generator offers an Eco Mode, which users can select through the 5-in-1 LCD screen. Eco Mode is a valuable feature for those concerned about fuel efficiency and noise reduction.
When engaged, the Low Idle function adjusts the engine speed to the minimum required for the current load. This means that the generator runs more quietly and consumes less fuel when the power demand is lower, making it an environmentally friendly and cost-effective option.
Conclusion
The AIVOLT VS4350101 is compact and portable, making it perfect for a range of settings. Whether you're camping in the great outdoors or need a reliable backup power source during outages, this generator has you covered. Its combination of features makes it an invaluable asset for anyone in search of a stable, versatile, and clean power source for their electronic devices and other power needs. With the AIVOLT VS4350101, you can enjoy power that's as clean and stable as it gets.