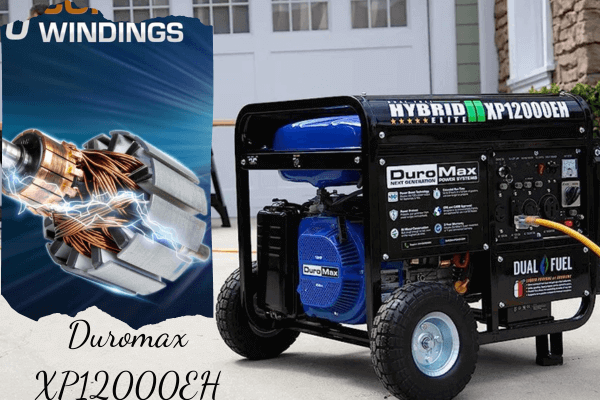 In this article, we will talk about the Duromax XP12000EH that is famous with the name "The Beast" in the DuroMax XP series.
For those who need a comprehensive power output portable generator then they must come to the Duromax.
Duromax brings out reliable and sturdy portable generators in the market that can easily control any high output appliance.
"The Beast" is one of the heaviest portable generators on the market that doesn't need too much maintenance like a stand-by generator.
We get very appreciated generators of Duromax in the market.
But here our target is to check how the duromax xp12000eh works?
Does it deserve for good reviews? Will it come to our expectations?
Can we trust the duromax xp12000eh that it will help during any emergency?
Okay, guys, this is a heavy duty portable generator that's why there are so many questions may come in the mind about this model.
But we will not left our answers of any question which is related to this model.
We will bring all the important information about this generator.
Now we should start to check this heavy duty portable generator.
This review will be very helpful for those people who are looking for a generator that can run their large size appliances.
We talk about all type generators so that we can facilitate our audience. Please share this review to other people.
Technical Space of Duromax XP12000EH
| Product Information | Detail |
| --- | --- |
| Starting Watts (Gasoline) | 12,000 |
| Running Watts (Gasoline) | 9,500 |
| Starting Watts (Propane) | 11,400 |
| Running Watts (Propane) | 9,025 |
| Fuel Type | Dual Fuel |
| Fuel Capacity | 8.3 Gallons of Gasoline |
| Engine Type | 457cc 4-cycle Air-cooled |
| Noise Level | 72 dba |
| Run Time (Gasoline) | 8 hours at 50% Load |
| Run Time (Propane) | 7 hours at 50% Load |
| Starting Method | Electric / Manual |
| Weight | 224 lbs |
| Dimensions | 29″ L x 30″ W x 26″ H |
About Duromax XP12000EH – At a Glance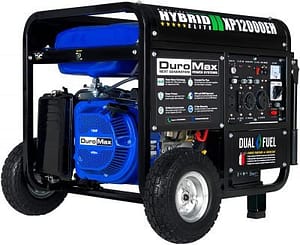 The Duromax is might be a good choice for those who don't want to go through stand-by a generator due to hassle its maintenance, big size, not portable.
This model provides a massive power that makes you able to run your home appliances or heavy tools at job sites.
The Duromax xp12000eh 12000 watt generator is also a good generator like its big brother duromax xp13000eh.
Thanks to the Duromax company that gives dual fuel feature in this heavy duty generator. Mean you have facilities to run this generator by propane or liquid propane in emergencies.
You'll not need to stay in petrol to bring petrol when there is petrol shortage due to bad weather or petrol prices.
The generator is equipped with so many outlets that's why the duromax xp12000eh is a winner in every area.
It is like an all-rounder that can be used for many purposes especially home backup, RV trips, and construction sites.
Very solid design with steel frame so that the generator can ready to fight any hard place and weather.
Despite big size generator, it is still portable there is not hassle to move around it.
As a general respective, this model has 2 methods to start the unit – electric start and manual recoil start. This is not a big change because every big generator must have an electric start.
But there are some amazing features which I like in this model very much and those features are must be appreciated according to my opinion.
Let's see how many amazing things are equipped in the duromax xp12000eh.
What I like about Duromax XP12000EH Dual Fuel Generator?
EPA & CARB Approved
Are you tired of feeling restricted by the limitations imposed on generator usage? Have you ever purchased a generator only to discover that it cannot be used in certain states, particularly in the vast and vibrant state of California? We understand the frustration and inconvenience that comes with such restrictions. However, fear not, for Duromax has come to the rescue, presenting an innovative solution that will revolutionize your generator experience not just in California, but across the globe!
Picture this: you've acquired a powerful generator, ready to conquer any power outage or energy-demanding task. You eagerly set it up, excited to harness its incredible capabilities, only to be informed that its usage is prohibited in certain regions. Your excitement turns to disappointment, as you realize you have become a limited individual, unable to fully utilize the potential of your new acquisition. But fret not, for the Duromax XP12000EH is here to liberate you from these constraints!
The Duromax XP12000EH is not just any ordinary generator; it is an engineering marvel that has been granted both EPA and CARB approval. What does this mean for you? It means that this generator complies with the stringent environmental regulations set forth by the United States Environmental Protection Agency (EPA) and the California Air Resources Board (CARB). In simpler terms, it has been meticulously designed and manufactured to meet the highest standards of eco-friendliness and emissions control.
Why is this significant? Well, the EPA and CARB are renowned authorities when it comes to environmental protection and ensuring that devices like generators adhere to strict guidelines. By obtaining their approval, the Duromax XP12000EH portable generator has achieved a level of excellence that sets it apart from its counterparts. It has undergone rigorous testing, scrutiny, and evaluation to ensure that it not only performs admirably but also remains in full compliance with environmental regulations.
 With the Duromax XP12000EH generator, you can enjoy the convenience and power of a large-size generator, without being confined by arbitrary restrictions. No longer will you have to worry about whether your generator can be used in California or any other state in the USA. This remarkable feature is a game-changer, particularly for those residing in California, who have long struggled with limitations imposed on their generator options.
Imagine the possibilities – with the Duromax XP12000EH, you can confidently set up your generator, knowing that you have the green light to operate it in any state, city, or town across the United States. Whether you're in the heart of bustling Los Angeles, nestled among the rolling hills of San Francisco, or enjoying the serene beauty of Lake Tahoe, this generator grants you the freedom to power your world without compromise.
Power Outlets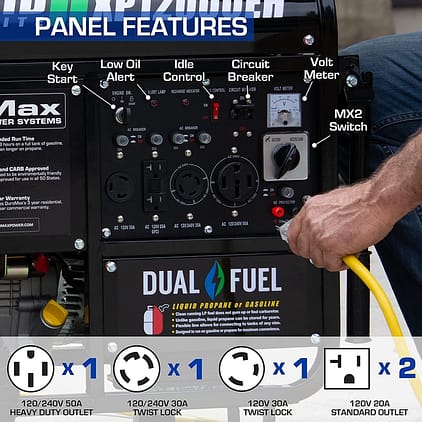 Prepare to be amazed by the second astonishing feature of this exceptional generator that will leave you in awe. Are you ready? Brace yourself for a revelation that will ignite your enthusiasm for RV trips and camping adventures like never before.
You embark on your RV journey, the wind caressing your face as you chase the horizon. But wait, what's that? It's the all-powerful generator that's about to revolutionize your outdoor experiences. This magnificent machine boasts not one, but several types of outlets, tailored to meet your every power need.
Let's delve into the specifics, shall we? First and foremost, we have the remarkable 120V 30 amps twist lock outlet. Designed with RV enthusiasts in mind, this outlet provides a reliable source of electricity, ensuring your creature comforts are never compromised during your expeditions. No need to worry about your devices running out of juice or your appliances failing you when this generator has your back.
But that's not all! Hold onto your hats as we unveil the next astonishing feature: the 120/240 volts 30 amps twist lock outlet. Yes, you heard it right. This generator is equipped with a power outlet that not only meets the demands of your RV but also caters to an even wider range of electrical needs. Whether you're charging your electric vehicle, running power-hungry camping equipment, or even connecting your home essentials during a blackout, this versatile outlet is up to the task.
But what about heavy-duty tools and appliances, you may wonder? Fear not, for this generator is a true powerhouse. Prepare to witness its might with the awe-inspiring 120/240V 50 amps heavy-duty outlet. With this beast of an outlet at your disposal, you can effortlessly tackle the most demanding tasks. From operating construction equipment to powering industrial-grade machinery, this generator's heavy-duty outlet rises to the occasion, leaving no challenge too great.
Wait, there's more! The generator also boasts two 120 volts 20 amps standard outlets. Now you can conveniently power your home appliances, charging stations, or any other electronic devices that require a standard power source. This incredible addition ensures that even when you're not traversing the great outdoors, your generator remains a reliable companion for all your power needs within the comfort of your home.
Heavy Power Output
The Duromax xp12000eh 12k watt is undisputed champion of portable generators when it comes to heavy power output. While most portable generators pale in comparison, offering limited power that can only run small tools or a handful of appliances, the generator xp12000eh rises above the competition with its robust capabilities.
Equipped with a colossal 457cc OHV 4-stroke engine, this powerhouse delivers a staggering 12000 surge watts and 9500 starting watts. With such exceptional power at your disposal, you can confidently tackle even the most demanding tasks and operate large-size tools or appliances without breaking a sweat.
What sets the xp12000eh 9500w12000w dual fuel electric generator apart from other generators on the market is its dual fuel feature. Affectionately dubbed "The Beast" for its formidable performance, this generator can run on either gasoline or propane. While running on propane, this behemoth generates an impressive 11400 surge watts and 9025 running watts, providing an alternative power source that is both efficient and reliable.
Imagine the possibilities that open up with such a substantial power output. You'll never have to worry about your tools or appliances being left powerless. Whether you're a construction professional who needs to operate heavy machinery on remote job sites or a homeowner seeking a dependable backup power source during outages, the xp12000eh generator is the ultimate solution.
It's important to note that while the Duromax XP12000eh generator boasts unrivaled power, it's not just a blunt instrument. This generator is crafted with precision and reliability in mind. The OHV (Overhead Valve) technology ensures efficient performance and reduced fuel consumption, while the 4-stroke engine provides smooth operation and excellent durability.
Furthermore, the generator is designed to be portable, making it convenient to transport and set up wherever you need it. With its sturdy construction and rugged wheels, this generator can withstand the rigors of various environments, from construction sites to campgrounds, providing reliable power wherever you go.
Investing in the Duromax xp12000eh means investing in peace of mind. You won't have to compromise on power or worry about insufficient performance when it matters most. This generator is the epitome of reliability and capability, making it an indispensable companion for any task or situation that requires heavy power output. So, unleash the beast and conquer the power demands of your world with the Duromax 12000 watt generator.
Cheap Price
When it comes to generators designed for heavy-duty use, the prevailing assumption is that they come with a hefty price tag. However, the Duromax XP12000EH defies this notion, standing as a breaker of the conventional rule that powerful generators must be expensive. This dual-fuel workhorse not only delivers impressive performance but does so at a surprisingly affordable price point.
Priced at under $1500, the duromax xp12000eh 9500w12000w dual fuel generator is a true game-changer in the world of generators. With this model, you can effortlessly light up your entire house during those dreaded blackout days without breaking the bank. This remarkable feature makes it accessible to a wide range of customers, regardless of their budgetary constraints.
What sets the generator Duromax XP12000EH apart from its competitors is its exceptional balance of affordability and capability. Despite its immense power output, it manages to retain a reasonable price tag, making it an irresistible choice for those seeking a reliable and cost-effective solution to their power needs.
One might wonder how such an impressive generator can be offered at such a competitive price. The secret lies in Duromax's commitment to innovation and efficient manufacturing processes. By streamlining their production and utilizing cutting-edge technologies, they have managed to strike the perfect balance between quality and affordability.
While other generators on the market may force customers to compromise on either price or performance, the Duromax XP12000EH provides the best of both worlds. With its dual-fuel capability, it offers the flexibility to run on either gasoline or propane, catering to individual preferences and maximizing convenience.
Furthermore, the solid construction of the Duromax XP12000EH electric start dual fuel portable geneator ensures durability and longevity, allowing users to rely on its consistent performance for years to come. It is designed to withstand demanding conditions and is well-equipped to handle the rigors of heavy-duty usage, making it a wise long-term investment.
Is there any downside to Duromax XP12000EH?
Diving deep into the realm of portable generators, one must acknowledge that, alas, not all generators are created equal when it comes to the safety of sensitive electronic appliances.
Such is the case with the xp12000eh dual fuel portable generator, a powerful machine that, regrettably, cannot be deemed safe for your cherished modern appliances. While it boasts an array of impressive features, caution must be exercised when it comes to connecting it to your beloved electronic companions at home.
Let us first explore the issue of noise, which can be an irritant for many generator owners. At a quarter load, the XP12000EH emits a noise level of 74 decibels, a moderate soundscape for a portable generator.
However, it's important to note that when this generator is pushed to its maximum capacity, it joins the ranks of its heavy-duty counterparts, roaring with a deafening volume that can compete with the most formidable of machinery. So, should you choose to unleash the full potential of this beast, brace yourself for a cacophony that demands attention.
Turning our attention to the physicality of the 9500w12000w dual fuel electric start XP12000EH, we encounter its sturdy and robust design. Duromax, the masterminds behind this model, have incorporated a steel frame body, ensuring durability and reliability. This structural integrity, though admirable, comes at a cost in terms of portability.
Clocking in at a weighty 224 pounds, this generator may present a challenge when it comes to maneuvering it around your desired spaces. So, if you harbor dreams of taking it on spontaneous adventures or effortlessly shifting its position within your property, you might find yourself facing a considerable hurdle.
Pros:
Long run time
Sturdy Design
Steel Frame
Dual Fuel Feature
Very Affordable Price
High Power Output
Best for Home Back up
Cons:
It might be loud at full load
May be you'll not like its wheels
Costumer service not good
Conclusion
As its nickname "the beast" it really works like that.
For those who are looking for a generator for overall home up, this model will be fit for their usage.
The best reason for selling this model is it is not a costly generator like other brands and standby generators.
Having a sturdy design due to the steel frame, and a long run time that will help you during a power outage.
Since it is a dual-fuel generator that's why you can run it for a very long time. Also, it can be used for a long time since it has a unique technology that keeps cool the engine as much as possible.
There is no serious complaint related to a product or its function except the customer service might be bad.
Also, maybe you'll not have any problem with wheels.
Overall, this model is a very good product you can expect it to help you in any emergency.
Easily it can handle your household and power your large appliances or heavy-duty tools at job sites and construction sites.
Despite its heavy weight, it gives you the flexibility to take it with you to the place where you need to power your tools.
Buy this model and power your every appliance and tool it will not disappoint you.
FAQs
Q: Is the Duromax XP12000EH generator a good choice for you?
A: The Duromax XP12000EH generator is a great choice for people who want to run their home's essential appliances. The generator has an output of 95000 watts and can run your home's heat pump and furnace, as well as power tools and appliances like sump pumps, water heaters, and air conditioners. If you're looking for something more powerful than that, we recommend looking at our top-rated generators.
Q: What kind of fuel does this generator run on?
A: This generator runs on unleaded gasoline or propane (but not both at the same time). If you're worried about running out of fuel quickly, we recommend using premium unleaded gasoline for maximum fuel efficiency. You can also use gas with higher octane ratings if you want to get more power out of your engine.
Q: What kind of maintenance does this generator require?
A: You should check your gas cap regularly to make sure it's not leaking—this can lead to reduced engine performance! Also, make sure that any spark plugs are clean and properly installed before starting your engine so that they won't get fouled up by debris while running
Q: What is the Duromax XP12000EH?
A: The Duromax XP12000EH is a portable generator. It has a 12,000-Watt engine and an output of up to 9,00 Watts.
Q: How does the Duromax XP12000EH work?
A: The Duromax XP12000EH has an electric start system that allows you to start it in less than 15 seconds with just one pull on the cord. It also has a fuel gauge so you know when to refuel it.
Q: Is this a diesel generator?
A: No, this is not a diesel generator—it uses natural gas as its primary fuel source and runs on 24V battery power.
Q: Why is the Duromax XP12000EH portable generator more powerful than other generators on the market?
A: The Duromax XP12000EH portable generator is more powerful than other generators because it uses a high-performance engine and advanced electronics, including an inverter and digital display. These features combine to make the Duromax XP12000EH an ideal choice for anyone who needs a reliable generator that can handle a variety of tasks.
Q: Is it safe to use unleaded gasoline in my car?
A: Yes, unleaded gasoline is safe to use and is not harmful to your car. You can also use it with your lawn mower, snow blower, or other outdoor equipment.
Q: How much space do I need for storage?
A: There is no minimum requirement for space needed for the storage of the generator. You can store the generator in a garage that is large enough to accommodate it when not in use.