Honda EU7000IS Review:
Often people buy small inverter generators for use sometimes, and they just choose 2000 watt to 4000-watt inverter generators which can run just limited equipment. Honda also introduced those sizes inverter generators like Honda EU2200i and Honda EU3000is, and they are popular in the market.
But if you consider sometimes people have to run the generator for long in every day or maybe some days in a week and they need a large amount of power for home backup, RVs, camping, job sites this is why they want to search for a good quality inverter generator that can run for a long day or last for many years.
Honda brought the heaviest power inverter generator in the market like its first tradition. mean Honda introduced EU7000is which is the big brother of EU2200 and EU3000is. This is one of the famous brands that we can almost trust it.
I have tried to search a lot about this model in deep, so I found many advantages in this inverter generator. I hope it will come to your expectations.
Now we just have to see whether it will be great for you or not?
Let's talk about its features.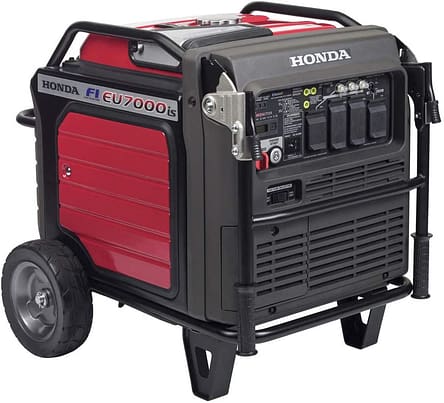 Technical Space of Honda EU7000is
| Product Information | Details |
| --- | --- |
| Starting Watts | 7,000 |
| Running Watts | 5,500 |
| Fuel type | Gasoline |
| Engine type | 4-stroke 389cc |
| Run time | 18 hours 1/4 load more than 6 hours at rated load |
| Fuel tank capacity | 5.1 gallons |
| Start type | Electric and manual recoil |
| GFCI outlets | yes |
| Noise Level | 58 dba at rated load |
| Weight | 263.2 Pounds |
About Honda Power Equipment EU7000is Inverter generator – At a Glance
Honda power equipment eu7000is inverter generator is like a legend in the world of portable inverter generators, meaning it falls in 7000 watt inverter generator for running multiple appliances at once no matter they are small or large appliances.
Should you buy this generator or 2 small generators like EU2000i or EU3000is?
This generator has a really important role when you have to need a large amount of power meanwhile you have just a 2k to 3k watt inverter generator. however, you can double your power by connecting two 2k or 3k watt inverter generators but also you have to bear two generator's fuel and noise. Whenever you buy this model so you have got rid of these types of issues.
The amazing thing about this model is despite an enough amount of power it still supplies clean and stable power of less than 3% THD.
Having a powerful engine and nice GFCI outlets means a great inverter generator for home backup, RV trips, camping, construction sites, and other outdoor activities.
Small and compact size, easy to use, and fuel-efficient, means it might come to your expectations.
What Features of Honda EU7000IS Inverter Generator?
Features are the main things that people like because of features the item will be valuable or valueless. Is the Honda eu7000is have great features? which makes it a valuable and expensive inverter generator? Let's check out it at a glance its features. Are they making it deserve for people's love?
Engine and Power Output
If you want to purchase an invincible inverter generator then you must know that Honda always uses powerful engines in their generator so that the generator lasts for long as much as possible.
This version is equipped with a 4-stroke 389cc Honda GX390 engine. This engine is designed with some special qualities which give you fuel efficiency and reduce the generator's carburetor issues.
Also, you'll also get rid of choke. Honda works like that its work Distinguishes it from other brands, and for the sake of good quality and work it charges high prices.
This generator provides 7,000 starting watts and 5,000 running watts. Now you can run your most appliances at home during a blackout, or camping, or RV trips, or job sites.
Run time & Fuel Efficiency
Doesn't matter it is the heaviest inverter generator, it still gives you more fuel efficiency than a traditional generator. You can use this generator continuously for at least 6.1 hours at 100% load. This means you can use 5,500 watts for up to 6.1 hours with 5.1 gallons of gasoline.
How it can last at 25% load?
You'll have pretty much time when you run this unit at 25% load because it can last for more than 18 hours. Wow, just use 1500 watts for the whole day.
Control Panel
Yeah, the eu7000is provides 7,000 starting watts and 5,500 continuous power but still, Honda thought this is not enough power. Thanks to Honda despite big range power, they still give a parallel capacity outlet in this generator. You can connect 2nd Honda eu7000is for more power till 14,000 starting watts and 11,000 running watts.
This might be the best inverter generator for RV trips since it has a separate RV outlet. There are two 30 amps locking plug outlets, one is 125 volts and 2nd is 125/250 volts.
Also, there are two 20 amps 125 volts GFCI duplex outlets for your household. Whole outlets are protected with circuit breakers.
Besides that, it has an ECO-throttle switch and a voltage selector button for switching on between 120 volts / 240 volts.
It also has some safety features like automatic low oil shutdown, fuel gauge, and three indicator lights for overload, low oil level, and output ready.
i-Monitor Display
For being this generator more user-friendly it has an i-monitor display which helps you to show the performance of the generator. Now you can easily track the power usage, voltage, RPM (revolution per minute).
What do I like about Honda EU7000IS?
The greatest feature which I like in Honda eu7000is is its remote control system. You can Monitor all the systems by using your mobile phone, you just need to install the app of Honda my generators after then you can use this system even from 800 feet.
So, you're able to start or close the generator from 8000 feet by your mobile. I think this feature will help you very much.
Also, choose the ECO mode whenever you want. Overall, you can do so many things with the help of remote control.
It will give you all information about the generator.
Another good thing about this generator is you should purchase a high-power machine at once so that you could not need to purchase another inverter generator whenever you need more power.
Despite heavier power, it still has parallel kits capacity outlet for more than 7000 watts of power.
Due to the high power output inverter generator, there is no worry about charging sensitive electronic appliances since it gives stable and clean wave power so that you can directly connect your cell phone, laptop, or computer.
It is better to purchase one high-power output inverter generator like this inverter generator than two low-power output generators because you get rid of so many things which you don't like such as double generator's noise and fuel, and the parallel kit option.
What I dislike about Honda EU7000is?
This is an inverter generator and it could be designed like this so that one person can lift it easily but its weight is too heavy for one person.
But it is still great for you because, despite a heavy-duty inverter generator, it is still safe for your all sensitive appliances.
Its price is too high if compared to other brands' inverter generators.
I don't understand why Honda missed the DC outlet and USB ports in this model.
---
Conclusion – Should you buy Honda eu7000is?
If you want a high-power, solid, durable inverter generator then I suggest to you that you must try the Honda eu7000is.
Because you can use 5500 watts power when you need it and even also use low output less than 5500 watts.
Despite a heavy-duty engine, It is a very quiet inverter generator it generates only 58 dba at 100% load. This means if you need a generator for RV to run your most appliances then this might be a good choice for you. For those who are looking for a quiet generator with heavy-duty performance, the Honda EU7000IS is the best for them.
Perhaps you may not find any quiet model than the Honda in this watts category.
I don't think you should find another model when you need a quiet generator in 5000 watt generators.
It gives you more fuel efficiency when you run it on ECO mode. You can use this generator for at least 18 hours really this is the best inverter generator for home backup and RV trips.
All the access of this generator will your cell phone, you can easily start and shut it down and all information about the generator will in your cell phone.
I don't think you need to go to any other place when you need a trustable inverter generator.
| | |
| --- | --- |
| | The Honda EU7000IS is a generator that can power up to 7000-watt systems. It's also compact enough to fit in your garage, so you won't have to worry about not being able to use it because of its size. |
| | |
| | |
| | |
| | |
| | |
| | |
| | |
| | |
FAQs About Honda EU7000IS
Q: How far can the generator run?
A: The Honda EU7000iS inverter generator is capable of running for up to 18 hours with ¼ load on a single tank.
Q: Can it be used with solar panels?
A: Yes! The Honda EU7000iS inverter generator is compatible with solar panels, allowing you to use your system as if it were completely self-sufficient. This makes it easy to operate since you won't have to worry about charging the battery while you're out and about at work or play.
Q: What is the Honda EU7000IS inverter generator?
A: The Honda EU7000IS inverter generator is a gasoline-powered portable generator with a rating of 7,000 watts. It has an automatic voltage regulation system that helps to prevent the overloading of the generator. The EU7000IS is usually used in emergency situations where power the supply is disrupted, such as when there is an earthquake or hurricane.
Q: Is the Honda EU7000IS generator more powerful than other generators?
A: Yes, the Honda EU7000IS generator is powerful enough to power your home. It has a 7000-watt engine and a 7.5-amp battery charger, so you can use it to run a variety of appliances in your home.
Q: How many hours will it take to recharge the battery when using a solar panel or EVSE?
A: It takes approximately 8 hours to fully recharge the battery when using solar panels or an EVSE (electric vehicle supply equipment).
Q: Who is this product for?
A: The Honda EU7000IS is a generator that's ideal for homeowners or business owners who need reliable power when they're away from their homes or offices, but don't want to spend a fortune on a system that will only be used occasionally.
Q: How much does it cost?
A: The Honda EU7000IS costs $4500+, which makes it one of the least expensive generators out there. You'll pay more for larger generators, but if you don't need that much power or want something portable, then this is an affordable option!
Q: Is this generator safe?
A: Yes, the Honda EU7000IS is a solid, well-built generator that can handle any task you throw at it. It has a powerful engine and enough power for your large home or business, but it's also lightweight enough to be portable if you need to move it around frequently. The Honda EU7000IS is EPA certified and has been tested by Independent Testing Labs to ensure that it meets the high standards of safety found in the industry today.
Q: How much does it weigh?
A: The Honda EU7000IS weighs about 263 pounds, which is more heavy than many other generators on the market.
Q: Can I use it for camping or boating?
A: Yes! It can be used for both purposes—especially if you have a boat. You could also use it during an emergency or when there's no power available in your home or workplace.