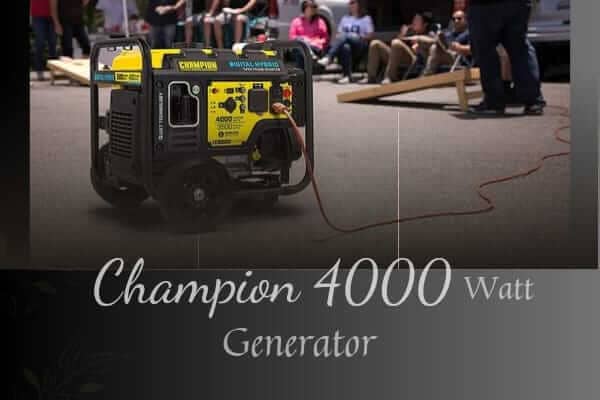 Although champion is not famous in the market since 2003 from where it started its manufacturing. But now this is not wrong to say that Champion is a famous brand in the USA market.
People have different needs to power their equipment in blackout days or at the place where there is no electricity. Champion models are ready to fulfill their needs as they want.
Today, our purpose is to check the champion 4000 watt generator so that you take any decision about this model.
There are other models from champion with 4000 watts but we picked a unique model which I liked due to its few specifications which I'll discuss with you.
Maybe champion models have not average prices like other models Sportsman, Westinghouse, Generac, WEN, but this brand's models are more smarts than other models.
We have picked one of the smartest models from Champion that falls in the 4000-watt generators category.
Today our goal is to find the Pros and Cons of this model so that you can take any decision about this model.
Let's start to find its pros and cons. Please keep reading this informative article and also share it with your friends.
Key Features
| Product Information | Detail |
| --- | --- |
| Starting Watts | 4000 |
| Running Watts | 3500 |
| Fuel Type | Gasoline |
| Engine Type | 224cc 4-stroke OHV Engine |
| Fuel Capacity | 2.9 Gallons |
| Running Type | 17 hours at 25% load |
| Noise Level | 64 dba from 23 feet |
| Weight | 96.8 Pounds |
| Dimensions | 23.5″L x 24.8″W x 20.5″H inches |
| Starting Method | Remote start / Electric start |
About Champion 4000 Watt Generator – At a Glance
Champion 4000 watt generator is the best suit for those people who need a low noise generator.
This can easily handle the load of your home's appliances and most tools that are needed in job sites.
It is more quiet than a conventional generator hence it might be a good choice for camping and RVs because you need a quiet generator in these places.
You are allowed to charge all sensitive electronic appliances since this is an inverter generator in the 4000-watt generator category.
Since this is an inverter generator that's why it'll save fuel and extend more run time to the generator.
One of the good things of this model is it is an open frame inverter generator that's why you don't have to pay more.
Maybe its price is more than a traditional generator but it is a more user-friendly model than others.
Also, there are other models from the champion that are providing 4000 watts but they're lacked wheels. However, I picked this model because it comes with wheels so you'll not need to waste your time in searching for its wheels.
Although, its control panel is very simple but it is still good to run multiple power equipment.
This comes with lots of good specifications I think we should see its all specifications in detail.
What makes the Champion 4000 Watt Generator Best?
During a writing review of the champion 4000 watt generator, I found some features that make this model the best. I'd like to bring in front of you so that it can be bought as people's expectations.
Let's see Champion 4000 watt features
Smart Design
The Smart Design of the Champion 4000 watt generator is an innovative approach to designing products that are not only functional and efficient but also aesthetically pleasing and user-friendly.
In the case of the open-frame inverter generator, this design has several benefits that make it stand out from traditional generators.
Firstly, the open-frame design allows for a reduction in weight. This is a significant advantage because it means that the generator can be easily transported and moved around, making it ideal for use in outdoor settings or for camping trips.
The fact that this generator is 20% lighter than a traditional generator is a testament to the effectiveness of this design.
Secondly, the open-frame design allows for better ventilation, which means that the generator can operate at lower temperatures, resulting in improved efficiency and longer engine life.
Additionally, the open-frame design makes it easier to access and maintain the generator's internal components, which can save time and money on maintenance costs.
However, it's worth noting that the Smart Design generator does have a drawback compared to other models in its class. While it is lightweight, it doesn't come with wheels, which means that it may not be as easy to move around as some other models.
This could be an issue if you plan to move the generator frequently or if you need to transport it over rough terrain.
In short, the Smart Design open-frame inverter generator is an excellent option for anyone looking for a lightweight and efficient generator.
Its innovative design offers several benefits, including improved efficiency, better ventilation, and easier access to internal components. However, if you need a generator that is easy to move around, you may want to consider other models that come with wheels.
Remote Start
Remote start is a convenient and user-friendly feature that has been gaining popularity in the world of portable power generators. The Champion 4000 watt generator is a prime example of a generator that offers this feature.
Its remote start feature allows you to start and stop the generator from a distance using a wireless remote key fob, making it easier and more convenient to operate the generator.
The wireless remote key fob allows you to start and stop the generator from up to 80 feet away, giving you the freedom to control the generator from a safe distance. This is particularly useful in situations where the generator is placed in a remote location, or when you need to start or stop the generator from a distance.
With this remote start generator, you no longer have to walk up to the generator to start or stop it, which can be especially helpful during inclement weather or when the generator is in a hard-to-reach location.
The electric push-button start included with the remote start feature makes starting the generator a breeze. Unlike traditional pull-start generators, which can be difficult to start, the electric push-button start eliminates the need for any physical effort, making the process faster and more efficient. This feature also includes a battery, which ensures that you can always start the generator when you need it.
The remote start feature is also beneficial for those who may have mobility or accessibility issues, as it eliminates the need to physically interact with the generator. This makes it a great option for older adults or those with disabilities who may have difficulty starting or stopping a traditional generator.
Quiet Operate
The Champion 4000 watt generator is an impressive piece of equipment designed to meet the needs of individuals seeking a reliable power source for their outdoor activities. One of the most noteworthy features of this generator is its quiet operation.
Unlike traditional generators that produce a loud, annoying noise, the Champion 4000-watt generator is designed with an open frame inverter, making it at least 50% quieter than other generators in the same category.
One of the most common problems associated with using traditional generators is the noise they produce, which can be a source of frustration for users and their neighbors.
However, with the Champion 4000-watt generator, you can enjoy a peaceful and comfortable outdoor experience without worrying about the noise level. This is particularly important when using the generator for camping, RVs, tailgating parties, and other outdoor activities where noise pollution can be a concern.
The Champion 4000 watt generator is equipped with smart technology that helps to reduce the noise level from this model.
This technology enables the generator to operate at a lower RPM, thereby reducing the noise level without sacrificing power output. As a result, the generator produces only 64 dba from 23 feet away, making it one of the quietest generators in its category.
The benefits of a quiet generator cannot be overstated, particularly for individuals who spend a significant amount of time outdoors. The Champion 4000 generator has solved the problem of those who need a generator for camping, RV trips, or other outdoor activities, and desire a quiet, reliable source of power.
With its open frame inverter design, smart technology, and quiet operation, the Champion 4000 watt generator is a top choice for those who value peace and quiet during their outdoor adventures.
Parallel Ready

The Champion 4000 watt generator is a versatile and reliable source of power that offers many useful features to its users. One of the key benefits of this generator is its "Parallel Ready" feature, which allows users to connect two units together in order to increase their electrical power output.
This feature is particularly useful for individuals or businesses that require a high level of electricity for their operations. By connecting two Champion 4000 watt generators together, users can effectively double their power output to 7000 running watts, which is more than enough to power multiple high-demand appliances simultaneously.
In terms of technical specifications, the Champion 4000 watt generator is an inverter generator. This is in contrast to conventional generators, which can produce unstable power that may damage sensitive electronics.
Another benefit of inverter generators is that they are typically quieter and more fuel-efficient than conventional generators. This is because they use a smaller engine that can vary its speed depending on the electrical load, which reduces noise and fuel consumption.
Overall, the Champion 4000 watt generator is an excellent choice for individuals or businesses that require a reliable and powerful source of electricity. Its "Parallel Ready" feature, coupled with its inverter technology, make it a standout option that is well worth considering.
Engine Capability
The Champion 224cc engine is a powerful and reliable source of energy, capable of producing 4000 starting watts and 3500 running watts. This is enough to power most household appliances during power outages, outdoor events, and camping trips.
One of the standout features of this engine is its exceptional fuel efficiency. With a 2.9-gallon fuel tank, the engine can run for up to 17 hours at 25% load, making it ideal for extended power outages or outdoor activities where a reliable power source is necessary.
The engine of Champion 4000 watt generator is also designed with a 0.6-quart oil capacity and is recommended to use 10W-30 oil. The low oil shut-off sensor ensures that the engine shuts down when the oil level drops below a safe level, preventing engine damage and prolonging the lifespan of the generator.
The Champion 224cc engine is built with quality components and materials, making it durable and long-lasting. It is also designed with ease of use in mind, with a simple start-up process and intuitive controls that make it easy to operate.
In short, the Champion 224cc engine is an impressive piece of engineering that offers reliable and efficient power to meet the demands of any situation. Its fuel efficiency, oil capacity, and low oil shut-off sensor make it a standout choice for those looking for a dependable power source.
Safe Electricity for All Appliances
The Champion 4000 watt generator is a reliable and efficient power source that offers a range of benefits to users, particularly those who need to power sensitive electronics. One of the key advantages of this generator is its ability to produce clean power, with less than 3% total harmonic distortion (THD).
To understand why this is so important, it's helpful to first define THD. Harmonic distortion is the alteration of the waveform of an electrical signal, which can occur when there is interference or a mismatch between the source of power and the equipment being powered.
Total harmonic distortion is the measurement of all these harmonic distortions combined. High THD can cause issues such as overheating, noise, and other problems for sensitive electronics like laptops, smartphones, and medical equipment.
The Champion 4000 watt generator's hybrid design helps to mitigate these issues by producing clean power. It uses both an inverter and a traditional generator to provide power.
The inverter produces a stable and precise voltage, while the traditional generator produces the power needed to meet the demands of the load. This combination allows the generator to produce consistent and clean power that is safe for sensitive electronics.
Additionally, the Champion 4000 watt generator features a number of other benefits that make it an excellent choice for users. It is designed to be both portable and durable, with a compact and lightweight design that makes it easy to transport and use in a variety of settings.
It also features a range of safety features, such as automatic shut-off in the event of low oil or overheating, and a built-in surge protector to protect against power surges.
Control Panel
The Champion 4000 Watt generator is a powerful and efficient portable generator designed for use in a variety of settings, from RV camping to emergency backup power.
One of its standout features is its Quick Touch Panel, which provides easy access to all of the generator's controls and settings. This feature is particularly useful in emergency situations when time is of the essence and every second counts.
In addition to its Quick Touch Panel, the Champion 4000 Watt inverter generator also features Economy Mode technology, which monitors power consumption in real-time to reduce electrical load.
This technology not only provides quieter operation but also extends the life of the generator's engine and increases fuel economy. This means that users can enjoy longer run times and save money on fuel costs, while also reducing their environmental impact.
The outlets on this RV Ready inverter include a 120V 30A RV (TT-30R) outlet, which is ideal for powering RV appliances and equipment. There are also two 120V 20A household outlets (5-20R), which can be used to power standard household appliances and devices.
Additionally, the generator features a 12V DC automotive-style outlet with a dual USB adapter and battery-charging cables, which is perfect for charging cell phones, tablets, and other portable electronics.
The RV Ready inverter technology featured on this generator provides clean and stable power that is safe for use with even the most sensitive electronics. This makes it an ideal choice for use in a variety of settings, from camping and tailgating to emergency backup power for homes and businesses.
Pros:
Remote start system
Guiet generaot in 4000 watt generator
Good run time
Fuel Efficient
Wheels and Handle
Cons:
Conclusion
The Champion 4000 Watt Generator is a great generator for people who want to keep their family safe and secure. It provides power for all your appliances and electronics, so you can stay connected without worrying about the electricity going out.
The generator runs at the sound that will not disturb while operating, this means if you buy this model then it can be used for the RV and camping trip where a quiet generator is required.
One of the most amazing features of this machine is it is equipped with an inverter facility, we safely charge our sensitive appliances and electronic items. Moreover, it gives more fuel efficiency than other 4k-watt generators.
The champion 4k-watt generator is the best choice for all homeowners who need only low-wattage power.
FAQs
Q: Where Can I Use This Generator?
A: The Champion 4000 Watt Generator can be used anywhere there isn't already adequate power available from other sources such as utility companies or other generators.
For example, if you're camping out in the woods where there isn't any cell service or WiFi access available (or if your campground doesn't have reliable electricity), this generator will allow you to charge your phone, laptop, and light your camp and low-wattage appliances.
Is the Champion 4000 Watt Generator safe?
Yes, the Champion 4000 Watt Generator is safe. The generator is designed to comply with all local, state, and federal safety regulations, and has been tested to meet those standards.
Does this model worth the price?
It depends on individual needs and preferences. The Champion 4000 watt generator offers several features and benefits that make it a good choice for those in need of a portable and powerful generator. However, the worthiness of the price will depend on the specific requirements, budget, and comparison with other options in the market.
To be honest, this champion 4k generator is worth the price since it is the most trustworthy brand in the market. This model comes with various features that make it user-friendly.
Check more Champion's models: